The new generation Broadwell processors are here – Intel Core i7-5500U review
Contents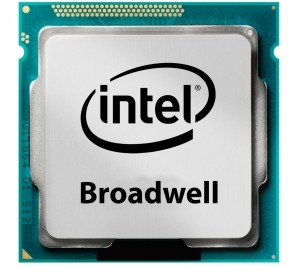 Intel holds the leadership in manufacturing processors, but struggles to keep up on the mobile SoC market where Qualcomm, MediaTek and even NVIDIA reign. With the new Broadwell family, Intel believes it has the key to turning things around and at the same time maintain the first place in manufacturing notebook and desktop processors. However, in this article we are going to review the new Core i7-5000 series and see if the Core i7-5500U chip will outperform last year's Core i7-4500U in terms of raw power and power consumption.
We already saw the new Broadwell chips on several devices like the Lenovo Yoga 3 Pro laptop and the new Acer Aspire Switch 12, which both are equipped with the new Core M series. With the 14nm manufacturing process, vendors will be able to fit chips into much smaller form factors, maintaining the same performance and reducing the power consumption. Returning to the Core i7-5500U with the CES 2015 behind us, we saw several new laptops featuring the very same processor, so it will be interesting to see where it stands in our charts.
Architecture
With Broadwell chips coming, Intel promises significant decrease in power consumption and 5 to 15% better performance per core. This is possible thanks to the 14nm FinFET manufacturing process, which brings the same amount of transistors in much smaller die. In theory, this will bring the long awaited power efficiency and overall better performance over the Haswell family with 22nm manufacturing process.
Leaving the overall statistics behind, Core i7-5500U offers two cores, like all chips from the "U" series, which have a base frequency of 2.4GHz with Turbo Boost overclocking up to 3.0GHz for one core and 2.9GHz with both working. The cache size on level one is 128KB, level two – 512KB and the third one offers 4MB. It also handles HyperThreading, which means the processor emulates one virtual core for each physical one. Maybe it's unnecessary to mention that the chip is built on 64-bit platform, which is quite normal for each new processor.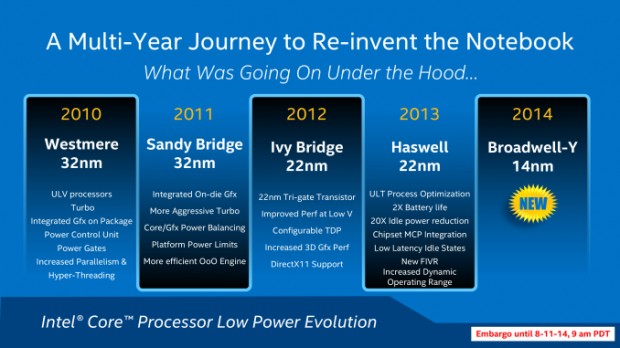 However, the processing cores aren't the only ones who saw a significant upgrade. Intel is aiming at a better graphics performance with the new Intel HD Graphics 5000 GPUs. In this particular case, Core i7-5500U is equipped with Intel HD Graphics 5500 with base frequency of 300MHz and a maximum of 950MHz. It's also the first GPU from the company which supports DirectX 11, OpenCL 1.3/2.0 and OpenGL 4.3. In addition, the new generation Intel HD Graphics can handle video streaming through DisplayPort 1.2 and HDMI 1.4a, but there is no word of HDMI 2.0.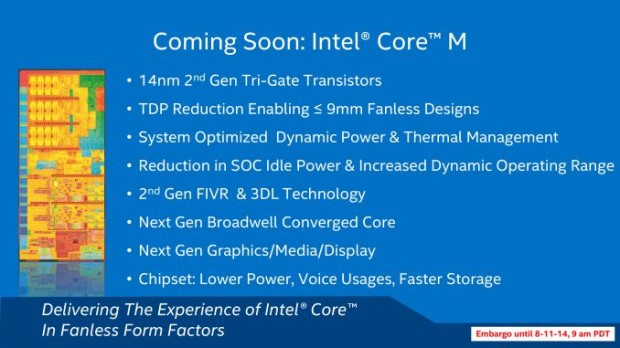 The whole SoC's TDP is 15W and the maximum operating temperature is set to 105 degrees celsius. Those numbers sound like last year's Core i7-4500U (Haswell, 15W), but we expect better overall performance. To sum things up – Core i7-5500U will offer pretty good performance for not so demanding games, but it's mostly suitable for multimedia, working, moderate multitasking and web browsing.
Technology and supported set of intstructions
The new Core i7-5500U is the "Flip-Chip BGA" type of processor, which supports PCI Express 2.0, LPDDR3, and DDR3L RAM with up to 1600MHz memory speed. Below you will find the full list of supported instructions:
MMX instructions
SSE / Streaming SIMD Extensions
SSE2 / Streaming SIMD Extensions 2
SSE3 / Streaming SIMD Extensions 3
SSSE3 / Supplemental Streaming SIMD Extensions 3
SSE4 / SSE4.1 + SSE4.2 / Streaming SIMD Extensions 4
AES / Advanced Encryption Standard instructions
AVX / Advanced Vector Extensions
AVX2 / Advanced Vector Extensions 2.0
BMI / BMI1 + BMI2 / Bit Manipulation instructions
F16C / 16-bit Floating-Point conversion instructions
FMA3 / 3-operand Fused Multiply-Add instructions
EM64T / Extended Memory 64 technology / Intel 64
NX / XD / Execute disable bit
HT / Hyper-Threading technology
VT-x / Virtualization technology
VT-d / Virtualization for directed I/O
TBT 2.0 / Turbo Boost technology 2.0
Performance and benchmarking
CPU performance
Let's keep in mind that the processor we are testing is still an engineering sample, but it still shows better performance over last year's Haswell successor, mostly because of the higher base frequency. The charts below aim to compare the new Broadwell chip with last year's Core i7-4500U, i7-4510U, and i5-4300U. We chose the i5-4300U, because both chips have the same TDP of 15W, but the new Broadwell excels in overall performance, so maybe 14nm manufacturing process has its great advantages when it comes to power efficiency.
Cinebench 11
Cinebench 11 is a Maxon made benchmark used to measure the performance of the CPU, when working with 3D Studio MAX and Cinema 4D.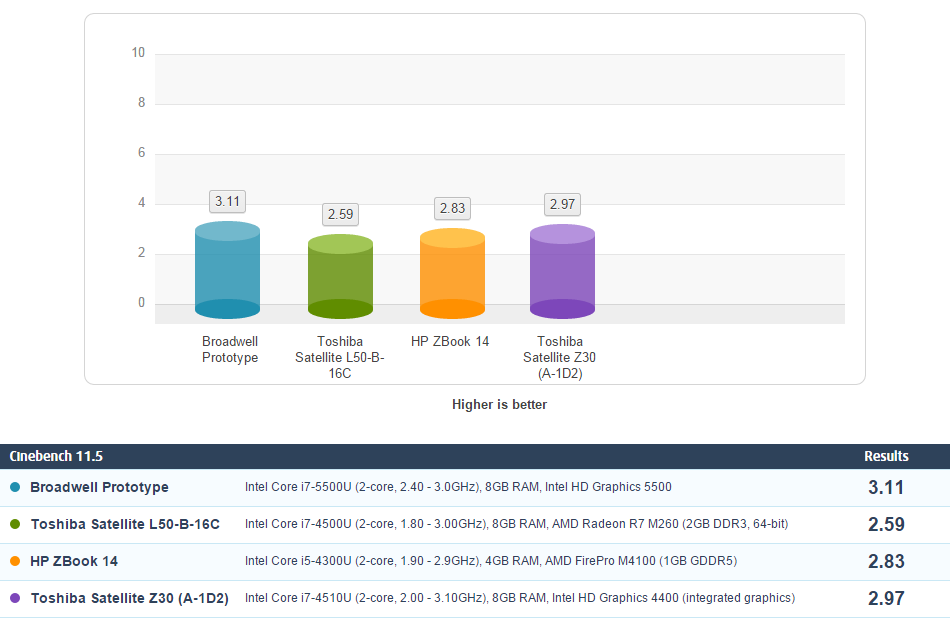 NovaBench 2 (CPU)
NovaBench 2 is developed by Novawave and it excels in accuracy. Also, the software is a cross-platform benchmark and absolutely free. It uses MD5 caching, floating point and mathematical equations to determine the performance of the CPU.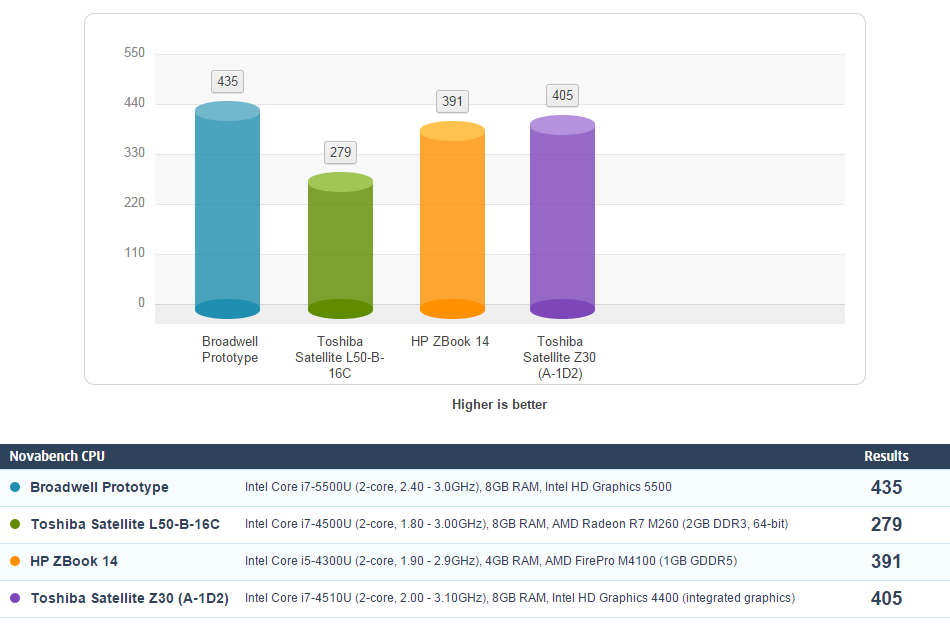 Photoshop (Real-Life)
For the Photoshop "Real-Life" test, we use a set of actions which the CPU must process without the help of RAM and GPU. The lesser time it takes, the better.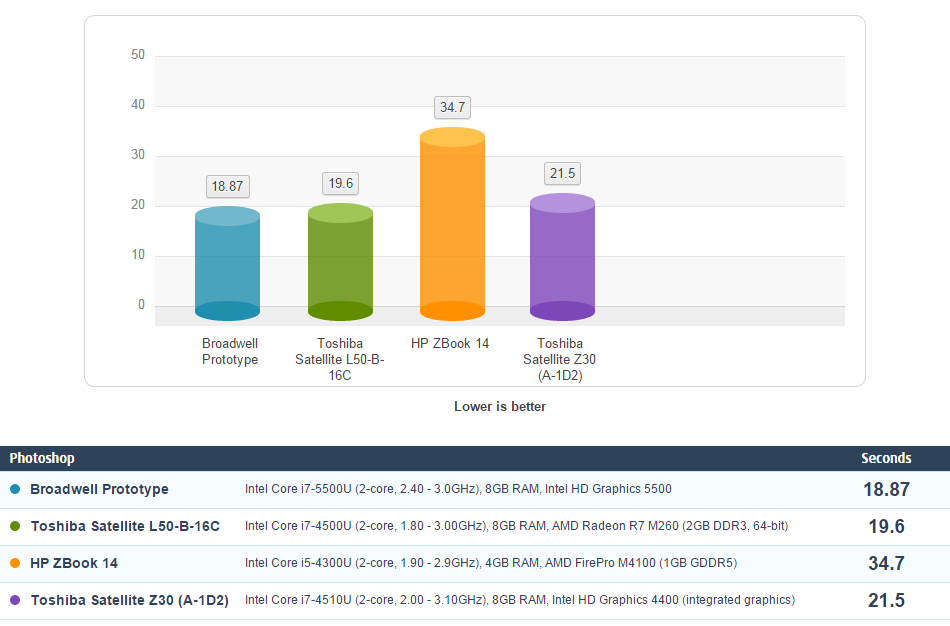 GPU performance
The same goes for the Intel HD Graphics 5500 although the performance of that particular GPU isn't very compelling as you can see from the charts below. The GPU falls down in our rankings compared to older Intel HD Graphics and we also threw in some dedicated graphics to see how 5500 goes against them.
3DMark Cloud Gate
Cloud Gate is used to determine the overall performance of mainstream desktop and notebook PCs. However, we use it only to test the GPU using DirectX 10 or newer versions.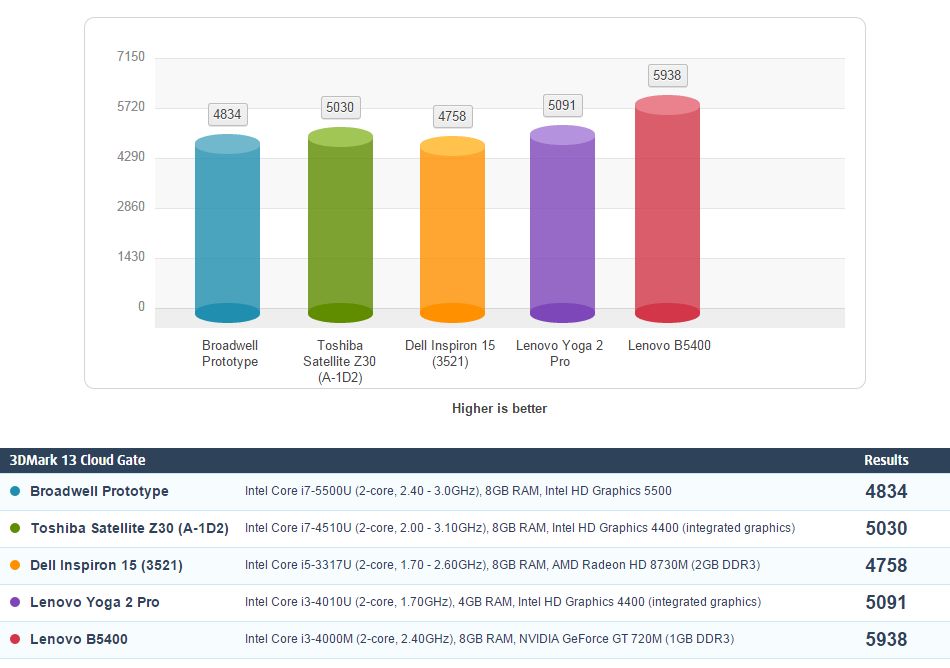 3DMark Fire Strike
Fire Strike is another 3DMark test but takes a lot more GPU power. It uses all of the DirectX 11 capabilities and it's mostly suitable for high-end graphics or SLI and CrossFire set ups.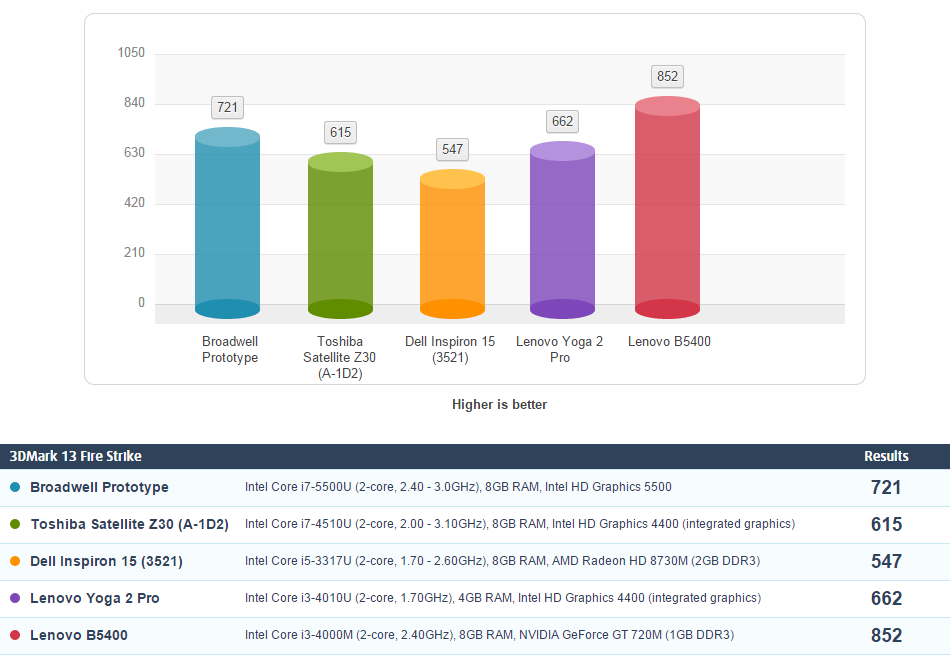 3DMark 11
3DMark 11 is the most popular benchmark from FutureMark for DirectX 11 testing and rendering.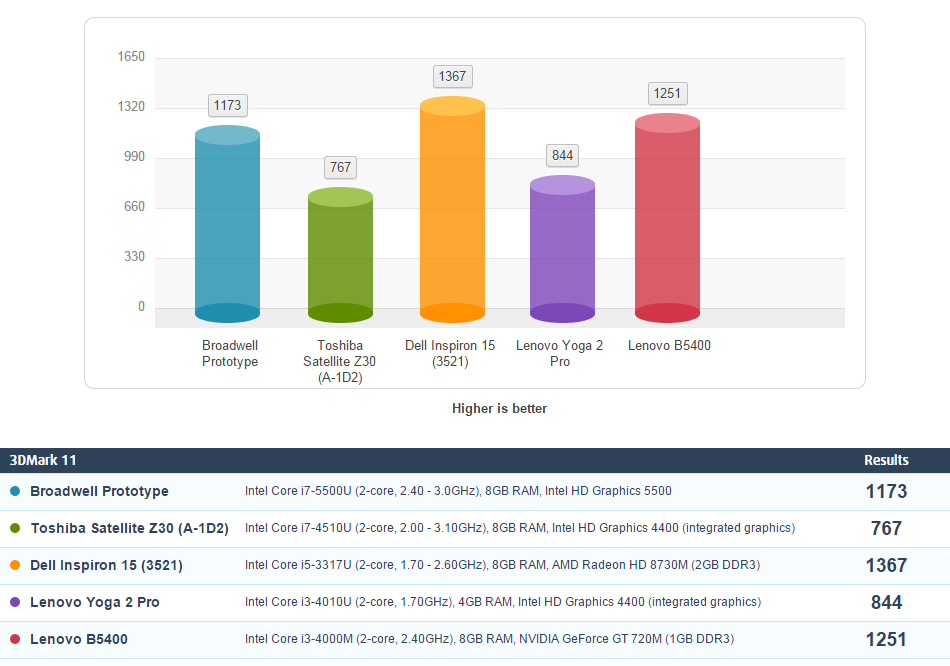 Unigine Heaven 3.0
This benchmark uses the well developed UNiGiNE engine to determine the performance of the GPU using DirectX 11 and OpenGL 4.0. Graphics settings are API: DirectX 11 | Tessellation: Normal | Shaders: High | Anisotropy: 16x | Stereo 3D: Disabled | Anti-aliasing: 8x | Resolution: 1365 x 768.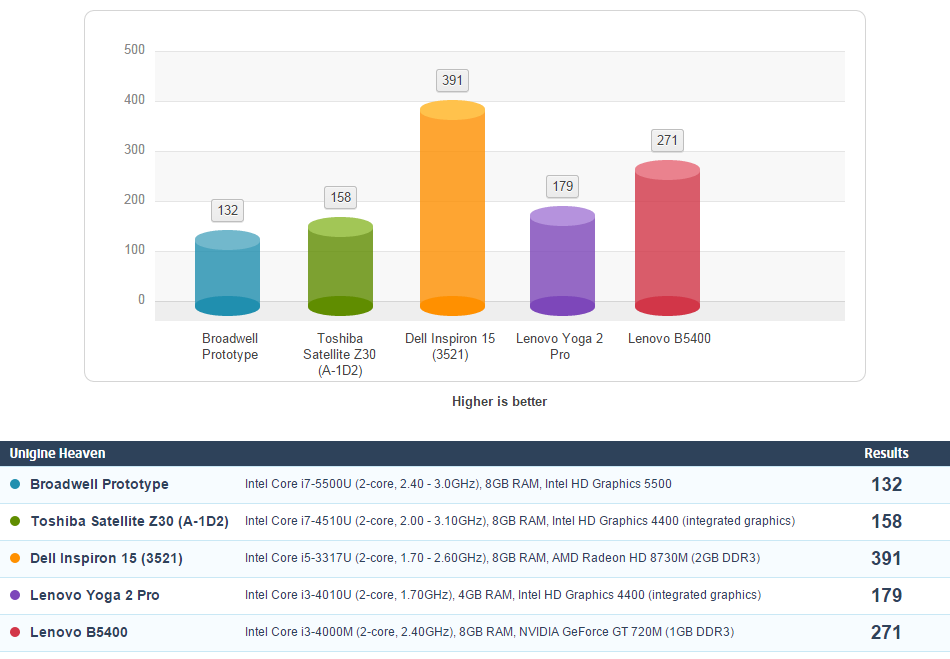 Conclusions
The overall performance of the SoC is quite contradictory as you can see from the benchmarks above. The CPU offers a good working performance over last year's Core i7 while maintaining low TDP, which can be compared to a Core i5 processor from the Haswell family. Also, single core performance is a step in the right direction and the base frequency is much bigger than last year's Core i7-4500U.
As for the GPU, results aren't that good or at least it isn't what we have expected. Still those results might not be very accurate, because of the engineering sample we used for this review.