Prestigio Multiphone 5550 DUO review – affordable phablet with quality camera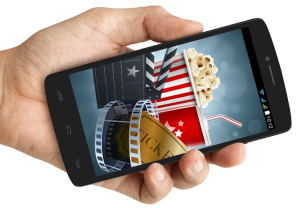 Usually, affordable phones lack some significant features, but that's to be expected. In this review, we will examine the capabilities of the Prestigio Multiphone 5550. It's a phablet model with a 5.5-inch screen. There is also a high quality camera, two slots for SIM cards (Micro and Mini), relatively recent software, like Android 4.4 KitKat etc. The best part is that all of this comes at a somewhat unusual price for a phablet model. Currently, you can find the device for about 150 euro.
Multiphone 5550 is a very cheap phablet as opposed to many of its competitors with the same or larger screen. You can save some money, but this isn't the only thing that people are interested in. You also want a smartphone with good capabilities. So let see how Multiphone 5550 performed in our tests.
Contents
Unboxing video
Here you can watch our unboxing and first impressions video


What's in the box?
The box contains the usual things like a USB cable, charger and a user's manual.

Design and Construction
It's not so comfortable for one-handed operation. In other words, exactly what you would expect. You can't reach every part of the screen with your thumb even if you have huge hands. However, you have plenty of workspace, which is more important for phablet fans.
On the front, one can find the usual things. On the bottom, there are three touch buttons which aren't part of the screen. On the top, you can find the front camera, earpiece, proximity sensor and ambient light sensor. The weight is pretty normal for a phablet of this size– 156 grams. On the other side, you will find the main camera, which is accompanied by a LED light and a tiny inscription, that will never let you forget how many megapixels the camera has. The back also features a sleek and silver-colored Prestigio logo, which looks good, in our opinion. In addition, there is a speaker at the lower back.
Prestigio has put some thinking into the thickness. The 9.2 millimeter profile is adequate for this class. If you have a big smartphone, it should at least be thin. The sides don't have many components. However, on the top you can only spot a 3.5 headset jack , and on the bottom of the phone, there is a microUSB port and the main integrated microphone. There is nothing on the left side, but the volume buttons and the Power button are placed on the right, and that's all about the sides. The slots under the lid are also an interesting part of the phone. Just above the battery, we see two slots for micro and mini SIM cards and the microSD slot for memory cards, single-file, as you can see below.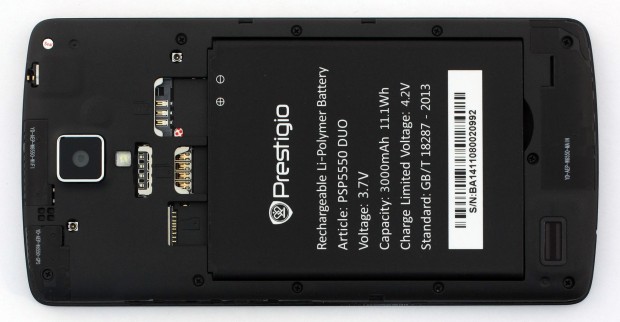 Display and Sound
The display of MultiPhone 5550 is equipped with 5.5-inch HD (1280×720) IPS LCD panel with a Corning Gorilla Glass 3 cover plus full lamination technology. This technology is based on removing the air layer between the protective glass and its capacitive sensors and conductors from the one side and the next LCD layer from the other side. As a result of that, it gets a thin and light screen with better brightness and density. The pixel density in this case is 267 ppi with a distance between each pixel of 0.0951 x 0.0951 mm. In order to be "Retina", in other words, to prevent the human eye from seeing different pixels, you have to look at the screen from a distance of about 33 cm. The distance is not that small but still adequate.
Here is a photo of the screen viewed under a microscope. You can see the sub-pixel matrix.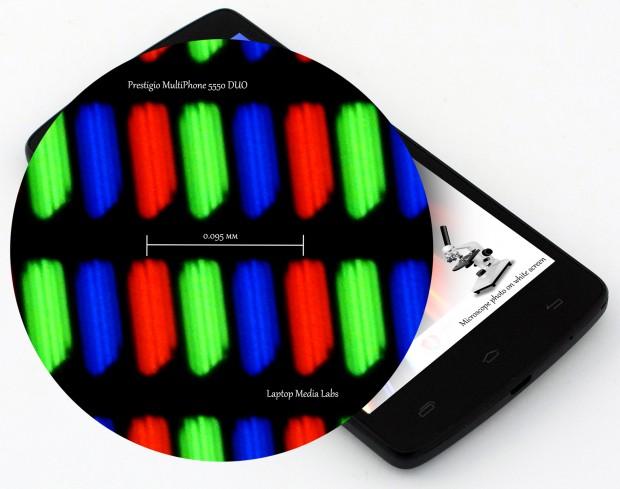 MultiPhone 5550 offers wide viewing angles with slight image distortion when viewed at an angle of above 45°.
We measured the maximum brightness before calibration – 466 cd/m2. It's high but when you add the lack of screen flickering (you can see below) you are presented with comfortable operation in a wide range of external illumination settings.

Color gamut coverage
The device's screen covers 89% of the sRGB and 68% of the Adobe RGB color gamut. It's not perfect, but you don't need more for very good work.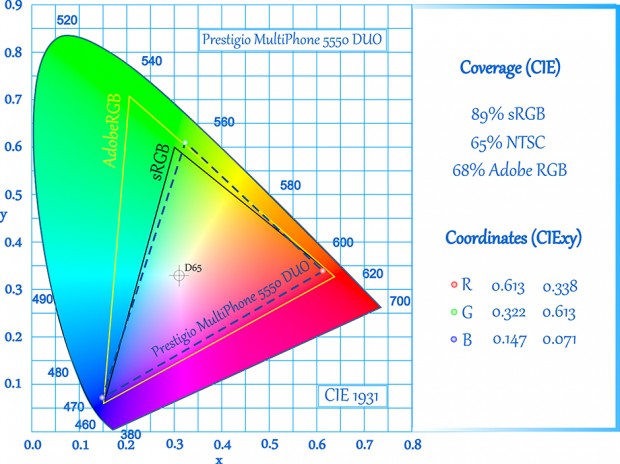 The gamma's deviation, which illustrates the brightness level, is almost perfect.
Color reproduction
The colors of Multiphone 5550 are accurate. Average deviation of DeltaE(1976) is 2.79. We give it 7/10
Here is the color reproduction map.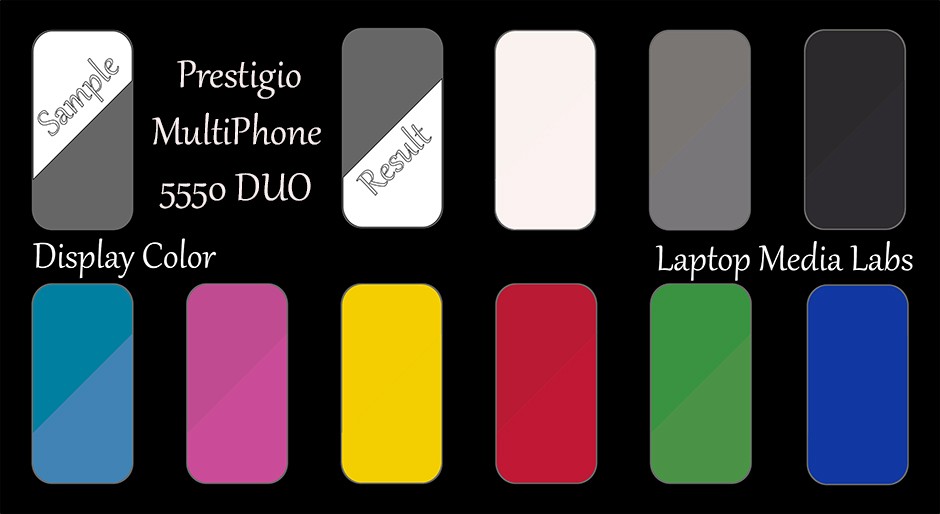 PWM
We tested the screen flickering, so we can say that the screen of Multiphone 5550 doesn't cause any harm to your eyes in all brightness level.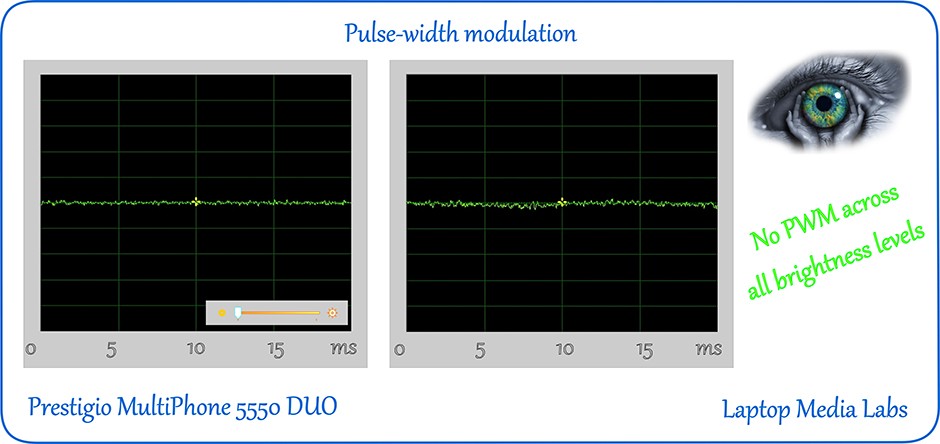 Conclusion
Except for the resolution, which is not that high, the device achieved a good result. It has great viewing angels, good color reproduction, high brightness, and screen flickering which is safe for the eyes.

Sound
Sound frequency response (examined as always, using a measuring microphone and the mobile's speaker) isn't exactly even. The typical average level with clipped low frequencies and an upsurge in the 3 kHz – 5 kHz range.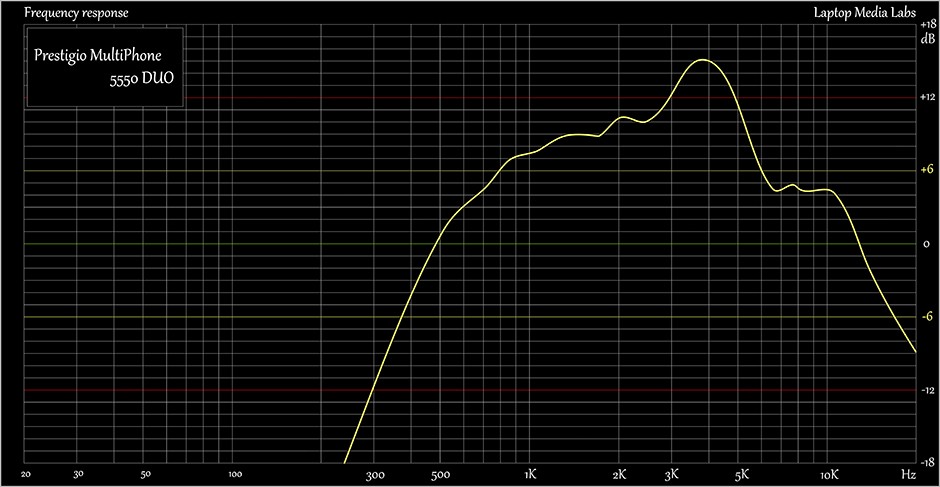 Specs sheet
Operating system
Android 4.4.2 (KitKat)
CPU
MediaTek MT6582 (4-core, 1.30GHz, Cortex-A7)
RAM
1GB of RAM
Storage
8GB
GPU
Mali-400MP2
Display
5.5-inch IPS LCD, Gorilla Glass 3, 1280 x 720 pixels
Connectivity
Bluetooth 4.0, IEEE 802.11b/g/n, GPS, A-GPS
Cameras
13 MP with auto-focus (back) and  2 MP (front)
Features
2 x (micro + mini) SIM
microSD up to 32GB
microUSB 2.0 highspeed port
integrated loudspeakers
3.5 mm audio jackк
FM radio
Battery
3000 mAh
Dimensions (W/H/D)
156 x 78.1 x 9.2 mm
Weight
155 g (5.46 oz)
Battery Life
Multiphone 5550 features a 3000 mAh battery, which is not very impressive due to the big screen that needs more energy. We tested the battery in our usual manner – phone calls, web browsing, watching movies, and gaming. The conditions are as usual – 120cd/m2 screen brightness, turned on Wi-Fi, turned off GPS and Bluetooth. So, let see what happened.

Talk time
This test is more specific than others, because the proximity sensor turns off the screen and its backlight doesn't affect the outcome.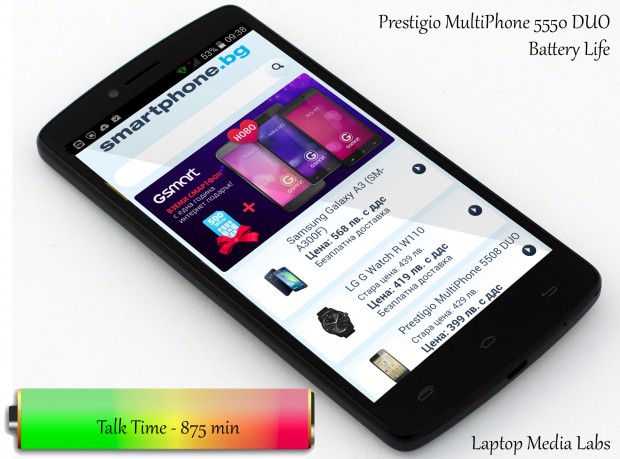 The device managed to stay on for 875 minutes (14 hours and 35 minutes), which is a relatively good result.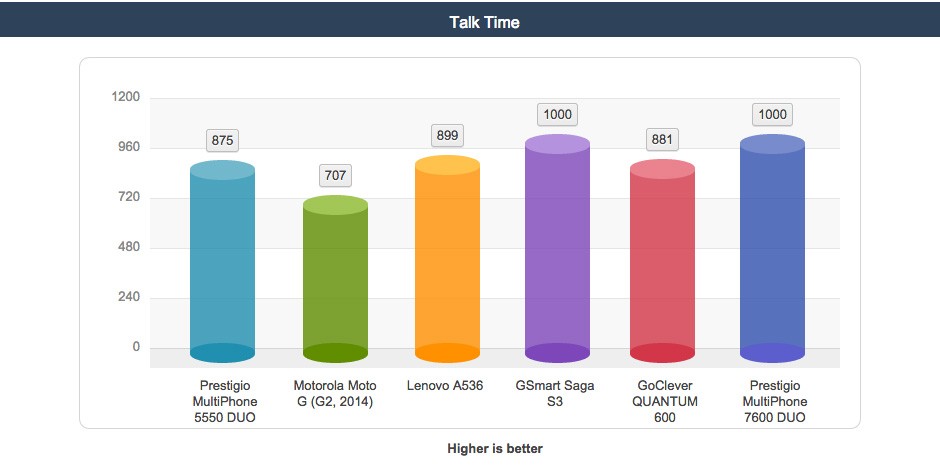 Wi-Fi surfing
In order to simulate real-life conditions, we use our script to automatically browse through over 70 websites.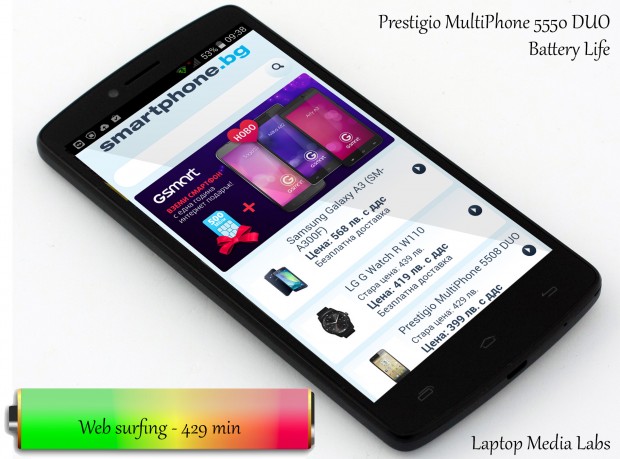 The result is not very good but not so bad either– 429 minutes (7 hours and 9 minutes).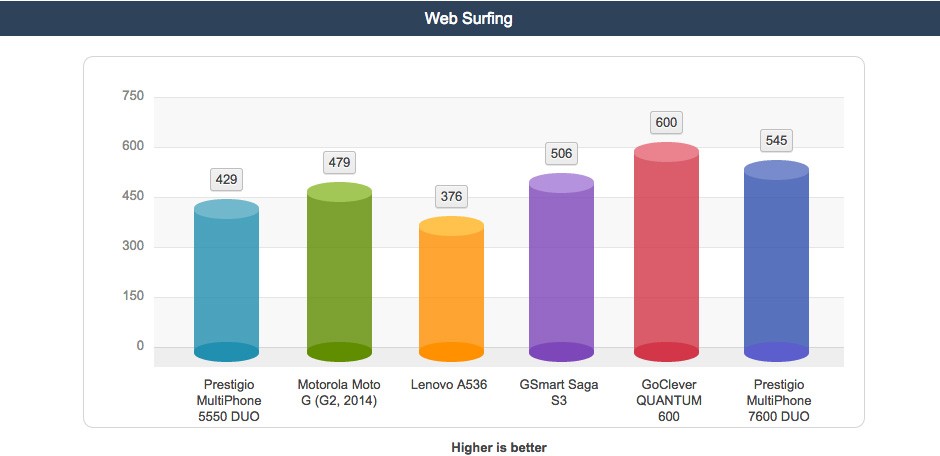 3D gaming
In this test we use Epic Citadel to simulate real-life gaming.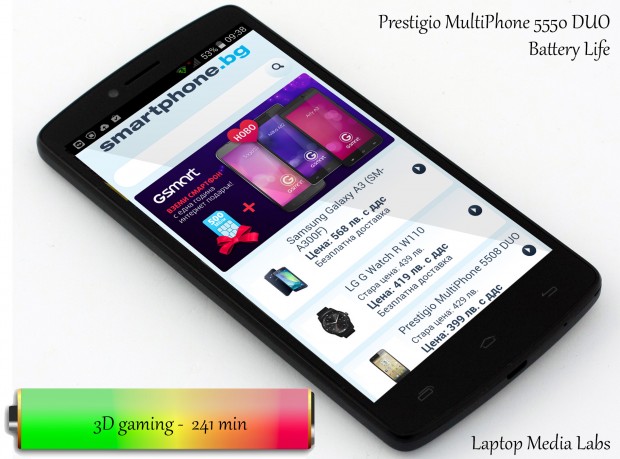 This is our most intensive test, so the result of 241 minutes (4 hours and 1 minute) appears normal.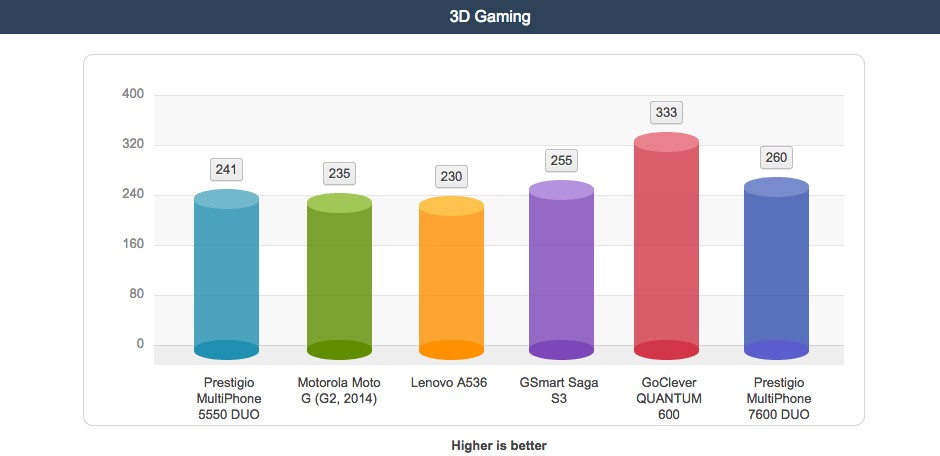 Video playback
Here, we used the same HD video.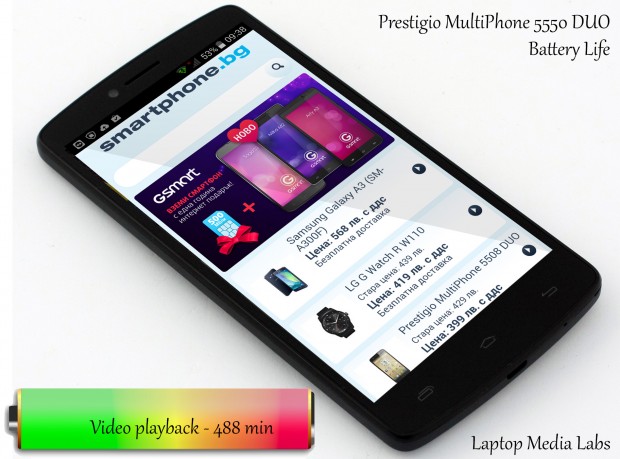 488 minutes (8 hours and 8 minutes) – it's also an expected result.

Software
Multiphone 5550 works with Android 4.4 KitKat. We don't know if we will ever see Lollipop, but currently, this version of the operating system is still modern, particularly for the budget class. You can add the useful and attractive user interface to the equation.
When it comes to using apps, you can find many of them preloaded. For example, there are Battery Doctor for battery life control, MultiShare for easy and fast data transfer, Office Suite for reading and creating Word, Excel and PowerPoint documents, eReader for reading books, Deezer for music streaming, apps for news and weather, games and more.
Performance
The phone offers a MediaTek MT6582 processor with 1 GB RAM and a Mali-400MP GPU. It's one of the most popular mobile chips in this class. You can also find it in the products of many other competitors on the market. It features four Cortex-A7 cores with a base frequency of 1.3GHz. We've already tested this chip, but then it was managed by various devices of Lenovo, GSmart, Prestigio etc. Now it's time to see MediaTek MT6582 under the hood of Multiphone 5550. You can check the results below.

CPU performance
Geekbench 3 is a cross-platform benchmark test coded by Primate Labs. It aims to stress the CPU in different situations with single and multi-threading processes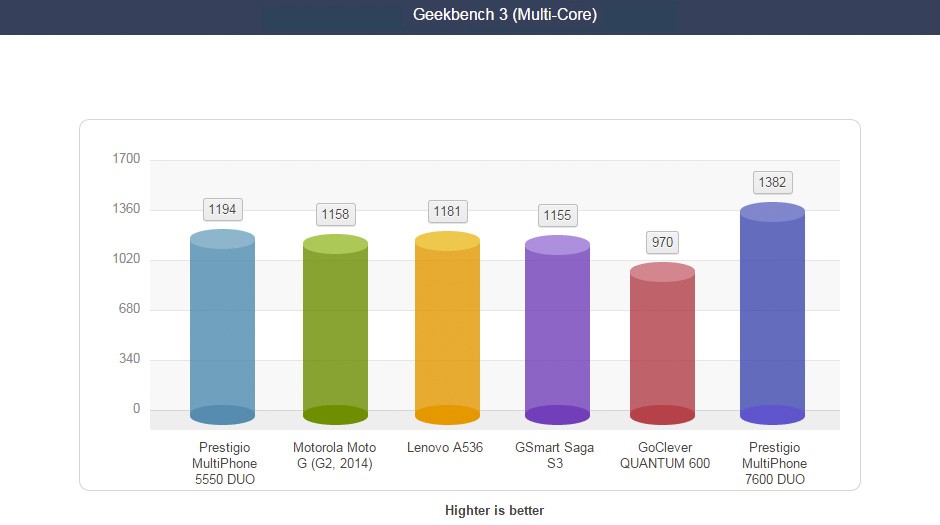 Vellamo is a benchmark from Qualcomm and its Metal section tests the computing performance of the SoC.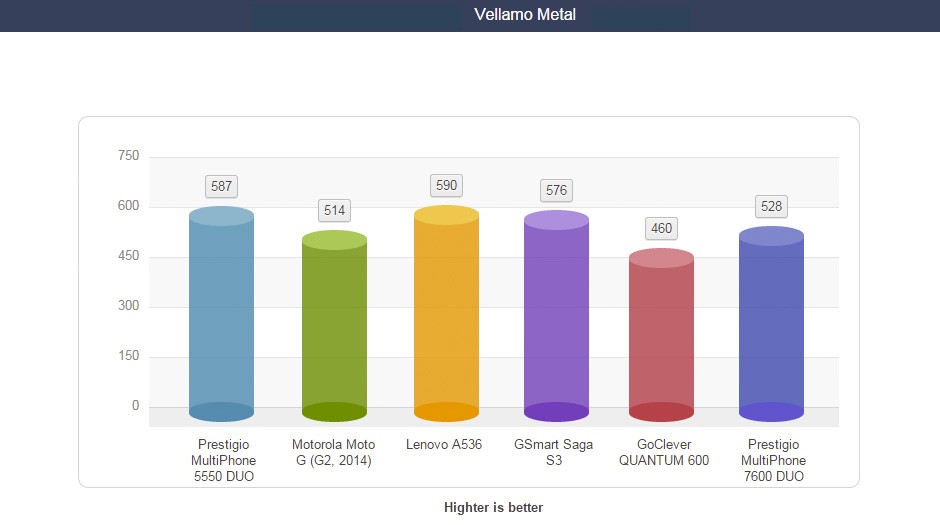 GPU performance
Demanding cross-platform test for the GPU performance. It is available in Android, iOS and even Windows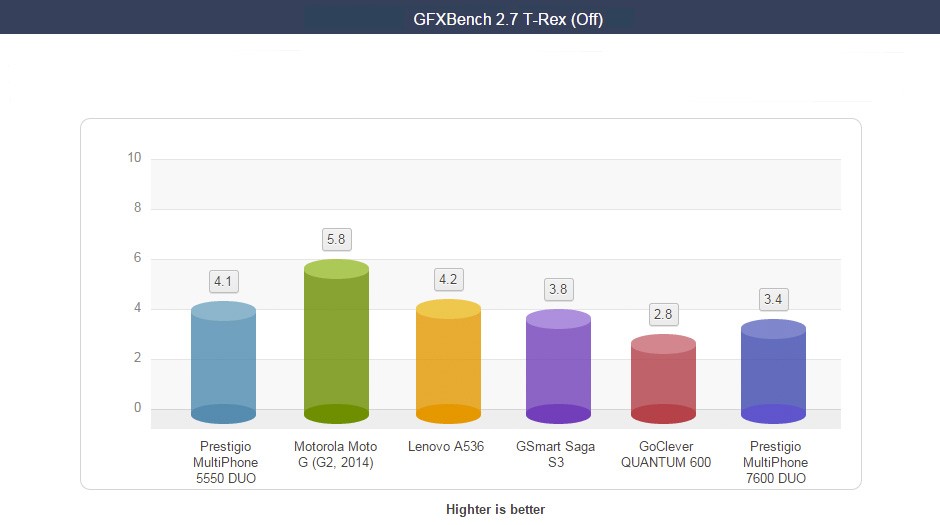 Real games
MediaTek MT6582 won't give you amazing performance and superb gaming but without any trouble, you can play games like Real Racing 3 or Dead Trigger 2.

Camera
The main camera of MultiPhone 5550 is 8MP with a Sony sensor, model Exmor IMX179, increased to 13MP by interpolation. There is also an LED flash. The type of sensor is CMOS and it has backside illumination – BSI. Let's also mention that with this common sensor type, light must pass through a multi-layered structure of transistors and conductors, which takes care of the pixels, and part of that light is reflected back. With BSI, that same structure is moved to the non-illuminated side of the sensor, allowing for more layers and better electronics, while pixels can be made smaller. The signal-to-noise ratio is also improved.
In our camera test of the PrestigioMultiphone 5550 we emphasize the resolution and the whole module (lens, matrix, and processing software), chromatic aberrations and geometrics, color reproduction etc. We offer images for user rating.

Resolution
We define the camera resolution in LPH (Lines per Picture Height), as indicated by the ISO 12233 test chart.

This model's camera achieves maximum resolution of 1910 lph in the center, which is a good indicator for an 8 MP sensor.
We add a subjective but sufficiently accurate idea about the resolution, image sharpness, color noise and chromatic aberrations to the composition.

You can read the text easily, but there are small signs of the JPG compression.
Aberrations and color noise
There are insignificant color aberrations. The color noise level is limited (which is typical for small sensors)

There is a "Pillow" type of geometric distortion, but fortunately, barely visible.

Color reproduction
The camera managed to reproduce the test table in a relatively accurate manner.
| | |
| --- | --- |
| Blue | very good |
| Green | good |
| Red | very good |
| Yellow | very good |
| Magenta | good |
| Cyan | good |
| White | good |
| Gray | good |
We give it 7/10.
You can see the photographed and reproduced colors in the digital color table below.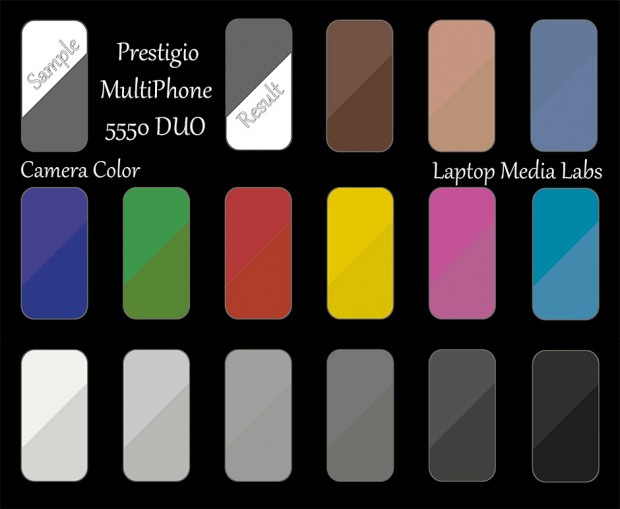 Sample photos
We took some sample photos, and we can say that the camera handled them well.

Video recording
Despite the fact that it's a pretty affordable model, it records Full HD video.
Conclusion
We're satisfied with the Prestigio MultiPhone 5550, its low price is not the only factor. The camera and the screen performed very well, especially when it comes to screen flickering, level of brightness, color reproduction and video recording. The battery life and the performance represented by MediaTek MT6582 are not so impressive, but they are also not flaws per se. And, of course, there is the dual SIM support and many useful apps preloaded. In other words, MultiPone 5550 is a lucrative phablet.
Pros
Big 5.5" IPS screen with Gorilla Glass 3 protection
Quality main camera with Sony sensor
Dual SIM support
Affordable
Cons
Relatively low pixel density