NVIDIA GeForce GTX 980M vs GeForce GTX 980 – 4K gaming showdown and benchmarks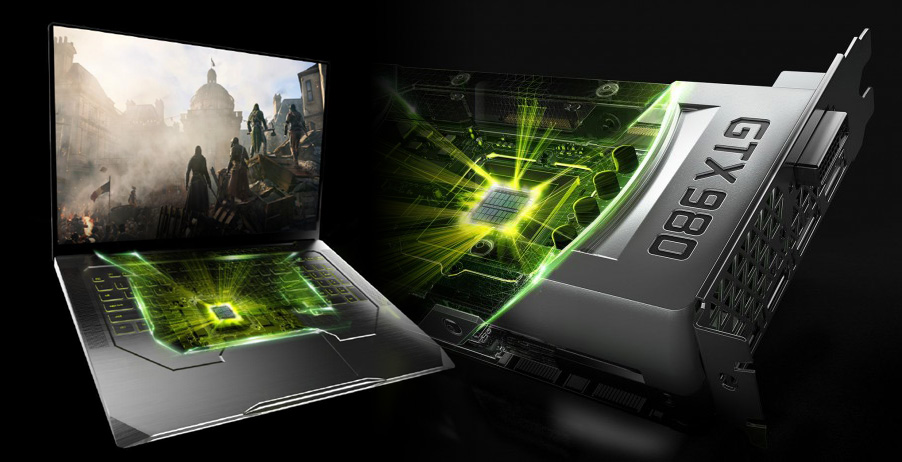 For some time now, high-end hardware is perfectly capable of handling Full HD gaming and we are actually on the verge of the so-called 4K gaming. To double your resolution though, you will need not only high-density monitor, but also GPU which would be able to handle those extra pixels. So in this short article you will find benchmark tests and 4K gaming tests from the most powerful gaming GPUs out there – GTX 980 and the GTX 980M.
The GTX 980 is the flagship of gaming GPUs in NVIDIA's portfolio and its one of the first desktop graphic cards to be part of the Maxwell family. On the other side of the "corner" is the GTX 980M, which is also the flagship of gaming mobile GPUs and it's featured in some serious gaming notebooks such as the new ASUS ROG G751. However, we managed to run some tests on both GPUs and see how they stand against each other. The GTX 980M was tested on the ASUS ROG G751 and the GTX 980 ran on ASUS ROG G20AJ desktop. For the record, NVIDIA claims that with the new Maxwell family, mobile GPUs will be able to reach as much as 80% of the performance of their desktop variants.

ASUS ROG G751
| | |
| --- | --- |
| Processor | Intel Core i7-4860HQ (4-core, 2.40 – 3.60 GHz, 6MB cache) |
| RAM | 8GB (1x 8192MB) – DDR3, 1600MHz |
| Graphics card | NVIDIA GeForce GTX 980M (4GB GDDR5) |
| HDD/SSD | 1TB HDD – 7200 rpm / 120GB SSD Samsung 840 EVO |
| Display | 17.3-inch (43.94 cm.) – 1920×1080 (Full HD), IPS matte |
| Optical drive | DVD |
| Connectivity | LAN 10/100/1000 Мбит/сек, Wi-Fi 802.11ac – Wi-Fi, Bluetooth 4.0 |
| Other features | Card reader (SD, MMC), LED backlight keyboard, Kensington Lock, 4x USB 3.0 ports, HD web cam, HDMI, VGA Mini Display Port, stereo speakers + subwoofer, backpack |
| Battery | 6000 mAh (8-cell) |
| Thickness | 53.00 mm |
| Weight | 4,053 kg (with battery) |
| Power supply weight | 963 grams |
ASUS ROG G20AJ
Processor
Intel Core i7-4790 (4-core, 3.60 – 4.00 GHz, 8MB cache)
Motherboard
ASUS
RAM
16GB (2x 8192MB) – DDR3, 1600MHz
Graphics card
NVIDIA GeForce GTX 980 (4GB, GDDR5)
HDD/SSD
1256GB SSHD (256GB SSD + 1TB HDD)
Connectivity
LAN 10/100/1000 Мбит/сек, Wi-Fi 802.11ac, Bluetooth 4.0
Other features

2x USB 3.0 (front panel)
1x headphone jack (front panel)
1x microphone jack (front panel)
2x USB 3.0 (back panel)
4x USB 2.0 (back panel)
HDMI
RJ-45
Kensington Lock

Dimensions:

10.4 x 35.8 x 34 cm
6.38 kg
GTX 980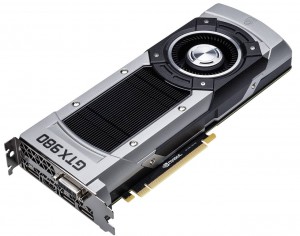 NVIDIA GeForce GTX 980 is a top-tier graphics card, part of the Maxwell family GPUs. It features 4GB of GDDR5 VRAM on a 256-bit bus with 224GB/s memory bandwidth. The GTX 980 relies on 2048 shading units or the so-called CUDA cores from NVIDIA. The base GPU clock is 1126MHz with boost up to 1216MHz. It connects to the motherboard via PCI Express 3.0 and supports a maximum digital resolution of 4096 x 2160 (aka real UHD or 4K resolution). However, the maximum supported analog resolution is 2048 x 1536 with VGA port. It also has HDMI 2.0 and 3x DisplayPort 1.2.
Maximum operating temperature is 98 degrees Celsius and maximum TDP of 165W, although you will need 500W power supply for your desktop set up.

GTX 980M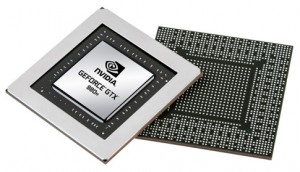 NVIDIA GeForce GTX 980 is a high-end mobile graphics card, which is part of the Maxwell family GPUs. It can go up to 8GB of VRAM, but in this case we have 4GB GDDR5. The GPU is GM204 with 1536 shading units (NVIDIA CUDA cores). Base clock of the GPU is 1038MHz and it can go up to 1127MHz thanks to GPU Boost 2.0 technology from NVIDIA. Memory bus is 256-bit and it supports DirectX 11.2, Pixel Shader 5.0, Optimus, SLI, PhysX, OpenCL 1.1, OpenGL 4.4, DirectCompute, CUDA, Blu-Ray 3D and 3D Vision technologies. The operating memory can go as fast as 160GB/s.
Maximum supported analog resolution is 2048 x 1536, while the digital one is 3840 x 2160.

Spec sheet
| Technical specifications | GeForce GTX 980 | GeForce GTX 980M |
| --- | --- | --- |
| Family | Maxwell | Maxwell |
| Manufacturing process | 28nm | 28nm |
| GPU base clock | 1126MHz | 1038MHz |
| GPU maximum clock | 1216MHz | 1127MHz |
| Memory | 4GB GDDR5 | 4GB GDDR5 |
| Memory speed | 1753MHz | 1253MHz |
| Memory bus width | 256-bit | 256-bit |
| Memory bandwidth | 224.4 GB/s | 160 GB/s |
| Shading units (CUDA Cores) | 2048 | 1536 |
| Texture units | 128 | 96 |
| ROPs | 64 | 64 |
Benchmarks
Below you will find benchmark results from both GPUs and keep in mind that we used only graphic card's score to measure the performance.
3DMark Cloud Gate
Cloud Gate is used to determine the overall performance of mainstream desktop and notebook PCs. However, we use it only to test the GPU using DirectX 10 or newer versions.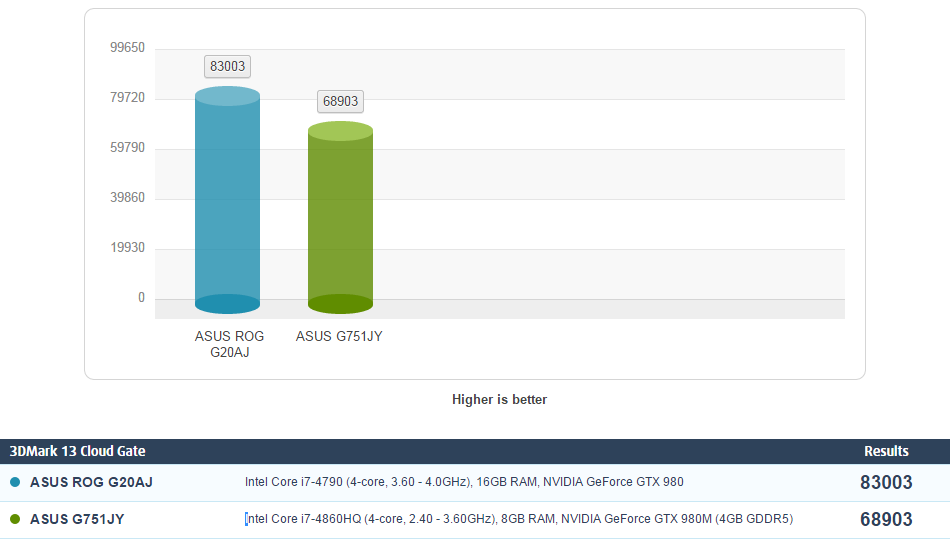 3DMark Fire Strike
Fire Strike is another 3DMark test but takes a lot more GPU power. It uses all of the DirectX 11 capabilities and it's mostly suitable for high-end graphics or SLI and CrossFire set ups.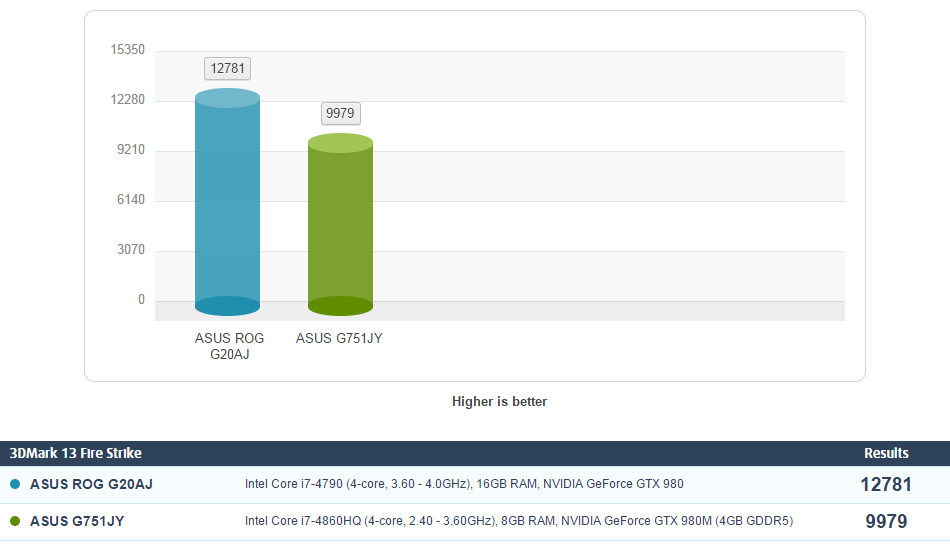 3DMark 11
3DMark 11 is the most popular benchmark from FutureMark for DirectX 11 testing and rendering.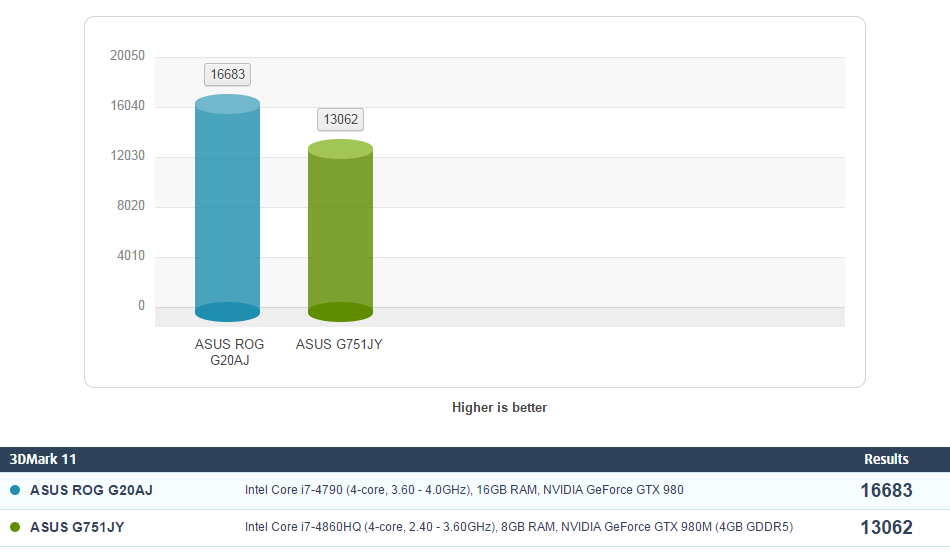 Unigine Heaven 3.0
This benchmark uses the well developed UNiGiNE engine to determine the performance of the GPU using DirectX 11 and OpenGL 4.0. Graphics settings are API: DirectX 11 | Tessellation: Normal | Shaders: High | Anisotropy: 16x | Stereo 3D: Disabled | Anti-aliasing: 8x | Resolution: 1365 x 768.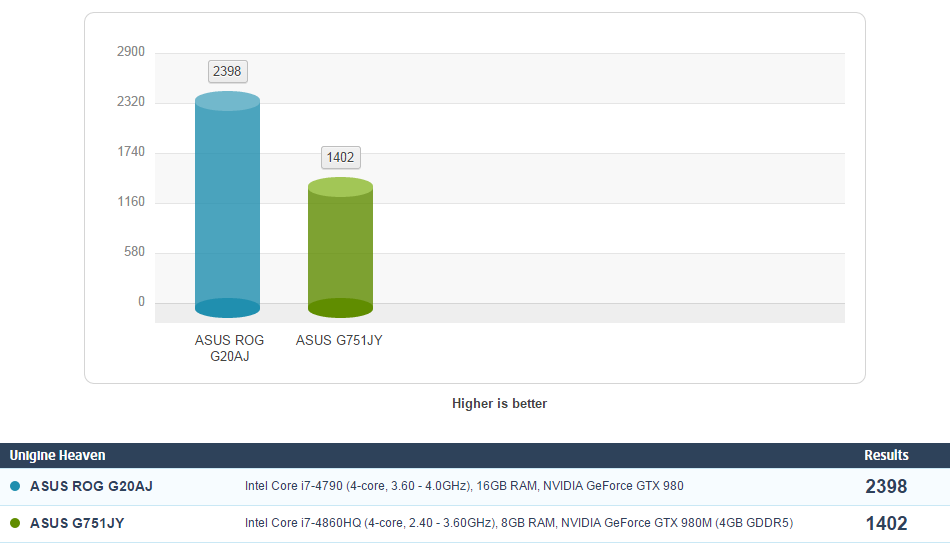 As you can see from the charts above, the difference in overall performance is surprisingly small. We are pleased to see that NVIDIA isn't just using impressive numbers to consider the new Maxwell GPUs. The average performance of the GTX 980M is around 78-83% of the desktop variant and the only test that indicates bigger gap between two graphics card is the Unigine Heaven 3.0, where we have around 42% difference.

UHD gaming tests
As we expected, both GPUs handle UHD performance pretty well with low or medium presets, but with high settings things go downhill. So, we consider 40 FPS and above for flawless gaming and smooth animations, thus medium presets will be good enough for a casual gamer. Also, you can not benefit from FPS over 60, simply because there aren't any 4K monitors with refresh rate over 60Hz due to port limitations. Same goes for the external display of the ROG G751, which can support 60Hz at FHD and only 30Hz at UHD, again due to HDMI 2.0 port limitations. Even casual gamers will notice the much lower FPS on their gaming notebook, despite the GPU being able to handle more than 30 FPS. However, we ran the tests to measure the real performance of both cards and compare.

GTX 980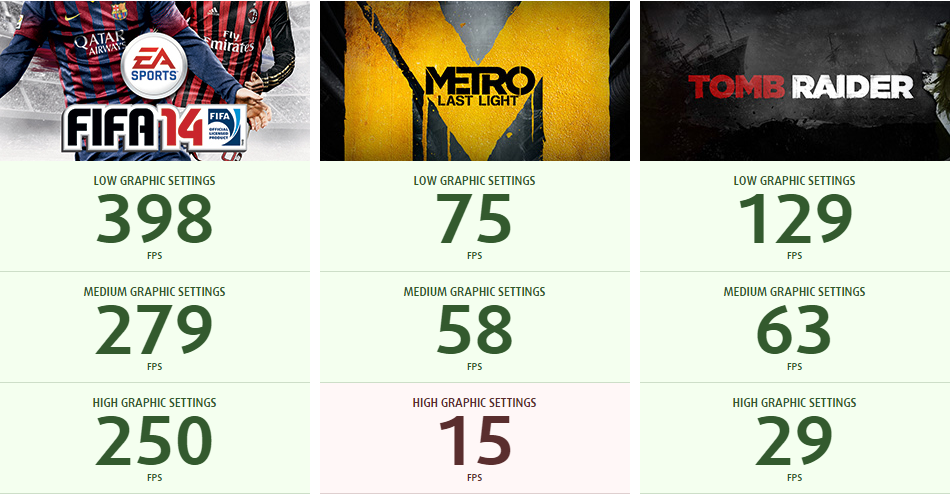 GTX 980M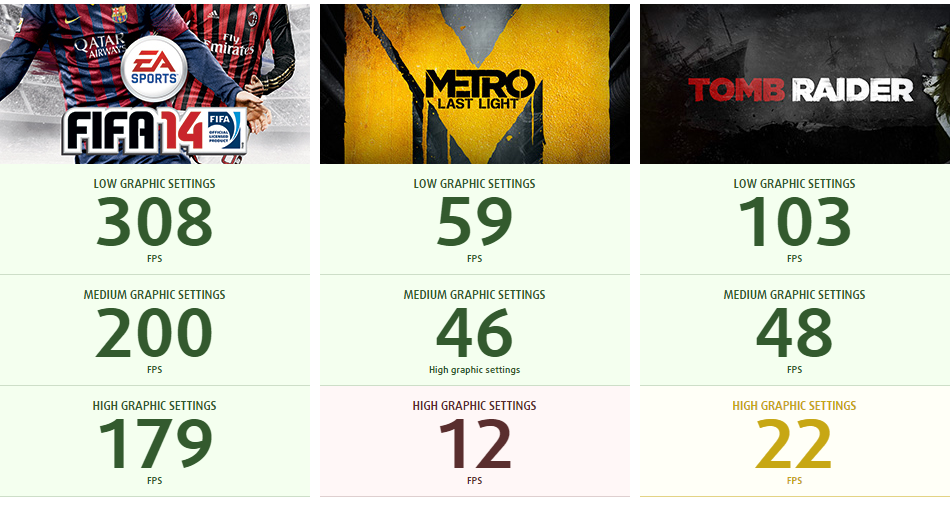 With a medium graphic presets GTX 980M has around 21% lower performance compared to the desktop GTX 980, while at high preset the difference is 23%.

Conclusion
Clearly NVIDIA's new Maxwell GPUs close the gap between desktop and mobile graphics cards even more, at least according to the benchmarks and real-life gaming tests. We are also very happy with the 4K gaming test results, which exceed our expectations.
It seems that NVIDIA has put up relatively real benchmark results and the 20% performance gap between desktop and mobile GPUs is delivered, but there is still room for improvement. It will be long before we see powerful desktop GPUs in our notebooks, but it's good to know that vendors are working on it. As for us, we are eager to test the upcoming high-end graphics from AMD to see if they show better overall performance, although it will be hard to keep with these results.