In-depth comparison: Samsung Galaxy S6 vs iPhone 6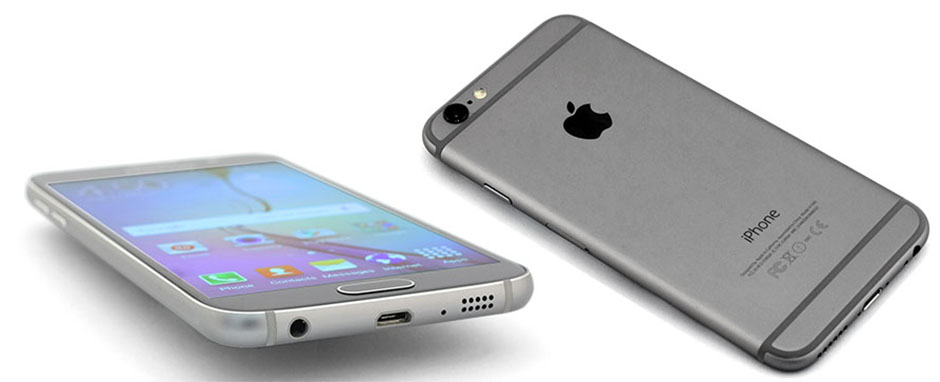 As technology progresses, it gets harder and harder for the consumers to pick a device. Every company is trying to improve their flagship models, so that they outperform their competitors. Most consumers are just going for the smartphone that has the most features, but is that always the best choice? Today we are going to compare the flagships of two of the largest mobile device manufacturers – Samsung and Apple. In this comparison we are going to take a look at the design, display, battery, performance, camera and software of both smartphones, so that you can pick your personal favorite.
You can read the full Samsung Galaxy S6 review here.
You can read the full Apple iPhone 6 review here.
Contents
Design and construction
In the picture below you can see how the two phones look side by side and decide for yourselves if there are any similarities in design.

The design of a device is one of the most important features. After all, consumers pay great attention it. Nowadays, most flagship devices are made out of premium materials like aluminum and glass, because of their great look and feel. The ones whose housing doesn't include those materials are mainly built of redesigned plastic or faux leather for an alternative elegant appearance. The two manufacturers that we just touched upon are case in point.
Samsung were famous for designing devices out of plastic or faux leather, but remodeled. Some consumers liked it, because it provided the option of the removable battery and customizable back covers. Others, however, claimed that it gave the device a cheap feel. Many users didn't like the fact that more and more flagship devices featured a metal frame, glass back or even full aluminum body, while Samsung's top-tier models (the Galaxy S and Galaxy Note lines) were still constructed out of plastic and leather, considered to be outdated and thus inappropriate for high-end models.
Slowly but steadily, Samsung decided to implement the premium materials in their devices. The first phone that featured this change was the Galaxy Alpha, released in October, 2014. It had an aluminum frame and removable plastic back. The device resembled some kind of hybrid unit, taking the best of both material worlds (no pun intended). Two months later the Galaxy Note 4 came out, and its design was similar – metal frame and soft-textured back cover. Seems like Samsung gave into peer pressure, because its latest flagship device, the Galaxy S6, has a non-removable glass black and aluminum frame. This is the first smartphone from the Galaxy S line to feature this kind of design. The phone looks and feels amazing. It is thin and light, measuring at 6.8 mm and 138 g.
Apple, on the other hand, is a completely different story. All iPhones, from the the very first one, excluding iPhone 5C, were made out of premium materials. iPhone 6 features a full aluminum body with a clean and simple design. The phone's thickness is 6.9 mm and its weight is 129 g.
Many consumers say that the design of Apple devices has greatly influenced the appearance of other phones (looking at you HTC One M and Sony Xperia Z lines). But the similarity that made the biggest impression ever is the one between the two phones we are comparing here.
In the image above you can see which parts of the devices are considered to be similar. They are in no way identical, and we are not attempting to claim so, but one must admit that the bottom part of Samsung Galaxy S6 and its protruding camera resemble those of the iPhone 6.
Display
Another thing that Samsung smartphones are famous for is that they always sport the newest and the best tech available. The screen of the Galaxy S6 keeps up with that tradition. The device features a 5.1-inch AMOLED display with a resolution of 2560 x 1440 pixels, which makes a PPI count of 576 pixels per inch. To see the images in perfect detail, a minimum distance of 21 cm (~8") for normal vision 20/20 must be kept between the screen and your eyes.
Apple, on the other hand, have their own way of doing things. Their policy owes a lot to the rather well-known saying "If it ain't broke [sic], don't fix it!" The iPhone 6 has a 4.7-inch IPS capacitive, multi sensor display with at 1334 x 750 pixels. There are 326 pixels per inch with 0.078 x 0.078 mm between each pair. In order for the screen to become "Retina", it must be viewed from distance equal to or higher than 28 cm (10-12 inches).
Let's take a look at some more detailed information on both screens.

Color Gamut Coverage (CIE)
We measured that the maximum brightness of the screen on Samsung Galaxy S6 is 349 cd/m2 on Adaptive display mode, but when we turned Auto brightness and exposed it to high ambient light the result got up to 587 cd/m2. The average maximum screen brightness of the iPhone 6 is 512 cd/m2. This means that you will be able to clearly see the displays of both devices even under direct sunlight. Galaxy S6 and iPhone 6 have similar coverage of the sRGB color gamut – 99% and 96% respectively, but the Samsung phone pulls ahead at the Adobe RGB – 98% coverage vs 75% on the iPhone.

Color Reproduction
Both phones have pretty accurate colors and show similar results, with the only deviation being in iPhone's blueish color. The DeltaE for Galaxy S6 is 1.20 and that of the iPhone 6 is 1.45. The following image illustrates the color reproduction. Results under 1.00 are invisible to the naked eye.

Specs sheet
| | Samsung Galaxy S6 | iPhone 6 |
| --- | --- | --- |
| Operating system | Android 5.0 | iOS 8 |
| CPU | Exynos 7420 (4x [email protected] + 4x [email protected]) | Apple A8 (dual-core, 1.40 GHz, Cyclone) |
| RAM | 3GB RAM (1600 MHz, LPDDR4, 25.6 GB/s) | 1GB RAM |
| Storage | 32/64/128GB flash memory | 16/64/128GB flash memory |
| GPU | Mali-T760 MP8 (772 MHz) | PowerVR GX6450 |
| Display | 5.1-inch (12.95 cm) – Super AMOLED, 2560 х 1440 pixels (577 PPI), Gorilla Glass 4 | 4.7-inch (11.94 cm) – IPS, 1334 х 750 pixels (326 PPI) |
| Connectivity | 4G LTE, Wi-Fi 802.11a/b/g/n/ac, Bluetooth 4.1 (A2DP, LE, apt-X), GPS (a-GPS + GLONASS), NFC, Infrared port, MicroUSB 2.0 (with On-The-Go support) | LTE, Wi-Fi 802.11b/g/n/ac, Bluetooth 4.0 + A2DP, NFC, GPS (a-GPS + GLONASS), Lightning port |
| Cameras | Sony IMX240 Exmor RS – 16MP, f/1.9, autofocus, LED flash, OIS, [email protected] video recording (back); Samsung S5K4E6 – 5MP, f/1.9 (front) | 8-megapixel with autofocus, TrueTone Flash LED, [email protected]/60fps video recording (back); 1.2-megapixel, [email protected] (front) |
| Features | Accelerometer, gyro, proximity, compass, barometer, hear rate sensor, Wireless charging (Qi/PMA) | Accelerometer, gyro, proximity, compass, barometer, Touch ID fingerprint sensor |
| Battery | 2550 mAh | 1810 mAh |
| Dimensions (W/H/D) | 143.4 x 70.5 x 6.8 mm – 8.8 mm | 138.1 mm x 67 mm x 6.9 mm 7.62 mm |
| Weight | 138 g (4.87 oz) | 129 g (4.55 oz) |
Battery life
In terms of battery performance, the Galaxy S6 has a bigger unit – 2550 mAh, while the iPhone sports a 1810 mAh one. Compared to their predecessors, the battery of the S6 has 10% lower capacity (2800 mAh for the Galaxy S5) and that of the iPhone 6 is 16% higher (iPhone 5s – 1560 mAh). If we do the math based only on the capacities of each phone's battery, the Galaxy S6 is a clear winner, but there are other factors that determine battery life, like software optimization, screen size etc. In the graphs below you can see how the two phones stack against each other, as well as other flagship devices.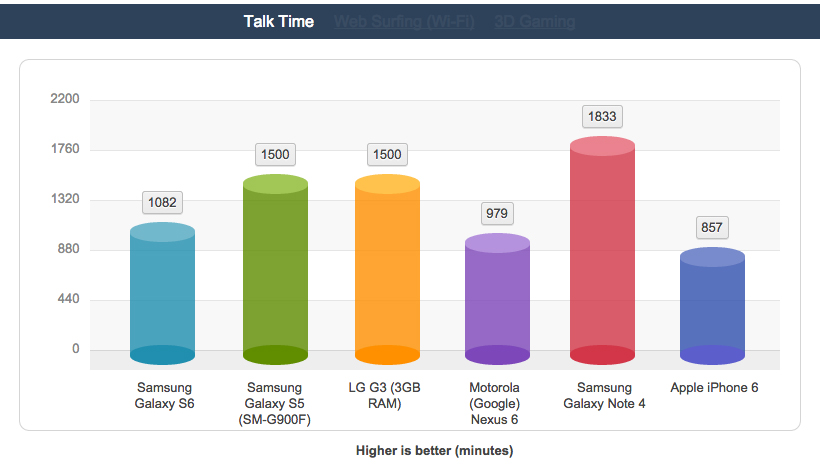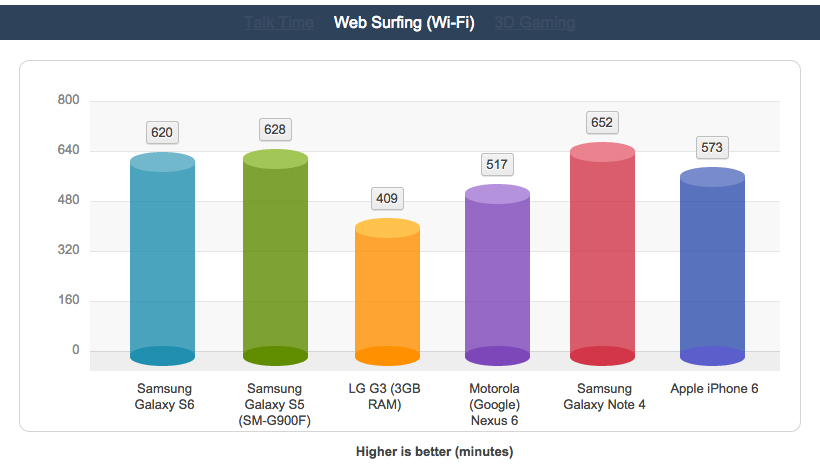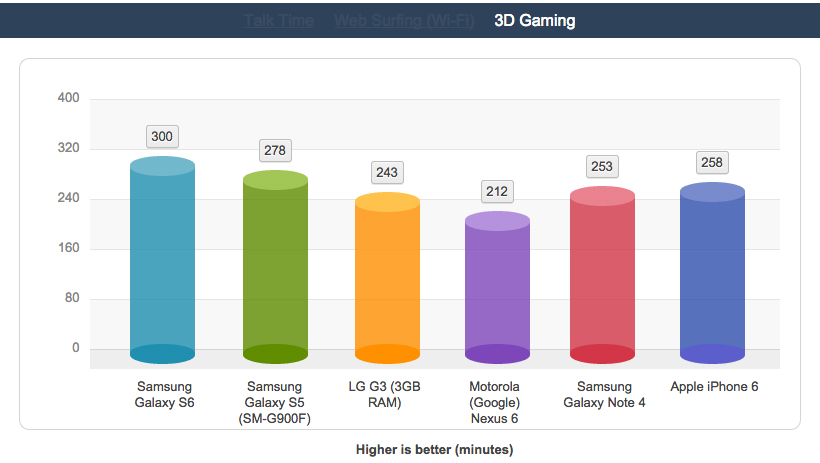 Performance
One of the best features of the Galaxy S6 is its new Exynos 7420. It is an octa-core SoC with four Cortex A53 cores working at 1.5 GHz and four Cortex-A57 at 2.1 GHz. The GPU that accompanies the CPU is a high-end Mali-T760, which provides superb performance. Galaxy S6's SoC is the first one to use a 14-nm-FinFET-SoC LPE (Low Power Enhanced) construction process. Samsung claim that thanks to that technology, their new Exynos chip is better in every way than its 20nm predecessor – 20% faster, 30% more powerful and 35% more energy-efficient. Samsung Galaxy S6 is the first model from the S line that doesn't have a Snapdragon version. It is questionable if the reason behind their decision is the excellent Exynos chip or the overheating issue of the Snapdragon 810, Qualcomm's top-tier SoC.
The iPhone 6 has 1GB of RAM, dual-core A8 processor clocking at 1.4 GHz and a PowerVR GX6450 GPU . There is also a coprocessor, just like in the M7 in iPhone 5s, but more advanced – M8.
The A8 uses the same Cyclone cores as the A7 (2x 1.4 GHz), but it is a more advanced model, and the cores are built through a 20-nanometer fabrication process by TSMC. Even though the A8 is smaller in size (89 square mm) than the A7 (102 square mm), it contains about 2 billion transistors, offering nearly twice the density of its predecessor, while it consumes 25% less power and achieves much higher performance.
When it comes to UI fluidity, the different approaches of both companies are easy to pinpoint. While Samsung is famous for always having the latest high-end SoC's along with a 2 and even 3 GB RAM to try and overcome the lag-inducing heavy user interface, Apple has a different reputation. The iPhone line gets an apparently small hardware upgrade each year, but still manages to compete with the beastly specs of the top Android flagships. Many generations of Apple smartphones have had 1 gig of memory, as well as the same number of processor cores – 2, but even so, their devices continue to be among the fastest available. That is possible thanks to the software optimization that Apple do for their devices. Not only are they fast and fluid when they hit the market, but they stay that way for many years, due to the OS updates that even three or four year old devices receive.
Below you can see how both flagship devices performed in the benchmark tests.
| Benchmarks | Samsung Galaxy S6 | iPhone 6 |
| --- | --- | --- |
| Geekbench 3 (Multi-Core) | 4604 | 2880 |
| 3D Mark Ice Storm Unlimited | 22007 | 17482 |
| GFXBench 2.7 T-Rex (offscreen) | 52.7 | 42.7 |
| GFXBench 3 Manhattan (offscreen) | 24.6 | 17.8 |
Camera
If we simply look at the specs of the cameras on paper, we would think that there is no need for comparison, since the Samsung Galaxy S6 sports an improved 16MP Sony IMX240 Exmor RS sensor with f/1.9 aperture and OIS, while Apple's iPhone 6 has an 8MP Sony Exmor RS sensor, with f/2.2 aperture and software image stabilization. Its clear that the camera of Galaxy S6 is superior to that of the iPhone, but does that affect picture quality that much?
On the images below you can see some sample photos we took with both devices and decide for yourselves which camera takes better photos.
Another thing that makes a difference in terms of picture quality is camera settings. While iPhone's camera app allows for very minor adjustments, the Galaxy S6 has tons of them.
If you want to read more about how the cameras of these two top-tier phones stack up against each other, you can read our in-depth camera comparison here.

Conclusion
Both smartphones have great-looking premium design, good displays and high performance. Which comes on top is up to the users themselves. Samsung Galaxy S6 has a slight advantage over the Apple iPhone 6 in the hardware department, but Apple's device makes up for it with its software optimizations. Both devices are fluid and you won't go wrong choosing either one of them. If you want to be able to tweak almost everything, go with the Galaxy S6. If you like things simple, where everything is organized, easily accessible and easier to use, and you want your device to be just as fast and responsive in a couple of  years' time, go with the iPhone 6.
Reasons for Galaxy S6 over iPhone 6:
Better hardware
Slightly longer battery life
LPDDR4 RAM
Faster UFS 2.0 storage
Bigger display with higher pixel density
Better front facing camera
Reasons for iPhone 6 over Galaxy S6:
Easier to learn and use
Going to receive software updates for longer period of time
Updates come to the device as soon as they are released
Largest market for apps
More accurate camera colors
We're certain that you could add to that list of pros and cons, so feel free to discuss them in the comments section. We'd highly appreciate it if you shared your opinions.
You can read the full Samsung Galaxy S6 review here.
You can read the full Apple iPhone 6 review here.