Alcatel OneTouch Watch review – a stylish and multifunctional watch that won't break the bank
Whether we like it or not, smart watches are slowly becoming more and more popular, and people are increasingly taking advantage of their functionality. While the smartphone has turned into a necessity worth spending some extra cash on, the smart watch is not there yet. People see them as more of an accessory or an additional gadget. That's why they won't pay much for those kinds of devices.
As we said, the market for wearable smart devices keeps expanding and that makes room for budget models to step onto the stage. We can put Alcatel OneTouch Watch in this category. That's a model that has all of the basic options of a smart watch, wrapped in a beautiful design and yet, it is far more affordable than its popular brethren. In this review you'll find out what it is actually capable of.
Contents
What's in the box?
Design
Unlike most of the smart watches on the market, Alcatel's product has a butterfly lock. In order to link it to the other part of the strap you have to open a small valve, fastening the lock marked with an arrow. You may not like this whole procedure at first, but once you find the correct size of for your wrist this small inconvenience will disappear completely.
There is an ALCATEL OneTouch inscription at the end of the buckle, which is made of metal. The same goes for the body of the watch, except for the plastic lid on the back. The heart rate monitor sensor is placed in the center, along with some other product labels. The only physical button is positioned on the right side of the watch and it serves to turn the device on and off. There is a dial on the front, and it stands out that the screen isn't convex or concave like G Watch R's. The appearance is closer to Moto 360's.
The dimensions of Alcatel OneTouch Watch are similar to the various LG and Motorola models. It has a diameter of 41.8mm and thickness of 10.5mm, which makes it thinner than Moto 360 by 1.3mm and thicker than G Watch R by 0.8mm. As for the weight, with its 60g the model once again comes in between the two rivals – 10g heavier than Moto 360 and 2g lighter than G Watch R.
The strap is black and slightly textured. The decision to make the inside red is odd, but it's going to be hidden most of the time. Another typical feature is the patterned surface, which is probably meant to provide a stronger grip when your hand is wet. Perhaps the most curious part of the strap is its end – a hidden USB tip. More about its function can be found a little further down in the battery section.
As most smart watches, OneTouch Watch offers dust and water resistance, which in this case is backed up by an IP67 certificate. In other words, you can use it for up to 30minutes in depths below 1m.
Display
Alcatel OneTouch Watch has a 1.22-inch display with a resolution of 204 x 204. The pixel density is 258ppi which means that with 20/20 vision you wouldn't be able to distinguish the pixels from a distance of over 33cm. By comparison, the pixel density of G Watch R is 246ppi and Moto 360's is 205ppi, but that's because of its bigger screen (1.56 inches). Another important detail is the IPS matrix which delivers wide angles of visibility and bright, contrasting colors. The view on high brightness level is clear, so you won't have any trouble using it outdoors. There is also an oleophobic coating which protects the screen from greasy fingerprints. The background theme choice is rich, but you'll see more about it a bit further down.
Battery
Alcatel OneTouch Watch features a 210mAh battery, which on paper is half as big as Moto 360's  and G Watch R's. However, the Alcatel model managed to provide an even longer battery life. The device managed to endure 2 days of relatively frequent usage in our hands (naturally, that is very subjective). Still, compared to the other smart watches we've tested, OneTouch Watch is definitely among the sturdier ones, battery-wise.
Charging any device, whether it is a smartphone, tablet or a watch, is annoying. It's not that difficult, but wouldn't it be great if it didn't require cables, or if you didn't need to leave your desk? Alcatel has gotten as close to this idea as they possibly could by integrating a USB tip on one end of the strap, so all you have to do is connect it to the USB port of your computer. Charging from 0 to 100% takes around an hour.

Specs sheet
| | |
| --- | --- |
| Compatibility | Android ™ 4.3, Jelly Bean or newer, IOS 7 or later, Bluetooth 4.0 or higher |
| Software | Onetouch Move |
| Display | 1.22-inch IPS display with oleophobic coating and 240 x 204 pixels resolution |
| Wireless | Bluetooth 4.0 |
| Sensors | Gyroscope, accelerometer, compass, airlog, heart rate monitor |
| Diameter | 41.8 mm |
| Battery | 210 mAh |
| Thickness | 10.5 mm |
| Weight | 60 g. |
[ad_728]
Functionality
A sensor "return" button is placed in the black field below, but to make sure you don't activate some other option, we would recommend pressing at its lowest part (near the "6").
Once you link the watch to your phone you can specify what kind of notifications you wish to receive. Checking them requires sliding from top to bottom.

Once you tap the watch you'll get to the main menu where you can find all of the functions available.
Weather forecast
You get information about the temperature and the forecast for the upcoming days by sliding left.
Heart rate
You see the date and result of the last time you measured your pulse. In order to detect it, you must press the sensor to your body.

Activity
This certainly is one of the most curious sections because it involves a few functions – measuring steps, distance passed, how much time you've been active, tracking burned calories and monitoring sleep. More thorough information can be received from the mobile app where you'll find those very same five functions. The data displayed includes values of interest such as your daily goal and some graphics beneath it. In sleep mode you need to mark the time you went to bed in order to calculate how much time you've been asleep.

Stopwatch
The stopwatch can track lap time, and by sliding left you can see information about your average speed, distance passed and the number of steps you made.

Timer
The timer reports only the time that's passed. Resetting it is easy.
Compass
After a quick calibration you can use the compass.
Audio player
The display shows the track's name and artist. You have the options to play the next or previous song and regulate the sound by sliding. Keep in mind that this is a watch screen, so don't get too angry if sometimes instead of increasing the volume you skip to the next song.
Camera
This option allows you to take pictures with your smartphone without having to touch it. From the moment you tap the display you have a 3-second window to set up before the picture is taken.
Phone finder
When you select this option your phone starts to make signals so you can find it. Of course it has to be within Bluetooth range.

Clock-face
You can select the clock-face type. It can be either digital or analog.

Vibration
You can choose to turn the vibration on or off.

Flight mode
On or off.

Brightness
There are 3 brightness levels.

Background
The choices comes down to black vs white.

Onetouch Move application
Since first boot, the watch will tell you that you have to install the Onetouch Move app, which can be downloaded from Google Play and the App Store. Your device must support Android 4.3 Jelly Bean, iOS 7 or later versions. Afterwards, the first thing you have to do  is use Bluetooth on your phone and establish a connection with the watch. The app features an easy and intuitive interface with different options.
We should mention that the connection fell apart a few times, but after turning the Bluetooth off and back on it was repaired. However, this can sometimes cause an inconvenience, but we won't lay blame on the watch since the problem might be of personal nature.
In the top left corner you will find a button for the menu, which contains different options. The following options are listed underneath your picture and name:

Dashboard
This is clearly the menu that contains most information. You can find data about everything there. The different fields are marked with small icons. The first of them indicates the counted steps. The information includes how many you've made while running and walking. You can also see how many steps remain until you fulfill your daily goal. By scrolling down you'll see statistics with the results sorted by days and hours. Returning to the previous page, you'll find a small field for the data from the heart monitor. By clicking on it you'll go to a statistic that shows the exact hour and corresponding value of your last measurement.
The same statistic, displayed in the same way (except for the different color) can also be seen in the other sections – calories, distance and duration. Only the last sector – sleep – is a little different. The information it shows refers to time you've spent asleep, with a division between deep and shallow sleep. The set goal is 8 hours. You have the option to check the data from the previous days.

Timeline
We liked this menu, especially the way sports activities are displayed. You can check each activity or heart rate result from any given day. The information also includes the type of activity, the distance passed, duration, speed, calories burned and steps walked. All this is presented in an interesting way, without any complicated graphics.
Me
From this menu you can change your personal information. That includes name, sex, height, weight and age. You can also track your daily goals. You can also set them in case you believe the automatic choice isn't suitable for your level.
Watch
This option allows you to see if your device is linked to the watch. If it is not, you can establish that connection. In addition, you can set an alarm, which will be executed with a vibration, or you can change your background image. The menu offers a wide variety of backgrounds – 24. You can even choose between 16 colors. If you don't like any of them, you can choose a custom image.
You can specify from which apps you want to receive notifications on your watch from the "Notifications" submenu. And finally there's the "Settings" submenu. Some common settings can be found there including the "Anti-loss" function. If it's on the watch will vibrate if it goes too far away from the device it's linked to.
Verdict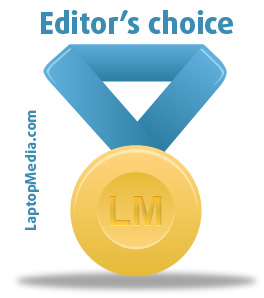 The pleasant Alcatel OneTouch appearance is the first thing that will impress you, and it's definitely not the last. We weren't thrilled by the red inner side of the strap but it remains hidden while you're wearing the device. Speaking of the design, we must note what a great idea it is to integrate a USB tip in the strap.
The model can be used with both of the most popular operating systems – Android and iOS. Given the price of the watch,  the available heart rate monitor is a nice surprise. It fits in perfectly with the rest of the functionality that encourages a healthy lifestyle.
To wrap things up, OneTouch Watch is suitable for sporty people as well as for people that love elegant accessories, and last but not least, fans of technology who like the idea of checking their notifications from a watch, instead of reaching for their phones every time. You won't be able to make phone calls with it, but given its price range, that is completely normal.
Pros
Beautiful, round metal design
Integrated USB tip
Relatively durable battery that charges quickly
Convenient Onetouch Move application
IPS display with high brightness
Supports both Android and iOS
Heart rate sensor
Cons
Lack of speaker
Doesn't support voice commands