Lenovo ThinkPad P14s Gen 2 review – enterprise laptop or a mobile workstation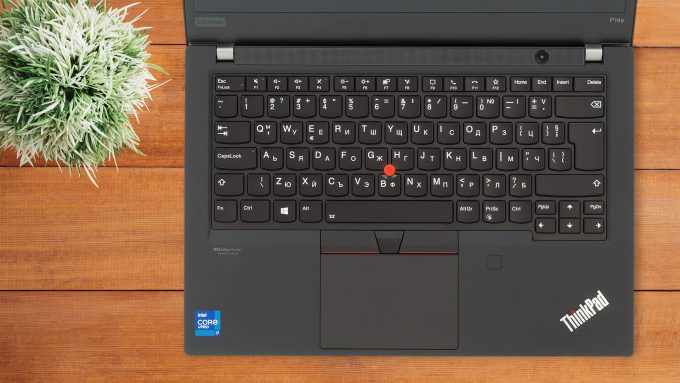 Here we go again… Another manufacturer claiming to have made a mobile workstation, but this time – it has a 14-inch display! What is needed for a device to be considered as a workstation, though? Well, firstly, it has to be compliant with a bunch of standards. Here we have a vPro processor, and a Quadro graphics card, so we supposed that this is a check.
Then, you need the power to run certain applications. This is a bit of a gray zone because the ThinkPad P14s Gen 2 in this configuration is paired with a Tiger Lake processor. As we know, they are really good in low-intensity tasks but fall short in more demanding ones due to their low core count. Also, you have to keep in mind that the cooling on these systems is of utmost importance, so it will be interesting to see if this device's solution is capable of handling both the Core i7-1185G7 and the Quadro T500.
Speaking of the latter, the Quadro T500 is based on the TU117 chip from the Turing architecture of NVIDIA. The same chip is found inside of the GTX 1650, and MX450, with the major difference being the TGP. In that aspect, the Quadro T500 is more similar to the MX450, but thankfully, it comes with 4GB of GDDR6 VRAM.
This is not all, though, because the ThinkPad P14s Gen 2 can be equipped with a UHD display, has optional IR face recognition capabilities, and supports PCIe Gen 4 drives.
You can check the prices and configurations in our Specs System: https://laptopmedia.com/series/lenovo-thinkpad-p14s-gen-2-intel/
Contents
Specs Sheet
HDD/SSD
up to 2000GB SSD
OS
Windows 10 Pro, Windows 11 Home, Windows 11 Pro, Windows 10 Home
Body material
Plastic / Polycarbonate, Aluminum, Glass Fiber, Magnesium alloy
Dimensions
329 x 227 x 17.9 mm (12.95" x 8.94" x 0.70")
2x USB Type-A
3.2 Gen 1 (5 Gbps)
2x USB Type-C
3.2 Gen 2 (10 Gbps), Thunderbolt 4, Power Delivery (PD), DisplayPort
Ethernet LAN
10, 100, 1000 Mbit/s
Audio jack
3.5mm Combo Jack
Microphone
Dual Array Far-field Microphones
Speakers
2x 2W, Dolby Audio
Security Lock slot
Kensington Lock Slot
What's in the box?
Inside the package, you will find nothing more than the standard – some paperwork, and a 65W USB Type-C charger.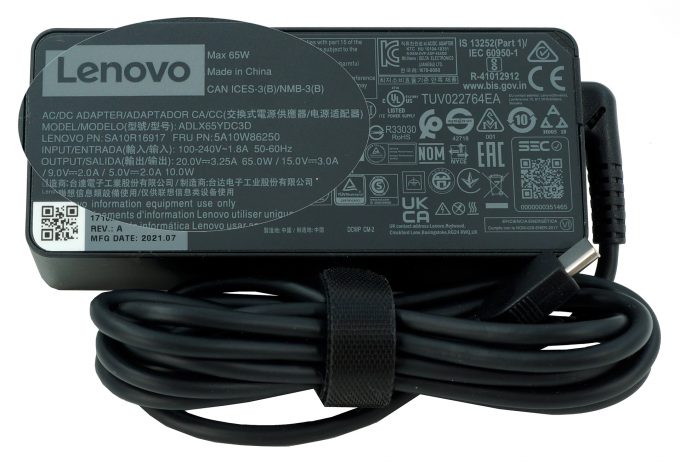 Design and construction
In terms of the build, this machine comes in two iterations – one with a plastic lid, and one with an aluminum one. Each of them can come with either a plastic, or a magnesium alloy base, and a PA or glass-fiber bottom panel. Yep, this is quite the variety. In our case, we had the top-tier version with an aluminum lid, and a magnesium chassis, covered in rubberized material. It weighs 1.50 kg and has a profile of 17.9mm, which is not bad for a "mobile workstation". We found out that the base flexes when twisted, but only just.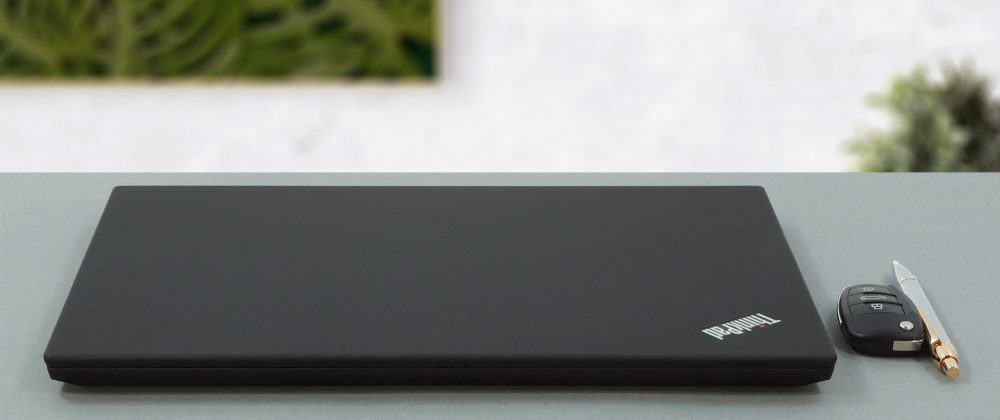 Unfortunately, you won't be able to open the lid with a single hand. Additionally, the bezels around the matte panel seem to be a bit on the thick side. On the other hand, the top one houses an HD Web camera, equipped with a privacy shutter. Optionally, you can pair the notebook with an IR face recognition sensor.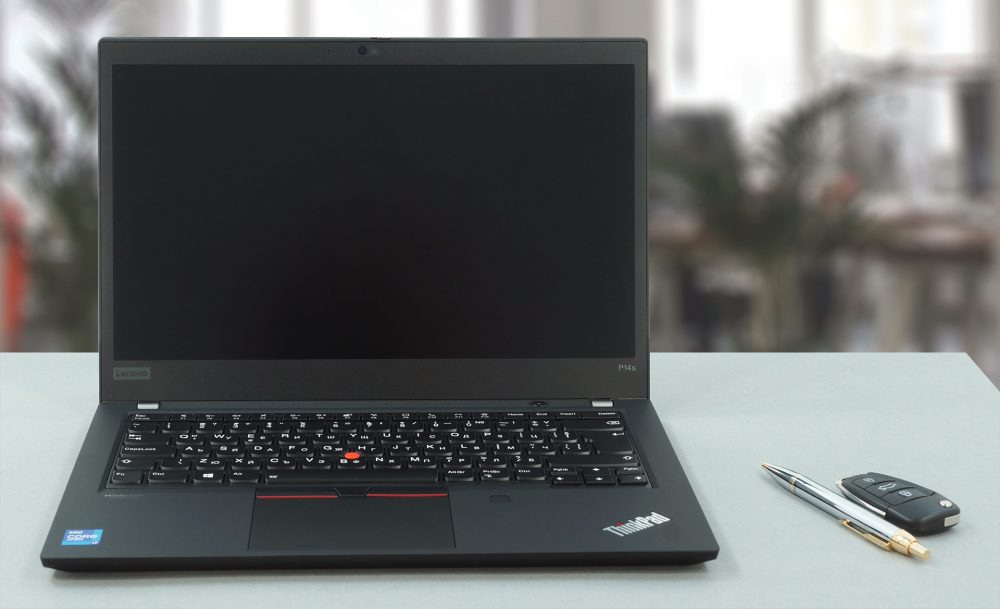 A quick look at the base reveals the fact that the speakers are placed above the keyboard. As for the keyboard itself, we are talking about a spill-resistant, 6-row unit with a ton of key travel and clicky feedback. As always, the best of the best from the ThinkPads. Then again, there is the "Red Nipple" in its middle, which works in conjunction with a set of buttons placed above the touchpad.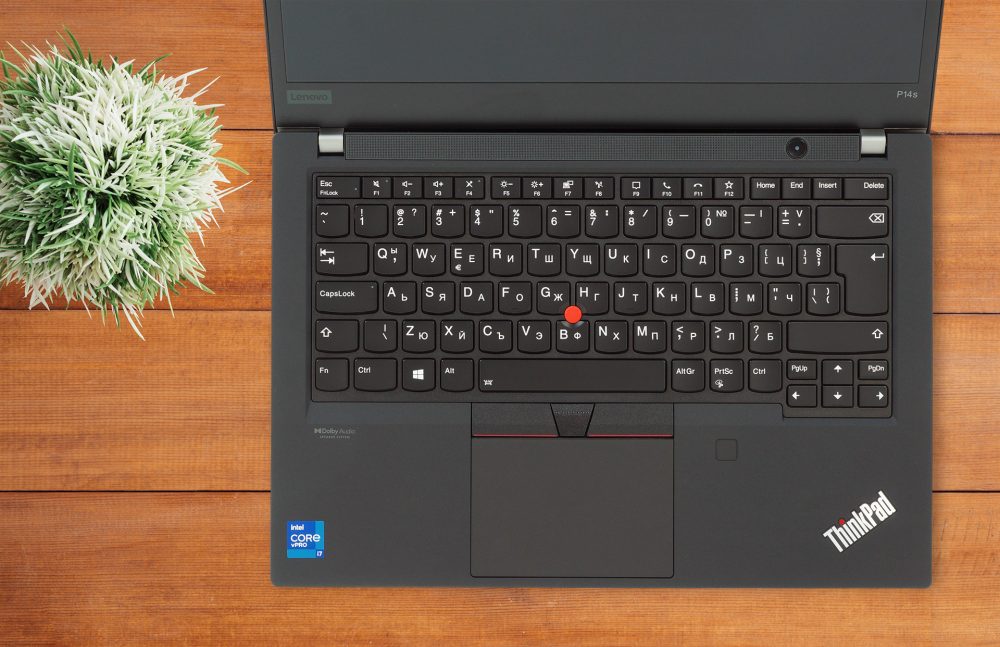 Speaking of which, it has a smooth Mylar surface, which offers a great gliding experience, and accurate tracking. On top of that, the clicking mechanism feels comfortable. By the way, there is an optional fingerprint reader to the right of the touchpad.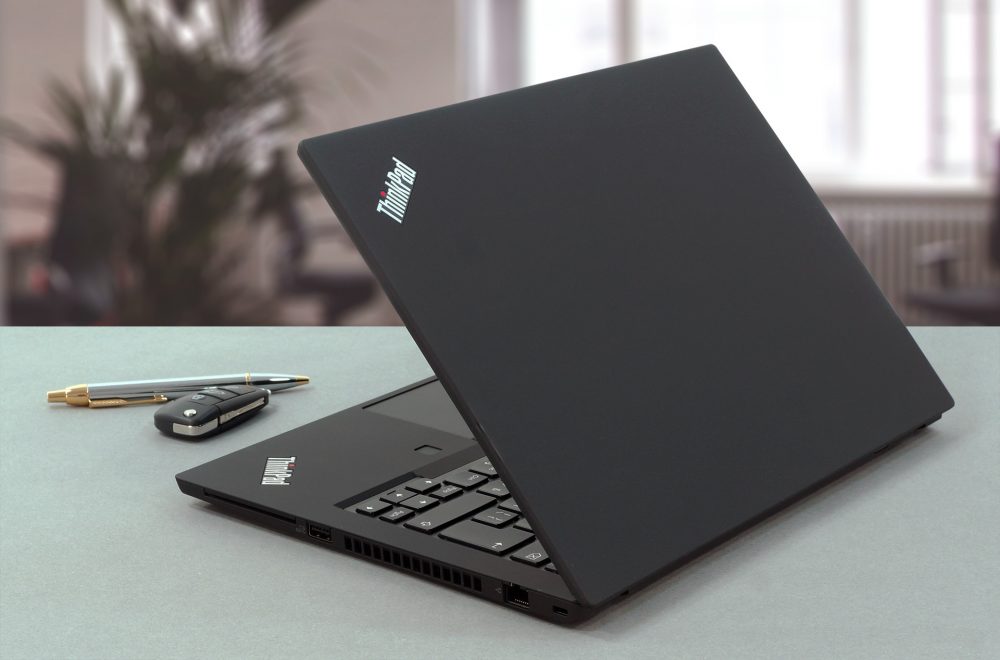 Due to the orientation of the speakers, we can say that the bottom panel is speaker-cutout-free. However, there is a good chunk of ventilation grills. Respectively, the hot air gets exhausted from the right side of the laptop.

Ports
On the left side, there are two Thunderbolt 4 connectors, a side docking connector, a USB Type-A 3.2 (Gen. 1) port, an HDMI 2.0, an audio jack, and a MicroSD card slot. And on the right, there is a Kensington security slot, an RJ-45 connector, a USB Type-A 3.2 (Gen. 1) port, and a Smart Card reader. Additionally, LTE-equipped models have a SIM card tray on the back.
Disassembly, upgrade options and maintenance
In order to take this notebook apart, you need to undo all 6 Phillips-head screws. After that, remove the SIM card tray, and pop the bottom panel with the help of a plastic pry tool.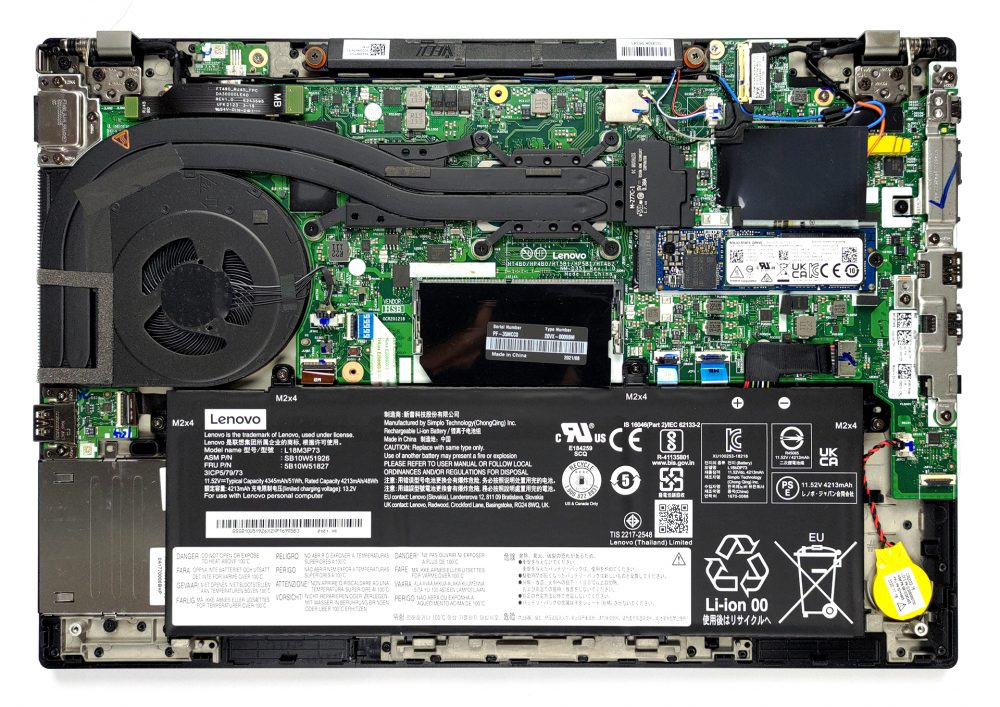 Inside, you will find a 50Wh battery pack.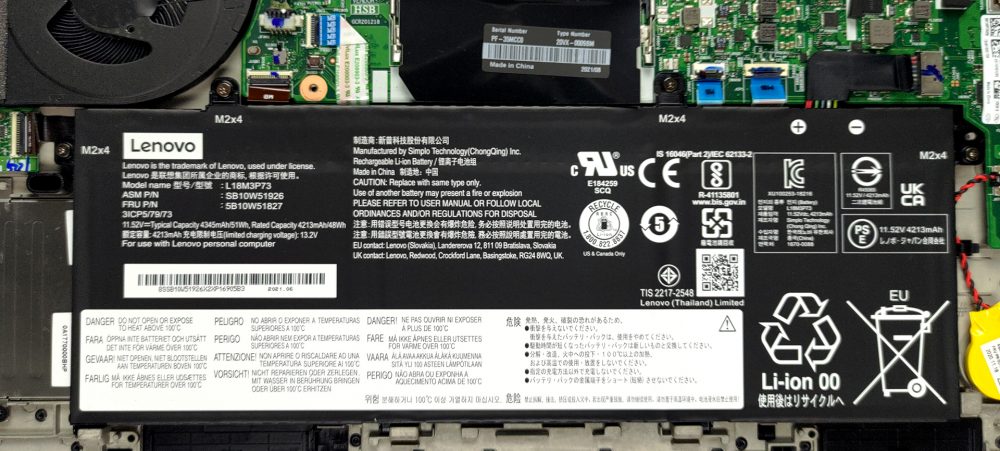 In terms of memory, you get either 8 or 16GB of RAM soldered to the motherboard. You can fit up to 32GB more via the single SODIMM slot. As for the storage, there is one M.2 slot that supports Gen 4 drives.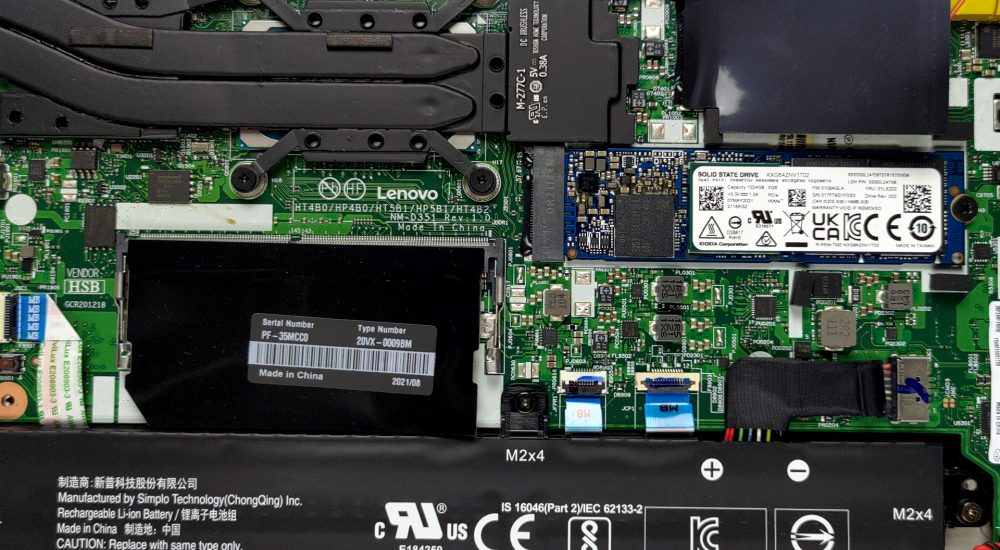 As you can see, there are two heat pipes cooling both the CPU and the GPU. Additionally, there are heat spreaders over the processor VRMs, and the graphics memory.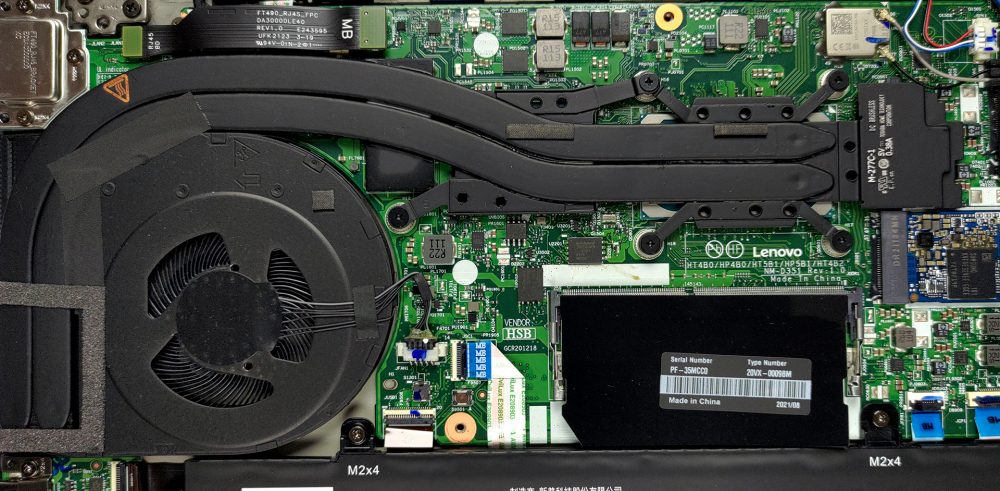 Display quality
Lenovo ThinkPad P14s Gen 2's display has a Full HD IPS panel, model number BOE NE140FHM-N61 (LEN40A9). Its diagonal is 14″ (35.56 cm), and the resolution – 1920 х 1080. Additionally, the screen ratio is 16:9, the pixel density – 157 ppi, their pitch – 0.161 x 0.161 mm. The screen can be considered Retina when viewed from at least 56 cm (from this distance, the average human eye can't see the individual pixels).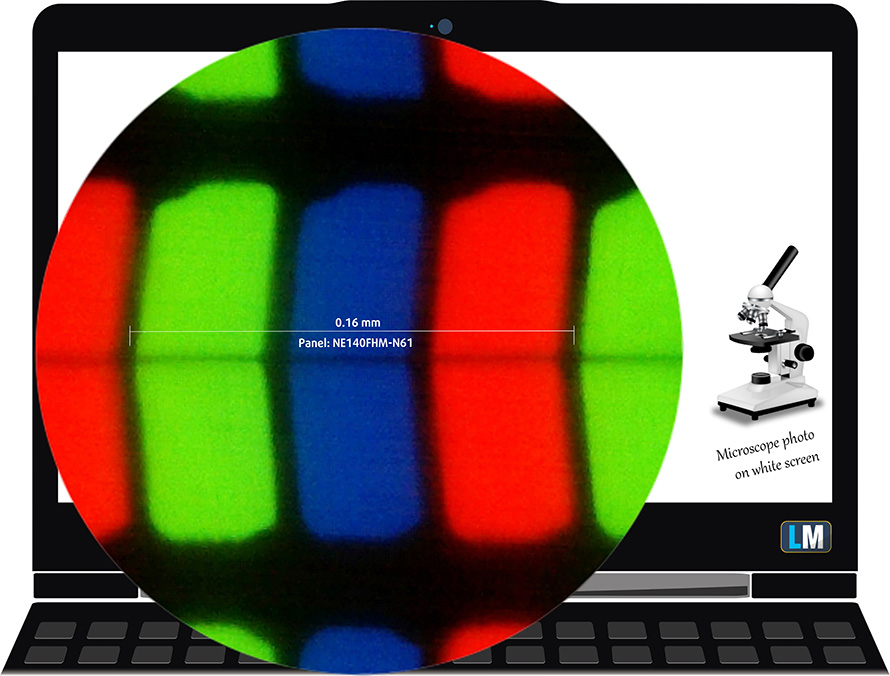 It has comfortable viewing angles. We have provided images at 45 degrees to evaluate quality.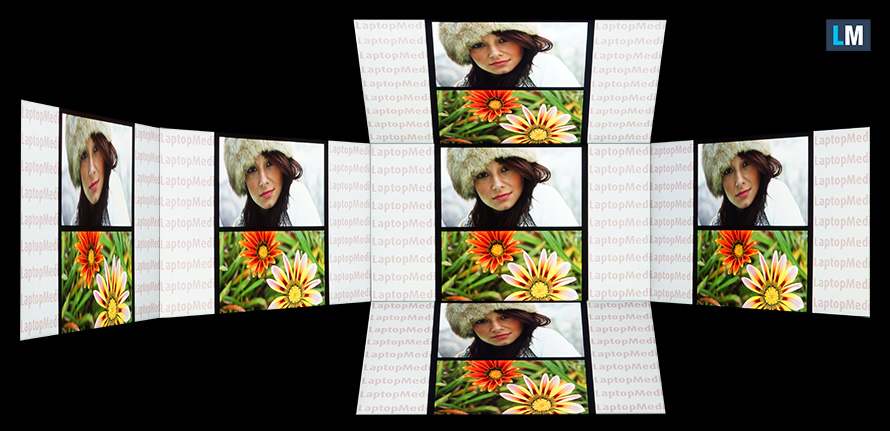 Also, a video with locked focus and exposure.
The maximum measured brightness is 407 nits (cd/m2) in the middle of the screen and 397 nits (cd/m2) average across the surface with a maximum deviation of 5%. The Correlated Color Temperature on a white screen and at maximum brightness is 6600K (average) – slightly colder than the 6500K optimum for sRGB.
In the illustration below you can see how the display performs from a uniformity perspective. The illustration below shows how matters are for operational brightness levels (approximately 140 nits) – in this particular case at 66% Brightness (White level = 143 cd/m2, Black level = 0.1 cd/m2).
Values of dE2000 over 4.0 should not occur, and this parameter is one of the first you should check if you intend to use the laptop for color-sensitive work (a maximum tolerance of 2.0 ). The contrast ratio is very good – 1450:1.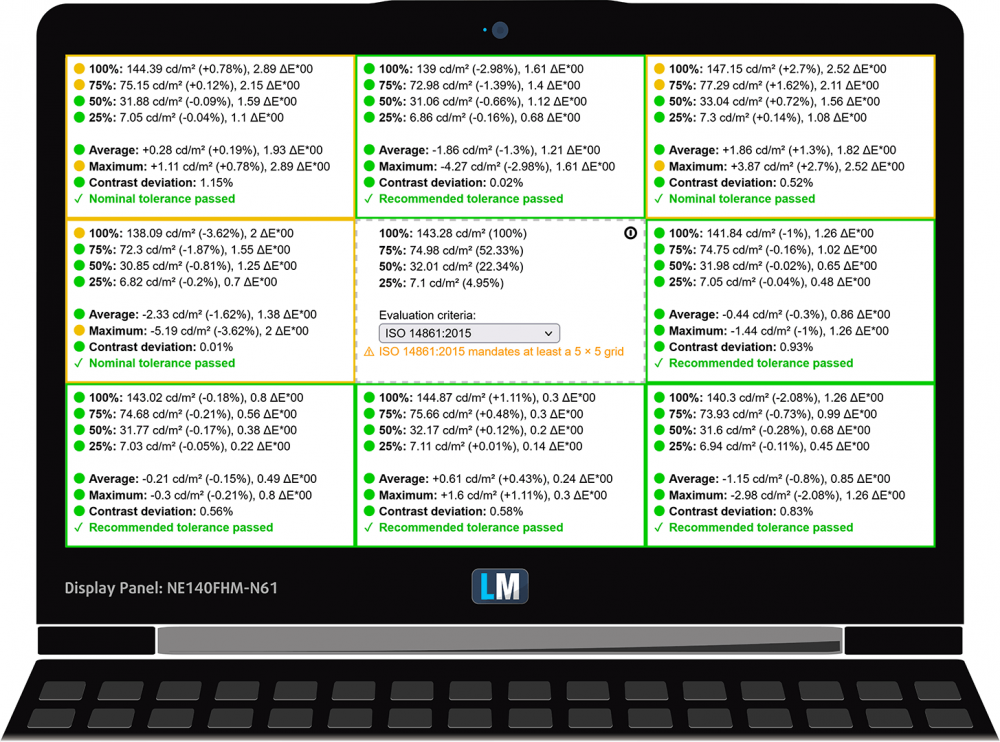 To make sure we are on the same page, we would like to give you a little introduction to the sRGB color gamut and the Adobe RGB. To start, there's the CIE 1976 Uniform Chromaticity Diagram that represents the visible specter of colors by the human eye, giving you a better perception of the color gamut coverage and the color accuracy.
Inside the black triangle, you will see the standard color gamut (sRGB) that is being used by millions of people on HDTV and on the web. As for the Adobe RGB, this is used in professional cameras, monitors, etc for printing. Basically, colors inside the black triangle are used by everyone and this is the essential part of the color quality and color accuracy of a mainstream notebook.
Still, we've included other color spaces like the famous DCI-P3 standard used by movie studios, as well as the digital UHD Rec.2020 standard. Rec.2020, however, is still a thing of the future and it's difficult for today's displays to cover that well. We've also included the so-called Michael Pointer gamut, or Pointer's gamut, which represents the colors that naturally occur around us every day.
The yellow dotted line shows Lenovo ThinkPad P14s Gen 2's color gamut coverage.
Its display covers 89% of the sRGB/ITU-R BT.709 (web/HDTV standard) in CIE1976.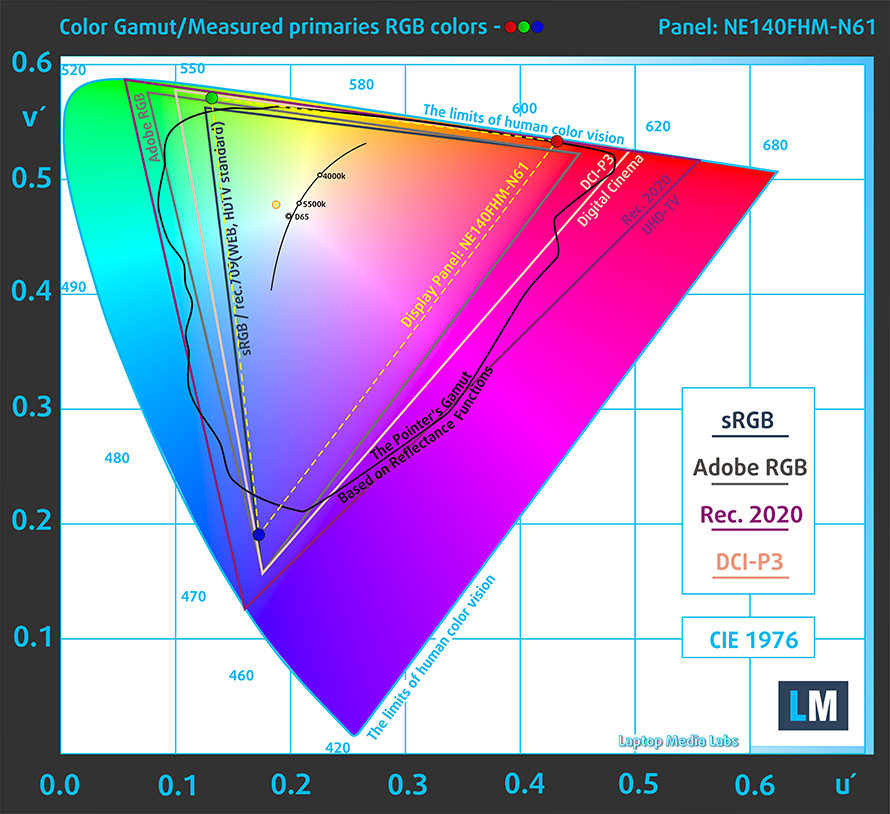 Our "Design and Gaming" profile delivers optimal color temperature (6500K) at 140 cd/m2 luminance and sRGB gamma mode.
We tested the accuracy of the display with 24 commonly used colors like light and dark human skin, blue sky, green grass, orange, etc. You can check out the results at factory condition and also, with the "Design and Gaming" profile.
Below you can compare the scores of Lenovo ThinkPad P14s Gen 2 with the default settings (left), and with the "Gaming and Web design" profile (right).
The next figure shows how well the display is able to reproduce really dark parts of an image, which is essential when watching movies or playing games in low ambient light.
The left side of the image represents the display with stock settings, while the right one is with the "Gaming and Web Design" profile activated. On the horizontal axis, you will find the grayscale, and on the vertical axis – the luminance of the display. On the two graphs below you can easily check for yourself how your display handles the darkest nuances but keep in mind that this also depends on the settings of your current display, the calibration, the viewing angle, and the surrounding light conditions.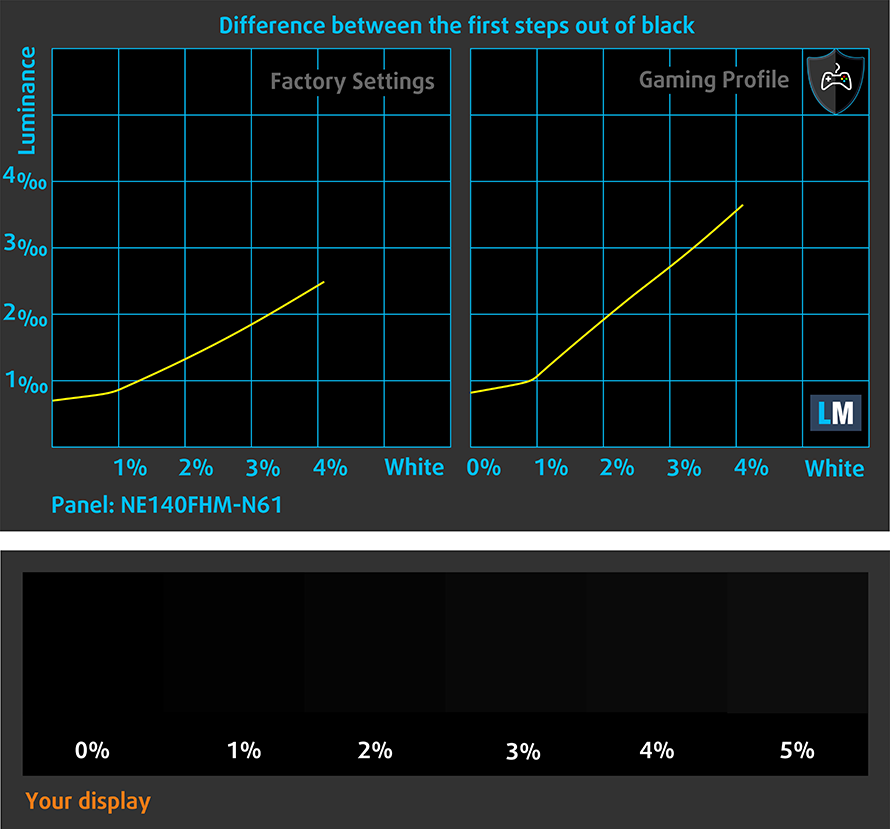 Response time (Gaming capabilities)
We test the reaction time of the pixels with the usual "black-to-white" and "white-to-black" method from 10% to 90% and vice versa.
We recorded Fall Time + Rise Time = 35 ms – a very slow panel.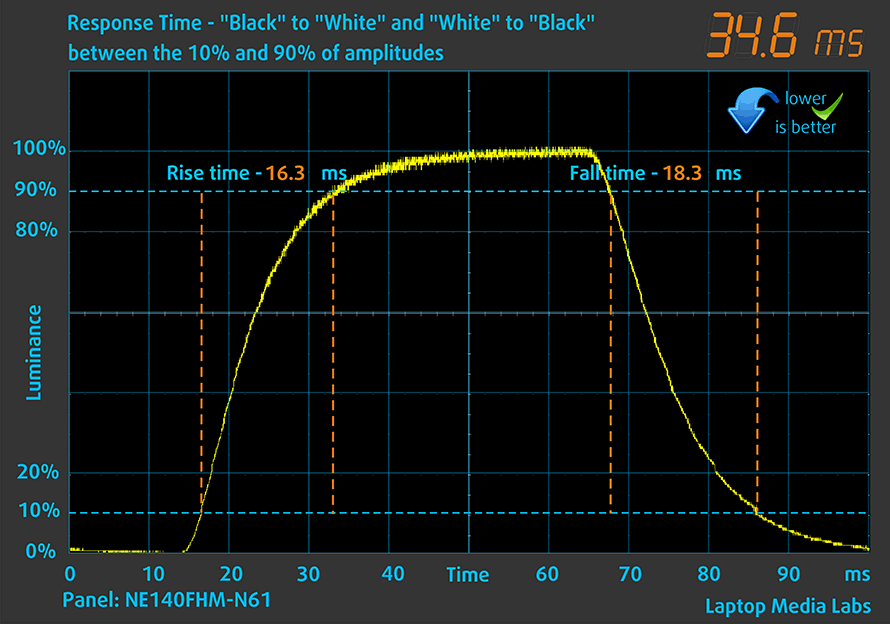 After that, we test the reaction time of the pixels with the usual "Gray-to-Gray" method from 50% White to 80% White and vice versa between 10% and 90% of the amplitude.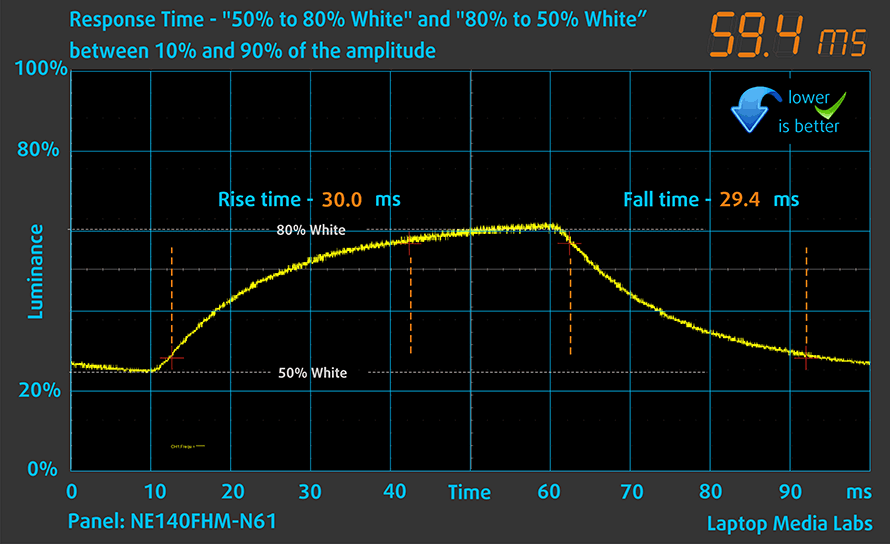 Health impact – PWM / Blue Light
PWM (Screen flickering)
Pulse-width modulation (PWM) is an easy way to control monitor brightness. When you lower the brightness, the light intensity of the backlight is not lowered, but instead turned off and on by the electronics with a frequency indistinguishable to the human eye. In these light impulses, the light/no-light time ratio varies, while brightness remains unchanged, which is harmful to your eyes. You can read more about that in our dedicated article on PWM.
Lenovo ThinkPad P14s Gen 2's backlight uses PWM to adjust its brightness up until 101 nits. Below that the frequency is lower than what can be considered safe.

Blue light emissions
Installing our Health-Guard profile not only eliminates PWM but also reduces the harmful Blue Light emissions while keeping the colors of the screen perceptually accurate. If you're not familiar with the Blue light, the TL;DR version is – emissions that negatively affect your eyes, skin, and your whole body. You can find more information about that in our dedicated article on Blue Light.
Buy our profiles
Since our profiles are tailored for each individual display model, this article and its respective profile package are meant for Lenovo ThinkPad P14s Gen 2 configurations with 14.0″ BOE NE140FHM-N61 (LEN40A9) (FHD, 1920 × 1080) IPS.
*Should you have problems with downloading the purchased file, try using a different browser to open the link you'll receive via e-mail. If the download target is a .php file instead of an archive, change the file extension to .zip or contact us at bg.laptopmedia@gmail.com.
Read more about the profiles HERE.
In addition to receiving efficient and health-friendly profiles, by buying LaptopMedia's products you also support the development of our labs, where we test devices in order to produce the most objective reviews possible.
Sound
Lenovo ThinkPad P14s Gen 2's speakers produce a sound of very good quality. Moreover, the low, mid, and high tones are all free of deviations.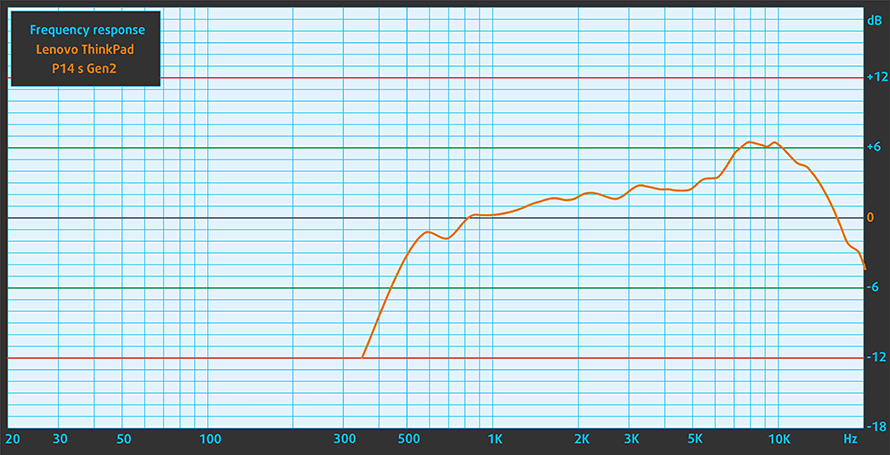 Drivers
All of the drivers and utilities for this notebook can be found here: https://pcsupport.lenovo.com/us/en/products/laptops-and-netbooks/thinkpad-p-series-laptops/thinkpad-p14s-gen-2-type-20vx–20vy/downloads/driver-list
Battery
Now, we conduct the battery tests with Windows Better performance setting turned on, screen brightness adjusted to 120 nits, and all other programs turned off except for the one we are testing the notebook with. This laptop's 50Wh battery pack delivers 12 hours and a half of Web browsing, and 9 hours and 52 minutes of video playback.
In order to simulate real-life conditions, we used our own script for automatic web browsing through over 70 websites.
For every test like this, we use the same video in HD.
CPU options
This notebook can be equipped with the Core i3-1115G4, Core i5-1135G7, Core i7-1165G7, or Core i7-1165G7.
Results are from the Cinebench 20 CPU test (the higher the score, the better)
Results are from our Photoshop benchmark test (the lower the score, the better)
Lenovo ThinkPad P14s Gen 2 (Intel) CPU variants
Here you can see an approximate comparison between the CPUs that can be found in the Lenovo ThinkPad P14s Gen 2 (Intel) models on the market. This way you can decide for yourself which Lenovo ThinkPad P14s Gen 2 (Intel) model is the best bang for your buck.
Note: The chart shows the cheapest different CPU configurations so you should check what the other specifications of these laptops are by clicking on the laptop's name / CPU.
Results are from the Cinebench 20 CPU test (the higher the score, the better)
Results are from our Photoshop benchmark test (the lower the score, the better)
GPU options
In addition to the integrated Iris Xe Graphics G4 and G7, you can get a dedicated GPU in the form of the NVIDIA Quadro T500 with 4GB of GDDR6 memory.
Results are from the 3DMark: Fire Strike (Graphics) benchmark (higher the score, the better)
Results are from the Unigine Heaven 4.0 benchmark (higher the score, the better)
Results are from the Unigine Superposition benchmark (higher the score, the better)
Gaming tests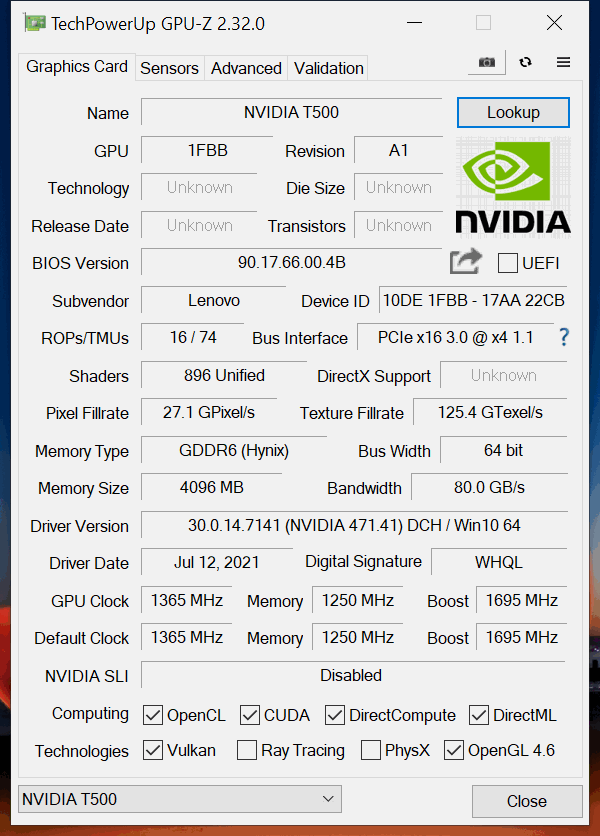 Temperatures and comfort
Max CPU load
In this test we use 100% on the CPU cores, monitoring their frequencies and chip temperature. The first column shows a computer's reaction to a short load (2-10 seconds), the second column simulates a serious task (between 15 and 30 seconds), and the third column is a good indicator of how good the laptop is for long loads such as video rendering.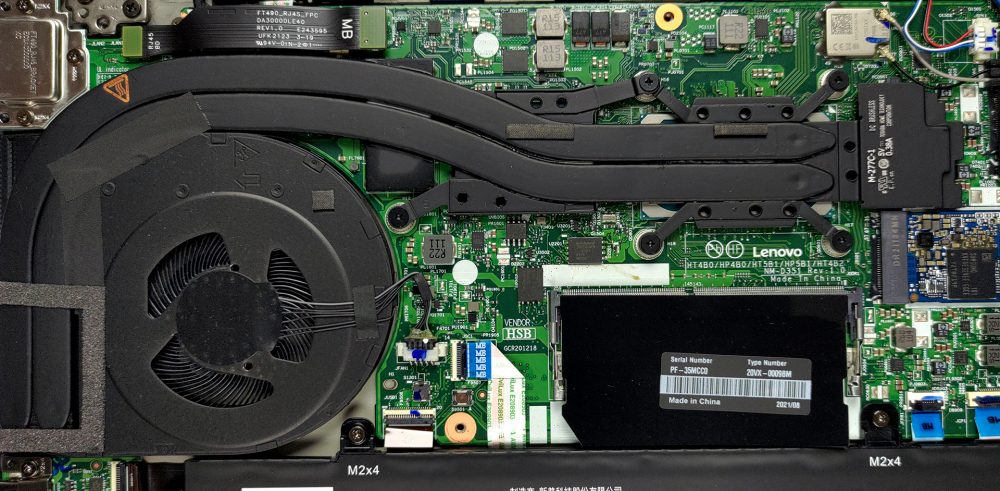 Average core frequency (base frequency + X); CPU temp.
| Intel Core i7-1185G7(15W TDP) | 0:02 – 0:10 sec | 0:15 – 0:30 sec | 10:00 – 15:00 min |
| --- | --- | --- | --- |
| Lenovo ThinkPad P14s Gen 2 | 3.67 GHz @ 100°C @ 48W | 3.36 GHz @ 100°C @ 39W | 2.54 GHz @ 74°C @ 20W |
| Fujitsu LifeBook U9311X | 3.08 GHz @ 98°C @ 35W | 2.75 GHz @ 97°C @ 27W | 2.26 GHz @ 82°C @ 18W |
| MSI Summit E15 (A11x) | 3.32 GHz @ 94°C @ 38W | 3.19 GHz @ 95°C @ 36W | 3.05 GHz @ 95°C @ 33W |
| Dell Latitude 14 7420 | 3.66 GHz @ 98°C @ 47W | 3.04 GHz @ 97°C @ 30W | 2.17 GHz @ 76°C @ 16W |
| MSI Prestige 14 (A11Sx) | 3.80 GHz @ 94°C @ 53W | 3.48 GHz @ 95°C @ 42W | 3.22 GHz @ 91°C @ 35W |
| Lenovo Yoga 9i (14) | 3.08 GHz @ 92°C @ 42W | 3.14 GHz @ 96°C @ 34W | 2.28 GHz @ 76°C @ 19W |
Although the results here don't seem bad at all, this device's CPU can't maintain its base clock speed during long periods of time.
Real-life gaming
| NVIDIA Quadro T500 | GPU frequency/ Core temp (after 2 min) | GPU frequency/ Core temp (after 30 min) |
| --- | --- | --- |
| Lenovo ThinkPad P14s Gen 2 | 1475 MHz @ 77°C | 1320 MHz @ 69°C |
Although the maximum temperature in this table is 77°C, we monitored spikes of up to 90+°C on the GPU.
Comfort during combined load
And during the tests, the laptop was louder than it should be. Of course, you can dial the fan noise by choosing a less-taxing Windows performance mode, but this will result in lower performance in general. Thankfully, the hotspot of the keyboard was just below 40°C.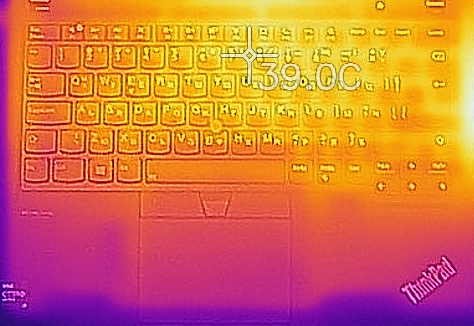 Verdict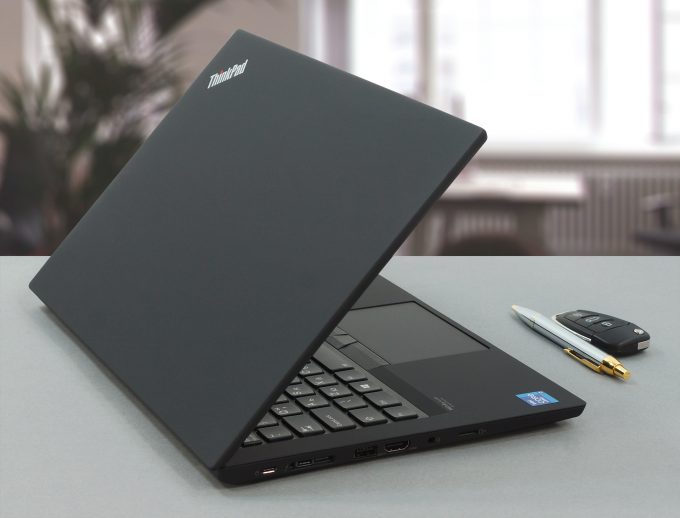 If performance is the leading factor in your purchase, perhaps the intel version of the ThinkPad P14s Gen 2 is not the best decision. Its cooling system just can't cope with the Core i7-1185G7, and with the Quadro T500 GPU, as both of them fall beneath their base clocks during long workloads. This means, you won't be able to extract the maximum out of your device if you are planning to work on large files, that require lots of time to calculate.
Speaking of large files, this device has the option to be configured with up to 48GB of DDR4 RAM – 16GB soldered to the motherboard, and up to 32GB added via the SODIMM slot. And although it has only one storage option, it supports Gen 4 SSDs.
Lenovo ThinkPad P14s Gen 2's IPS panel (BOE NE140FHM-N61 (LEN40A9)) has a Full HD resolution, decently high maximum brightness, good contrast ratio, and comfortable viewing angles. It also covers 89% of the sRGB color gamut, and with the help of our Gaming and Web design profile, the color accuracy gets an average dE value of <2.0. More sensitive users should keep in mind that this panel uses PWM up to 101 nits of brightness. If you want to completely eliminate this issue, you can do that by installing our Health-Guard profile. Last but not least, the pixel response time here is not great. It is so slow, in fact, that it's visible even to the naked eye.
Generally, it is good to see features like camera privacy shutter, optional LTE, fingerprint reader, and IR face recognition, as well as the awesome keyboard. Not only that, but the battery life is decent with 12 hours and a half of Web browsing, and nearly 10 hours of video playback.
Ultimately, the I/O is well-populated, and if you happen to need more ports, you can expand it via the docking connector. By the way, some of the ports include two Thunderbolt 4 connectors, and a MicroSD card slot.
At the end of the day, the ThinkPad P14s Gen 2 is an expensive device, and truly not a bad one. Its professional hardware offers a lot of possibilities, but heavy computing is not one of them, so you have to keep that in mind.
You can check the prices and configurations in our Specs System: https://laptopmedia.com/series/lenovo-thinkpad-p14s-gen-2-intel/
Pros
Covers 89% of sRGB colors (BOE NE140FHM-N61 (LEN40A9))
High color accuracy when Gaming and Web design profile is installed (BOE NE140FHM-N61 (LEN40A9))
The spill-resistant keyboard is great for typing
Wi-Fi 6 and LTE support plus optional super-fast fingerprint reader and IR face recognition systems
Well-populated I/O with 2x Thunderbolt 4 and a MicroSD card slot
Great input devices
Decent battery life
Cons
PWM up to 101 nits (BOE NE140FHM-N61 (LEN40A9))
The cooling is overwhelmed when both the CPU and GPU are stressed
Slow pixel response times