ASUS TUF Dash F15 (FX516) review – the new RTX graphics cards look promising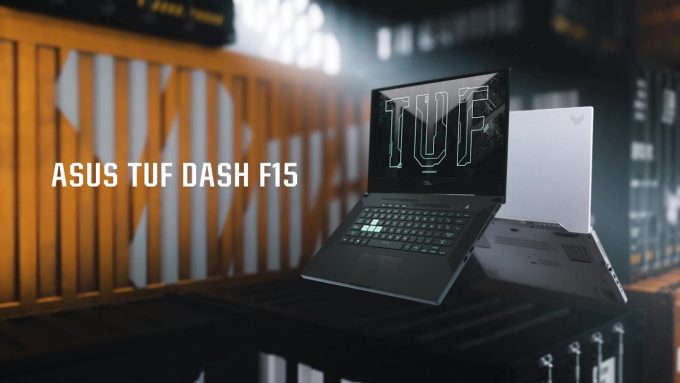 Last year, ASUS was one of the first manufacturers (if not the first) to trust AMD and their Ryzen 4000 processors. And it turned out to be a success. You could have snatched a rather affordable unit with supreme computational performance, which was something unseen to this day. And as they continue to do that in 2021, with AMD's even more powerful Ryzen 5000H CPUs, they did a slight detour.
This is how the TUF Dash F15 (FX516) was born. Instead of the extremely powerful AMD processors, it includes something bold from Intel – the Core i7-11370H – the first quad-core high-performance Core i7 in a while. The idea behind it is pretty simple – it needs to deliver the ultimate gaming experience. As Intel has figured, four cores should be plenty for a gaming rig, and all you need is a commendable single-core performance in most games. Well, we are sure going to check that.
In addition to the intriguing new CPU, ASUS has included another new component. This time, it comes from NVIDIA, and it's in the shape of an RTX 3070. The laptop can also be purchased with an RTX 3060, and a GPU that is yet to be disclosed (we believe it's going to be an RTX 3050 of some sort). Keep in mind that this year, NVIDIA decided that they won't be giving their graphics cards a Max-Q or Max-P moniker, so you have to rely on reviews like this one, to know how much power has the manufacturer decided to supply (spoiler alert – the RTX 3070 in this unit reaches a maximum of 85W, sitting in the lower part of the power graph).
Additionally, this device comes in a plethora of display options, starting with a 60Hz 1080p panel, going through 144Hz and 240Hz units of the same resolution, and maxing out with the all-long-awaited 1440p panel, sporting a 165Hz refresh rate.
So, let's pop the box open, and see what did we get.
You can check the prices and configurations in our Specs System: https://laptopmedia.com/series/asus-tuf-dash-fx516/
Contents
Video Review
Specs Sheet
What's in the box?
Inside the package, we found the mandatory paperwork, the laptop, itself, and a 200W power brick.

Design and construction
This brand new TUF Dash F15 comes in a pretty slim chassis. It can be described as an abomination between last year's TUF A15 (FA506), and the ROG Zephyrus M GU502. Its profile stands at 19.9mm, while the weight is no more than 2 kilos. This results in a fairly portable device, especially considering the extremely potent hardware inside. ASUS wasn't kind enough to disclose the materials they used, but we strongly believe that the entire body is made out of plastic. However, both the lid and the base are relatively strong when we tried to twist them.
Speaking of the lid it does open with a single hand, which is a nice touch. And although we were happy to see thin bezels to the side and above the matte display, we were unpleasantly surprised to see that there's no Webcam to find. As we all know, the situation last year pretty much demanded devices with a camera, so that you can join your colleagues, or teaches in a conference meeting. Points deducted.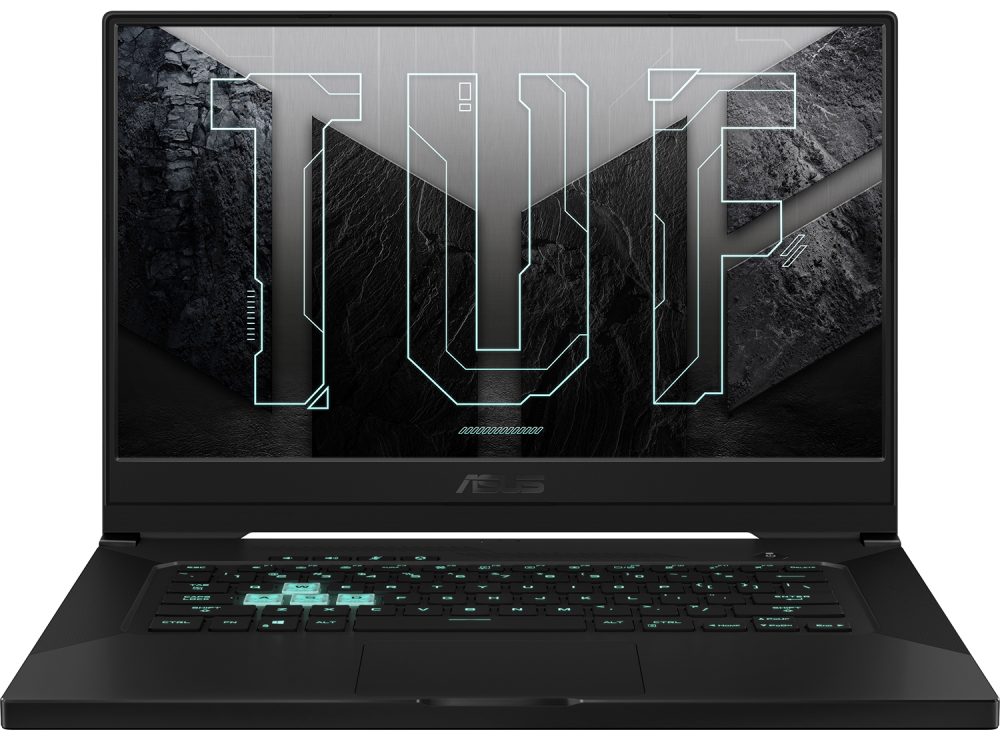 Moving to the keyboard we see a very familiar unit. This time, it drops the NumberPad section for a more symmetric position. On the other side, the transparent WASD keys are here to stay, and they reveal the scissor mechanism of the keys. In terms of typing experience, you get rather clicky feedback with an average key travel. This makes it good for typing and acceptable for gaming. Additionally, there are four dedicated keys separated from the main part of the board – three for sound/mic control, and one that launches the Armoury Crate.
The only downside to the keyboard is the small Arrow keys, which are a nightmare to use in comparison to those of the Lenovo Legion 5 (15), and the HP Omen 15 (15-ek0000).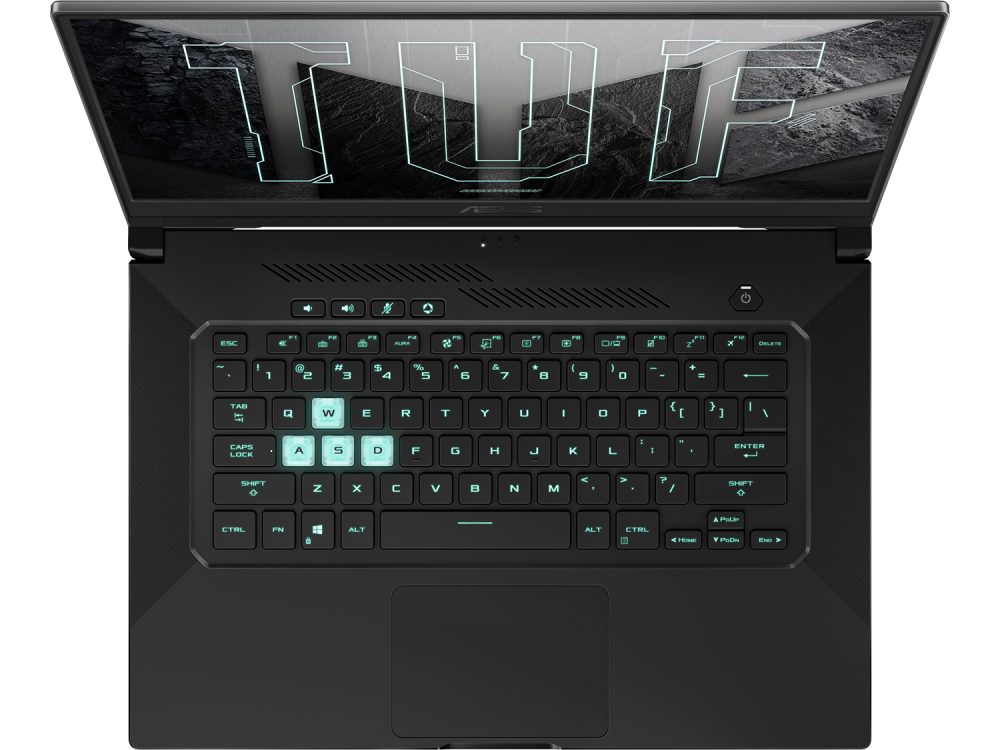 Thankfully, ASUS was kind enough to introduce an RGB backlight. And in terms of the touchpad, you get a pretty accurate unit that bends slightly before it registers a click – not ideal. As you can tell, there are no dedicated keys.
When you turn the laptop upside down, we see pretty much the same bottom panel, as we saw on the ASUS ROG Zephyrus M GU502. It has a couple of ventilation grills just beneath the fans, as well as a larger one that goes below the heat pipes. Additionally, you can see two speaker cutouts. In terms of the hot air distribution – it uses for exhausts – two on the back, and one on each side.
Ports
Most of the I/O here is situated on the left side. There, you can find the proprietary charging plug, an RJ-45 connector, followed by an HDMI 2.0b connector, a USB Type-A 3.2 (Gen. 1) port, a Thunderbolt 4 connector, and an audio jack. This leaves the right side only for the two USB Type-A 3.2 (Gen. 1) ports. By the way, some units ship with 100W USB Type-C chargers, that can take advantage of the Thunderbolt 4 port.
Disassembly, upgrade options, and maintenance
To get inside of this laptop, you have to undo 15 Phillips head screws. Keep in mind that one of them is captive and will remain attached to the bottom panel, thus lifting it ever so slightly, so you can start the prying process from there.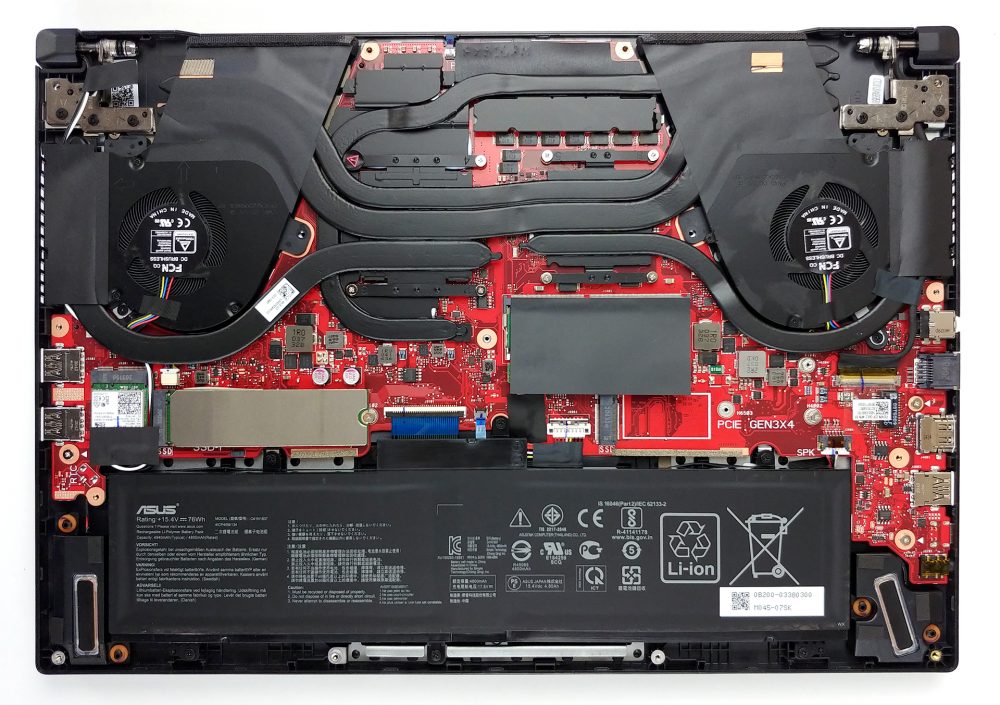 After you remove the panel, you'll see the cooling solution. It comprises five heat pipes – two common for the processor and the graphics card, and one more for each of them. Then, there is the last one, which cools the VRMs and the graphics memory.

As you can see, there is only one SODIMM slot for memory upgrades. Depending on the configuration, you get either 8GB or 16GB of soldered RAM, which can be expanded up to 32GB via the aforementioned slot. Storage-wise, there are two M.2 PCIe x4 slots.

A huge improvement over last year's TUF A15 is the battery. Our unit came equipped with a 76Wh package.

Display quality
ASUS TUF Dash F15 (FX516) in the configuration we tested has a Full HD 144Hz IPS panel with a model number Panda LM156LF-2F03 (NCP004D) – very similar to that of the TUF A15 (FA506). Its diagonal is 15.6″ (39.62 cm), and the resolution 1920 х 1080 pixels. The screen ratio is 16:9, and we are looking at a pixel density of – 142 ppi, and a pitch of 0.18 х 0.18 mm. The screen turns into Retina when viewed at distance equal to or greater than 60cm (24″) (from this distance one's eye stops differentiating the separate pixels, and it is normal for looking at a laptop).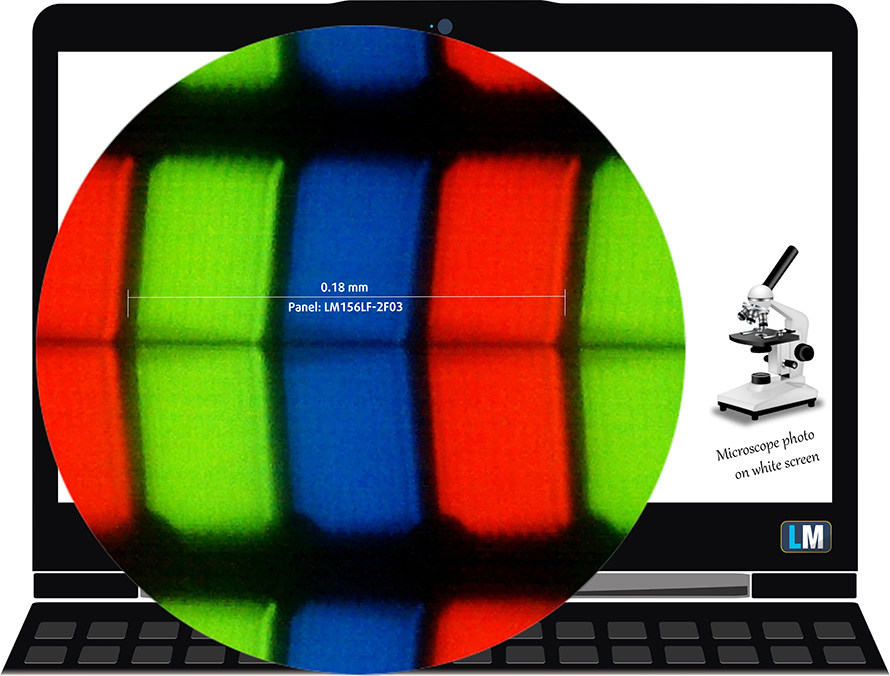 Viewing angles are excellent. We offer images at 45° to evaluate image quality.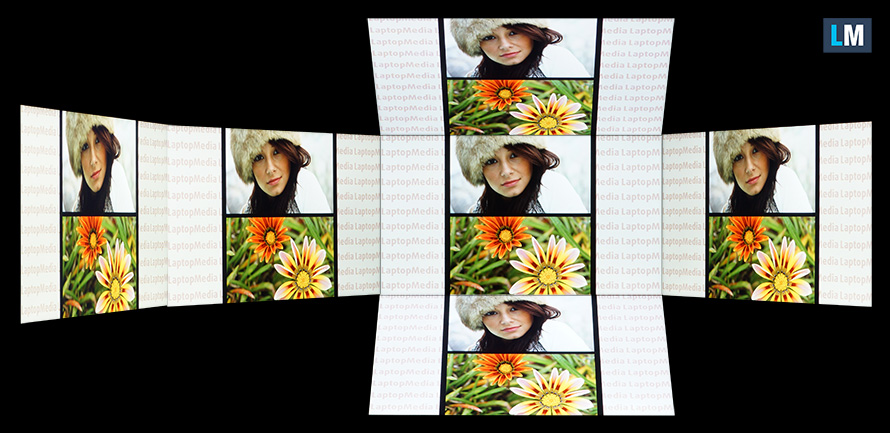 We measured a maximum brightness of 300 nits in the middle of the screen and 279 nits as an average for the whole area, with a maximum deviation of 8%. The Correlated Color Temperature on a white screen is 7070K – colder than the optimal for the sRGB standard of 6500K.
In the illustration below you can see how the display performs from a uniformity perspective. In other words, the leakage of light from the light source.
Values of dE2000 over 4.0 should not occur, and this parameter is one of the first you should check if you intend to use the laptop for color-sensitive work. The contrast ratio is good – 1400:1.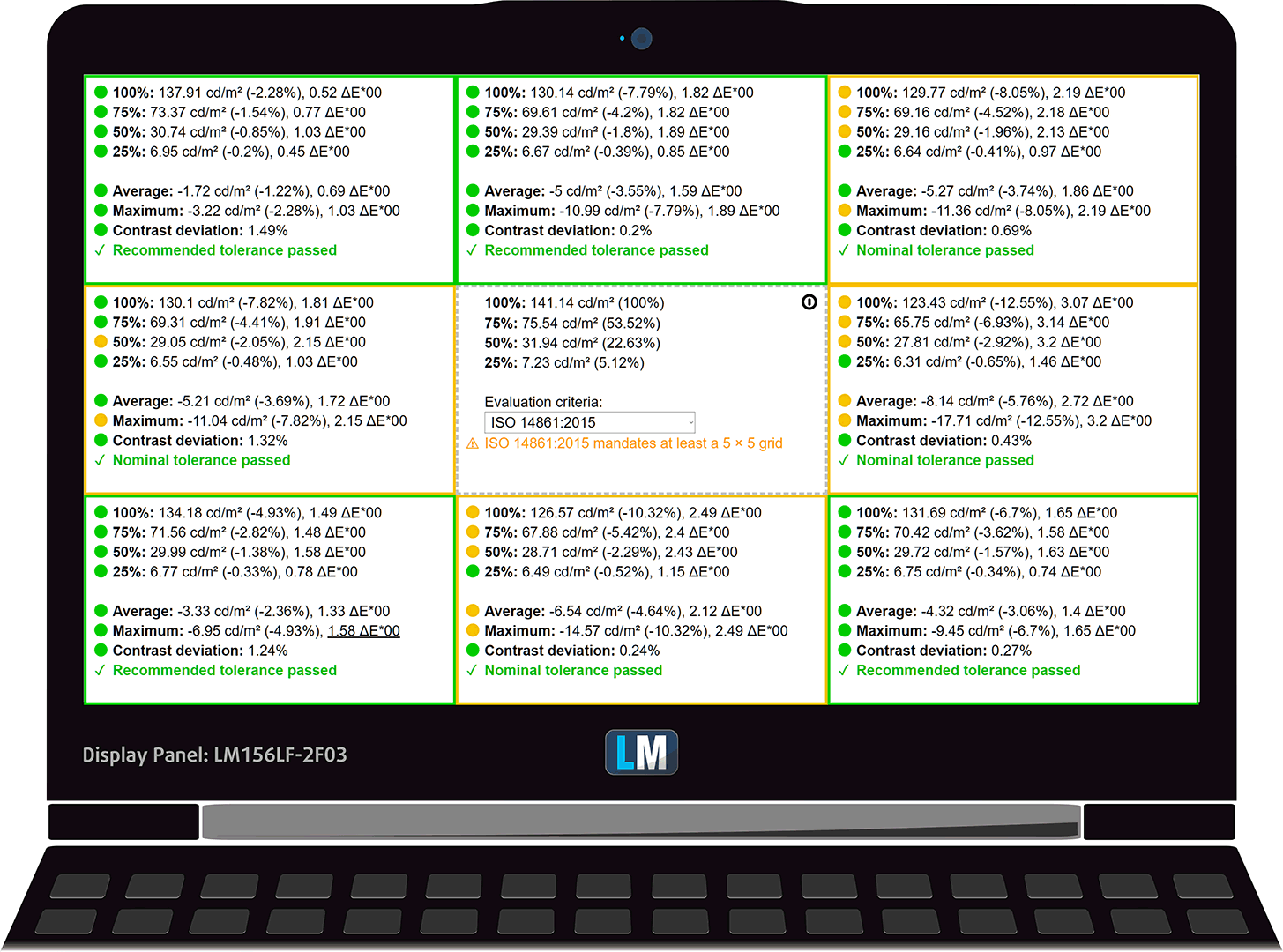 To make sure we are on the same page, we would like to give you a little introduction to the sRGB color gamut and the Adobe RGB. To start, there's the CIE 1976 Uniform Chromaticity Diagram that represents the visible specter of colors by the human eye, giving you a better perception of the color gamut coverage and the color accuracy.
Inside the black triangle, you will see the standard color gamut (sRGB) that is being used by millions of people on HDTV and on the web. As for the Adobe RGB, this is used in professional cameras, monitors, etc for printing. Basically, colors inside the black triangle are used by everyone and this is the essential part of the color quality and color accuracy of a mainstream notebook.
Still, we've included other color spaces like the famous DCI-P3 standard used by movie studios, as well as the digital UHD Rec.2020 standard. Rec.2020, however, is still a thing of the future and it's difficult for today's displays to cover that well. We've also included the so-called Michael Pointer gamut, or Pointer's gamut, which represents the colors that naturally occur around us every day.
The yellow dotted line shows ASUS TUF Dash F15 (FX516)'s color gamut coverage.
Its display covers only 54% of the sRGB/ITU-R BT.709 (web/HDTV standard) in CIE1976.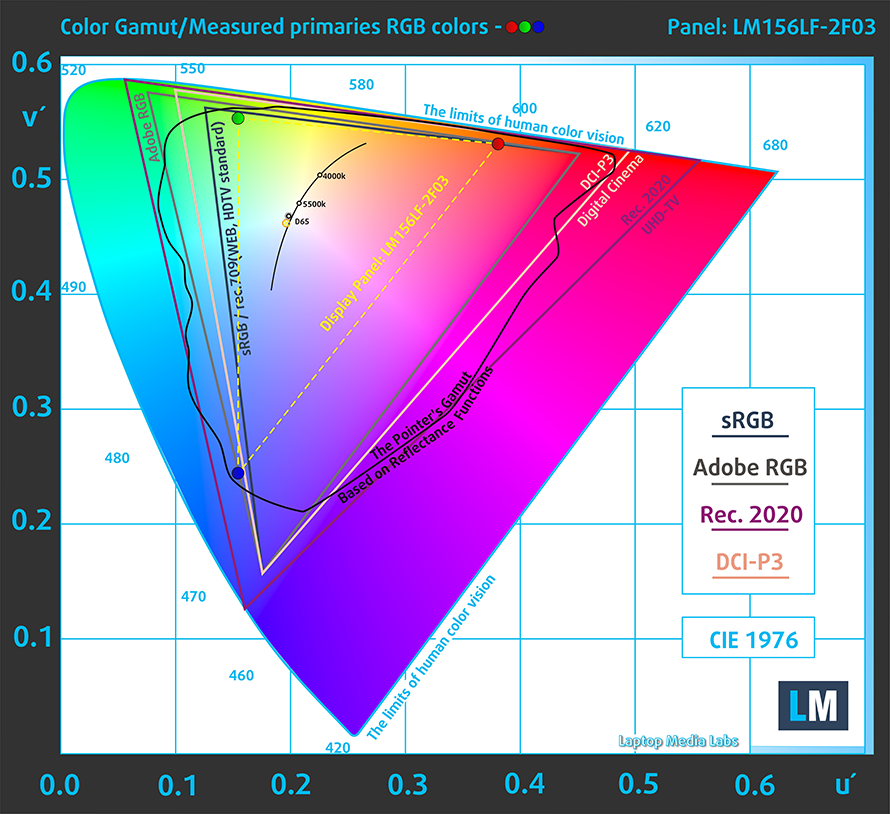 Our "Design and Gaming" profile delivers optimal color temperature (6500K) at 140 cd/m2 luminance and sRGB gamma mode.
We tested the accuracy of the display with 24 commonly used colors like light and dark human skin, blue sky, green grass, orange, etc. You can check out the results at factory condition and also, with the "Design and Gaming" profile.
Below you can compare the scores of ASUS TUF Dash F15 (FX516) with the default settings (left), and with the "Gaming and Web design" profile (right).
The next figure shows how well the display is able to reproduce really dark parts of an image, which is essential when watching movies or playing games in low ambient light.
The left side of the image represents the display with stock settings, while the right one is with the "Gaming and Web Design" profile activated. On the horizontal axis, you will find the grayscale, and on the vertical axis – the luminance of the display. On the two graphs below you can easily check for yourself how your display handles the darkest nuances but keep in mind that this also depends on the settings of your current display, the calibration, the viewing angle, and the surrounding light conditions.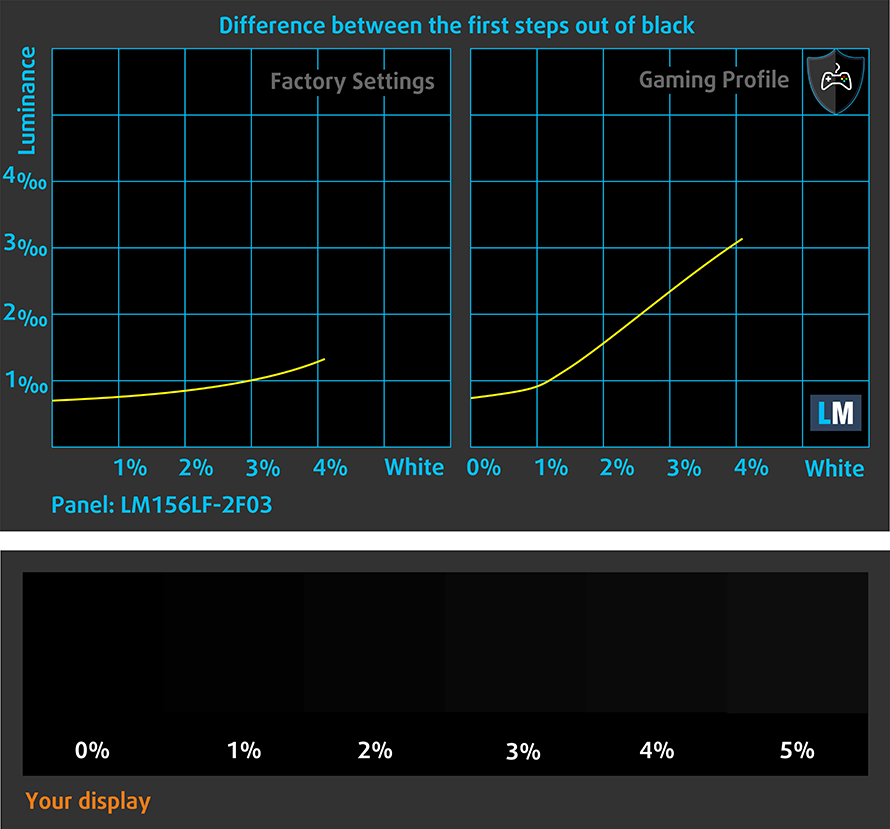 Response time (Gaming capabilities)
We test the reaction time of the pixels with the usual "black-to-white" and "white-to-black" method from 10% to 90% and vice versa.
We recorded Fall Time + Rise Time = 28 ms.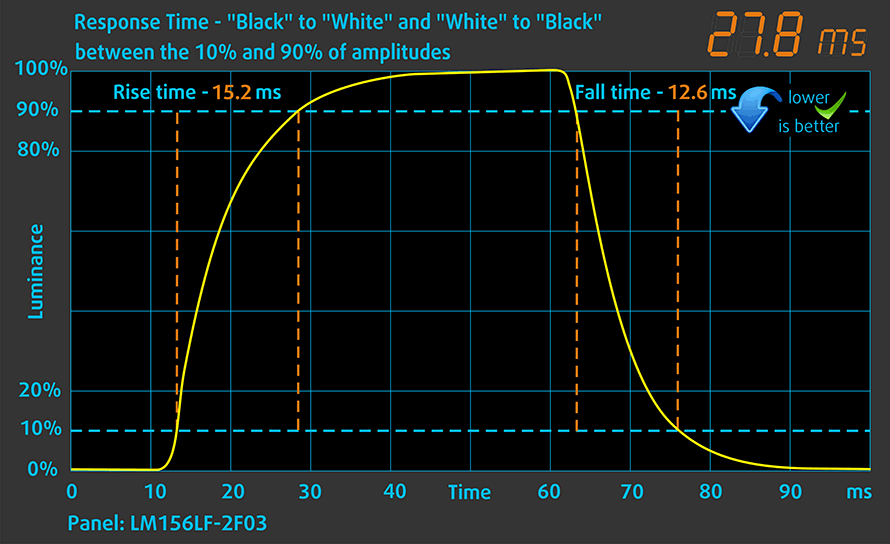 After that, we test the reaction time of the pixels with the usual "Gray-to-Gray" method from 50% White to 80% White and vice versa between 10% and 90% of the amplitude.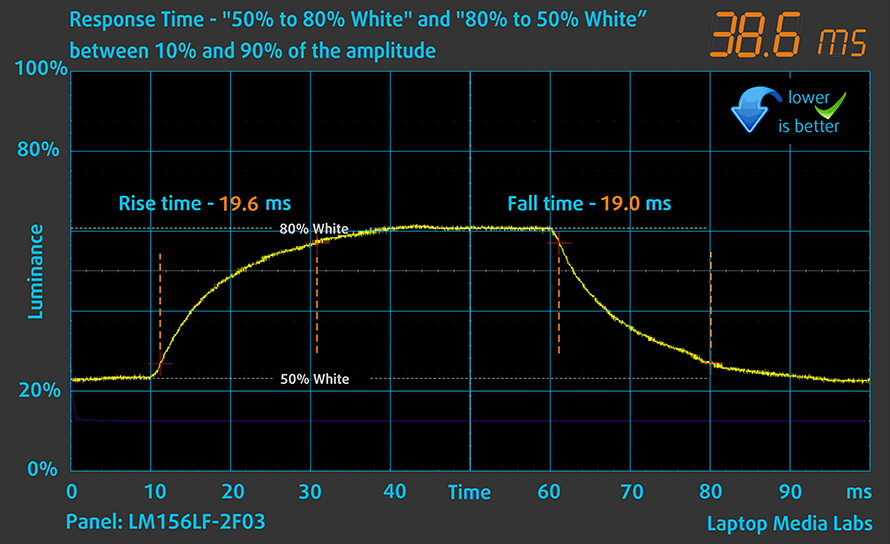 PWM (Screen flickering)
Pulse-width modulation (PWM) is an easy way to control monitor brightness. When you lower the brightness, the light intensity of the backlight is not lowered, but instead turned off and on by the electronics with a frequency indistinguishable to the human eye. In these light impulses, the light/no-light time ratio varies, while brightness remains unchanged, which is harmful to your eyes. You can read more about that in our dedicated article on PWM.
ASUS TUF Dash F15 (FX516)'s display doesn't flicker at any brightness level. This provides comfort in extended periods of use.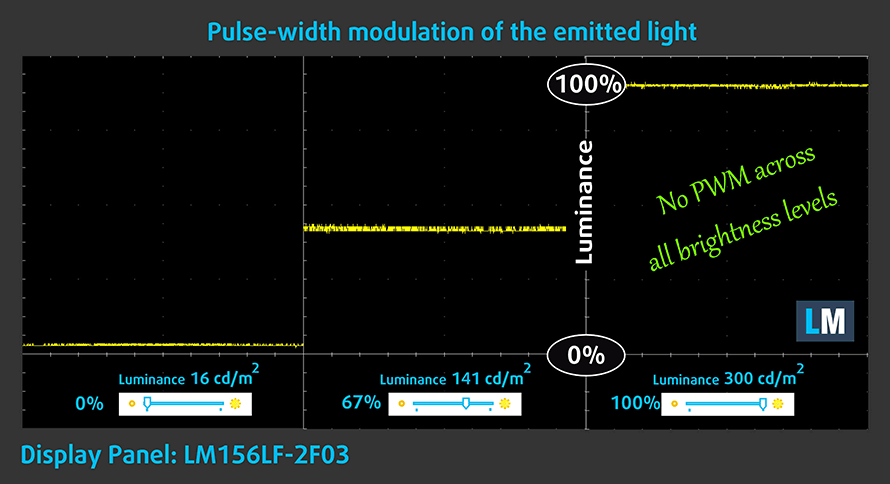 Blue light emissions
Installing our Health-Guard profile not only eliminates PWM but also reduces the harmful Blue Light emissions while keeping the colors of the screen perceptually accurate. If you're not familiar with the Blue light, the TL;DR version is – emissions that negatively affect your eyes, skin, and your whole body. You can find more information about that in our dedicated article on Blue Light.
Conclusion
ASUS TUF Dash F15 (FX516)'s display has an IPS panel with a Full HD resolution and a 144Hz refresh rate. Traditionally, its viewing angles are great, the contrast ratio is good and its backlight doesn't flicker. Sadly, there are two major disadvantages – it covers only 55% of sRGB, which leads to colors looking washed out, and slow response time, which will result in slight ghosting, when combined with the 144Hz refresh rate.

Buy our profiles
Since our profiles are tailored for each individual display model, this article and its respective profile package are meant for ASUS TUF Dash F15 (FX516) configurations with 15.6″ Panda LM156LF-2F03 (NCP004D) (FHD, 1920 × 1080) IPS.
*Should you have problems with downloading the purchased file, try using a different browser to open the link you'll receive via e-mail. If the download target is a .php file instead of an archive, change the file extension to .zip or contact us at [email protected].
Read more about the profiles HERE.
Sound
ASUS TUF Dash F15 (FX516)'s speakers are a bit quiet and they produce a sound with deviations across the entire frequency spectrum.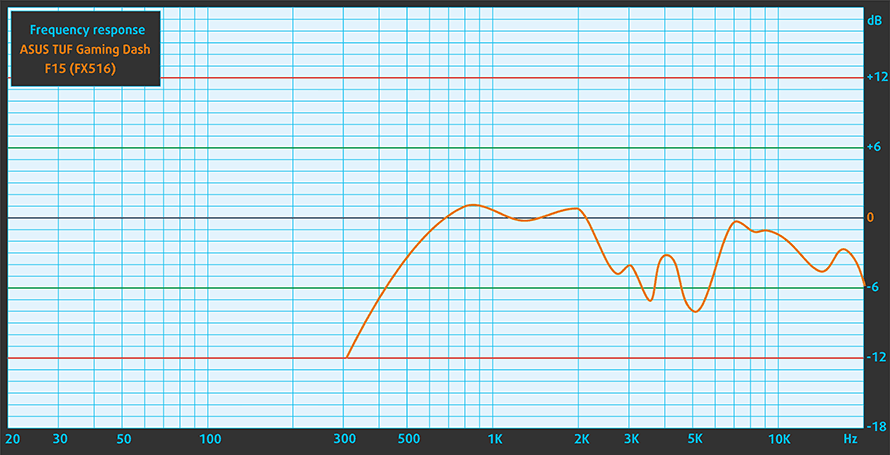 Drivers
All of the drivers and utilities for this notebook can be downloaded from here: https://www.asus.com/Laptops/For-Gaming/TUF-Gaming/2021-ASUS-TUF-Dash-F15/HelpDesk_Download/

Battery
Now, we conduct the battery tests with Windows Better performance setting turned on, screen brightness adjusted to 120 nits, and all other programs turned off except for the one we are testing the notebook with. As this device features a 76Wh battery, we were expecting some good battery life out of it. And it clearly delivered – we got 14 hours and 46 minutes of Web browsing, and 11 hours and 11 minutes of video playback.
CPU options
This device can be purchased with one of three Tiger Lake-H processors – the Core i5-11300H, the Core i7-11370H, and the Core i7-11375H.
GPU options
In terms of graphics, you get the RTX 3060 (4GB/6GB of GDDR6), the RTX 3070 (85W, 8GB GDDR6), and an undisclosed GPU with 4GB of GDDR6 memory.
ASUS TUF Dash F15 (FX516) GPU variants
Here you can see an approximate comparison between the GPUs that can be found in the ASUS TUF Dash F15 (FX516) models on the market. This way you can decide for yourself which ASUS TUF Dash F15 (FX516) model is the best bang for your buck.
Note: The chart shows the cheapest different GPU configurations so you should check what the other specifications of these laptops are by clicking on the laptop's name / GPU.
Gaming tests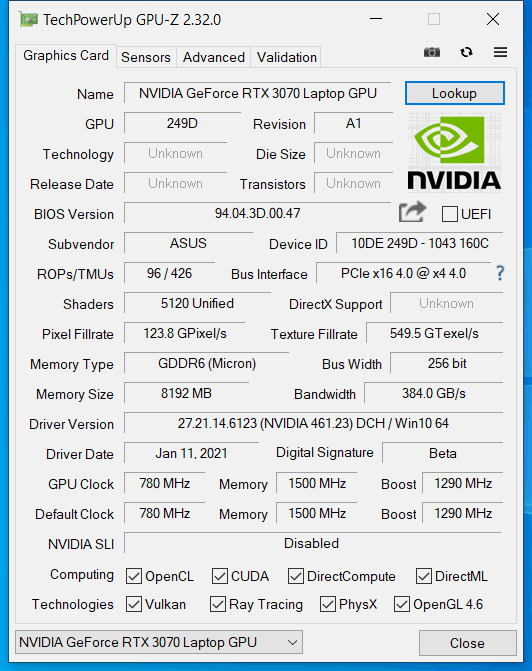 Temperatures and comfort
Max CPU load
In this test we use 100% on the CPU cores, monitoring their frequencies and chip temperature. The first column shows a computer's reaction to a short load (2-10 seconds), the second column simulates a serious task (between 15 and 30 seconds), and the third column is a good indicator of how good the laptop is for long loads such as video rendering.

Average core frequency (base frequency + X); CPU temp.
| Intel Core i7-11370H (35W TDP) | 0:02 – 0:10 sec | 0:15 – 0:30 sec | 10:00 – 15:00 min |
| --- | --- | --- | --- |
| ASUS TUF Dash F15 (FX516) | 4.01 GHz (B+22%) @ 78°C @ 64W | 4.00 GHz (B+21%) @ 82°C @ 64W | 3.96 GHz (B+20%) @ 90°C @ 60W |
This processor manages to maintain 4.00 GHz throughout long periods of time, which is astonishing. Although the temperature at the end was a bit high, we feel that the cooling does a decent job, considering the 60W being in use by the CPU. Especially since the rated TDP of this model is 35W.
Real-life gaming
| NVIDIA GeForce RTX 3070 | GPU frequency/ Core temp (after 2 min) | GPU frequency/ Core temp (after 30 min) |
| --- | --- | --- |
| ASUS TUF Dash F15 (FX516) | 1389 MHz @ 69°C @ 84W | 1377 MHz @ 74°C @ 84W |
Both during the stress test and in gaming, we were using the Turbo mode, available in the Armoury Crate (the app ASUS uses to provide some sort of customizations). This boosted the GPU up to 85W, instead of its 80W TGP.
Gaming comfort
As we said, we ran the laptop in Turbo mode, which not only boost the frequencies but it also runs the fans at near their maximum. This makes it a bit harder to hear your surroundings, so your mother shouldn't be angry if you won't hear her calling you for dinner. Also, we monitored that some areas between the keys can reach above 60°C, which means that you can make your own dinner, instead of waiting for your mother.
Verdict
Similarly to Sherlock Holmes, we were cunning enough to deduce that based on the visual similarities, both inside and out, the ASUS TUF Dash F15 FX516 is built upon the proven ROG Zephyrus M GU502. Well, it is slightly thicker, and a bit heavier… and it is made entirely out of plastic, but thankfully, uses brand new hardware.
And hardware is important. In both 3D rendering, and photo-editing, we saw a huge improvement of the architecture, which enables the quad-core Core i7-11370H to perform somewhat similarly to the Core i7-10750H – a six-core CPU. This sounds great for gaming, doesn't it?
Well, it is good, but when you get the RTX 3070, things get out of the roof. This model features an 85W version of this GPU, and it performs great. Moreover, when we put it side by side with the 115W iteration of the RTX 2070, we saw an 8% increase year on year – absolutely stunning. Especially, when we are talking about gaming on such a thin and light notebook.
Of course, it comes with its quirks. Our particular 144Hz panel (Panda LM156LF-2F03 (NCP004D)) happened to be a bit slow in terms of response time, and it barely covers half of the colors in sRGB. Thankfully, the backlight doesn't flicker at any brightness level, which is good for long gaming sessions. And although we didn't test the 1440p 165Hz display option, we strongly believe that it will bring something that all of us wanted to see – crispy image, and fast refresh rate.
Additionally, this device has a quite good I/O, although it lacks an SD card reader. Also, it features the brand new Thunderbolt 4 tech, and ASUS even supplies the laptop (in some regions) with an additional 100W USB Type-C charger.
What is really impressive is the battery life. Usually, when laptops pack a high-refresh-rate panel, we rarely see them last more than four-five hours, even under a very light load. However, ASUS uses a variable refresh rate technology, which enables the device to last for almost 15 hours of Web browsing and more than 11 hours of video playback.
On the downside, the SD card slot is not the only thing missing – you won't get a Web camera either. This is a bummer in the times we live, and we can't tell why ASUS hasn't done their best to put one, or at least include one in a bundle. Also, the laptop gets pretty loud and hot on the outside, so we would advise an external keyboard, and a good set of headphones.
Nevertheless, the option to upgrade the memory to 32GB of DDR4 RAM and the dual M.2 PCIe x4 drive support (with or without RAID 0) is commendable.
We are yet to see more laptops packing the latest from the technology world, but from what we see, the year promises to be exciting… at least in that perspective.
You can check the prices and configurations in our Specs System: https://laptopmedia.com/series/asus-tuf-dash-fx516/