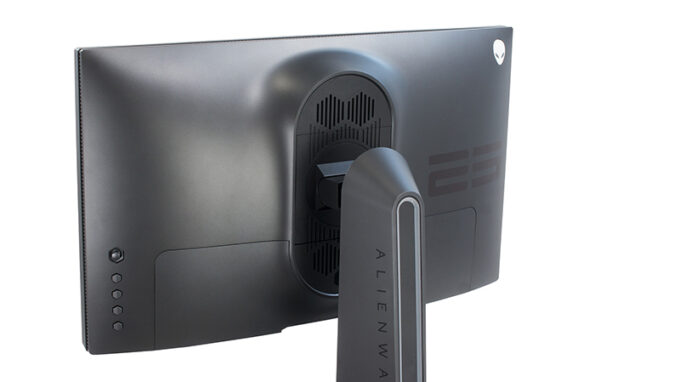 Alienware has been one of the first PC gaming brands since PC gaming brands started PC gaming brand. And while you may argue that gives them the needed experience to produce a quality product, you can also think about the fact, that many times, such brands fall into the trap of being too comfortable.
Thankfully for Dell (Alienware's parent company), this is not the case here. The expertise and innovation are driving them to be a fantastic gamer-centric brand. Take a look at the Alienware AW2521H – a 24.5-inch gaming monitor that will simply blow you away.
Its specs sheet is so impressive, that you can easily forget you're looking at a 1080p panel, in a world where 1440p is becoming the new normal. What are the main reasons for the externally-induced short-term memory loss? They go by the names "NVIDIA Reflex Latency Analyzer", "G-Sync", "99% sRGB coverage", and not in the last place – "360Hz refresh rate". Now, let's take this monitor out of the box, put it together, and see what its results are telling us.
You can check the current price of Alienware AW2521H here: Buy from Amazon.com (#CommissionsEarned)
Contents
Unboxing and setup
Once you open this monitor's package, you will find the stand base, the stand riser, as well as the Display. It also features an I/O cover for a cleaner aesthetic. In addition to that, you get a power cable, a DisplayPort to DisplayPort cable, a Mini DisplayPort to DisplayPort cable, a USB Type-A to Type-B upstream cable, and a quick setup guide.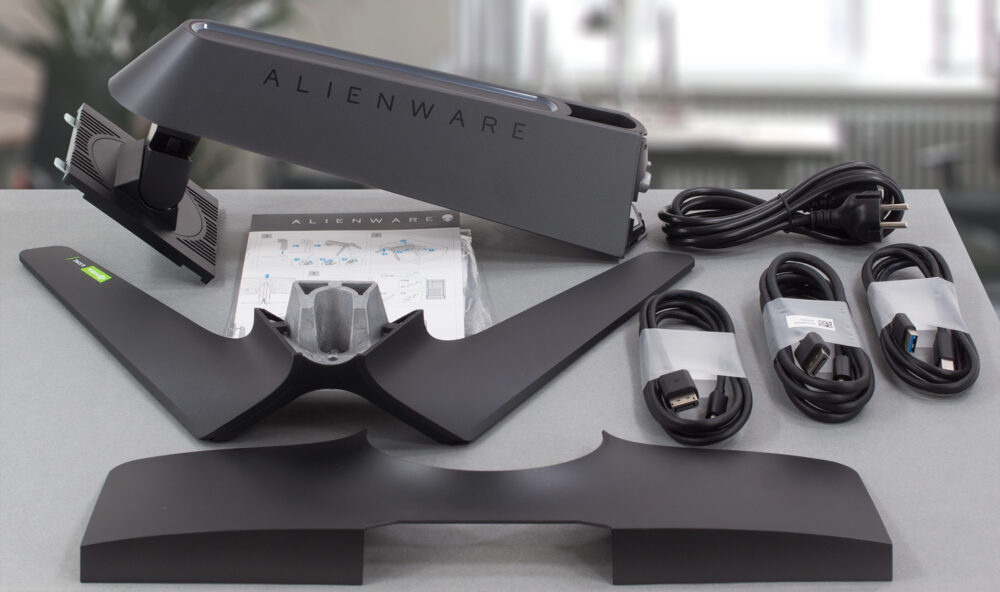 Design and construction
If we have to be frank, we get the typical Alienware vibes out of this monitor. It looks like a mixture between a spaceship, and something simplistically crafted in a small town in southern Sweden. Nevertheless, it does feel solid. Its stand is quite bulky and definitely inspires confidence. However, we see some gamers using it as a coat hanger.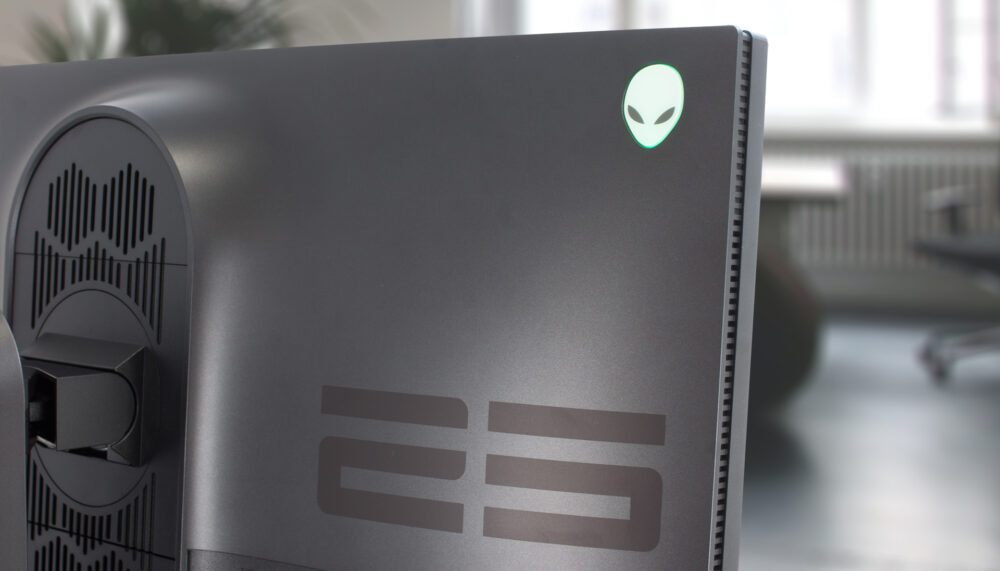 By the way, the behemoth stand looks strong enough to jack your car up, to help you change your flat tire. A little more useful in its natural habitat would be its ability to pivot, swivel, tilt, and adjust its height. For a purely gaming monitor, this is quite the agility.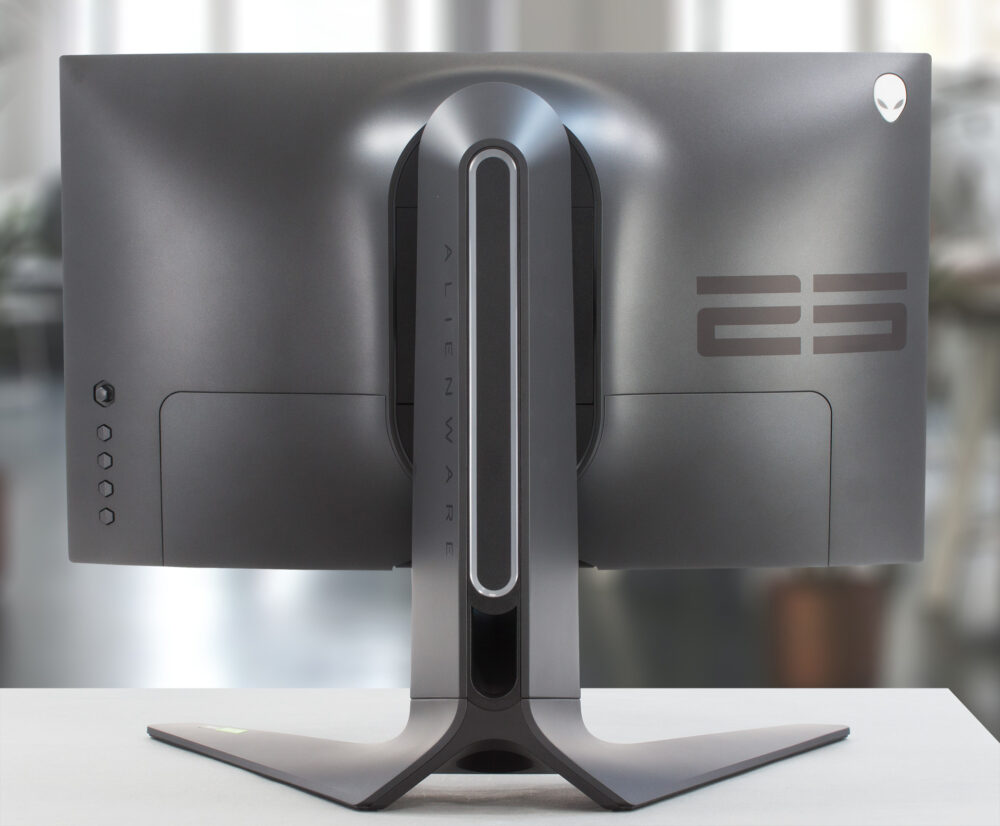 As you can see, there is a set of buttons on the backside. They are easily accessible because of their proximity to the side of the display. Of course, what would an Alienware device be, if it didn't feature the alien head?
Most of the huge port selection here is hidden beneath a plastic cover. It does come off quite easily, so you don't need to worry you'll break something. In addition, there are a couple of plastic cable management slots.

Ports
All of the I/O of this device is located on the back. There, you will find the power plug, two HDMI 2.0 connectors, a DisplayPort 1.4, a 3.5mm headphone jack, as well as a line-out audio jack, a USB Type-B upstream connector, as well as four USB Type-A 3.2 (Gen. 1) ports.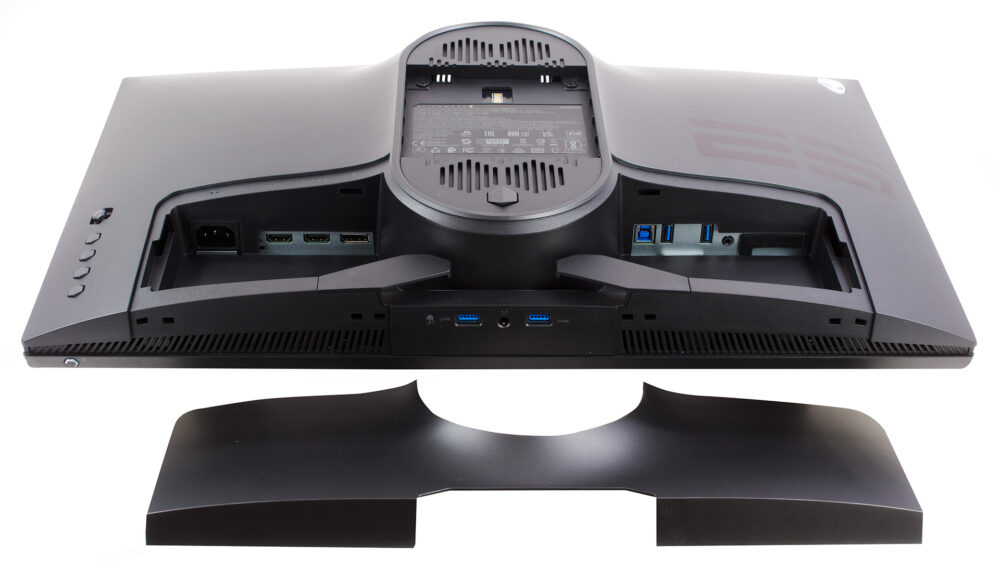 Display quality
Alienware AW2521H is equipped with an IPS-type panel. Its diagonal is 24.5″ (62cm), has a resolution of 1920 x 1080 pixels, and a maximum refresh rate of 360Hz. The screen ratio is 16:9, and we are looking at a pixel density of – 90 ppi, and a pitch of 0.28 х 0.28 mm. The screen turns into Retina when viewed at distance equal to or greater than 97cm (38.2″) (from this distance one's eye stops differentiating the separate pixels).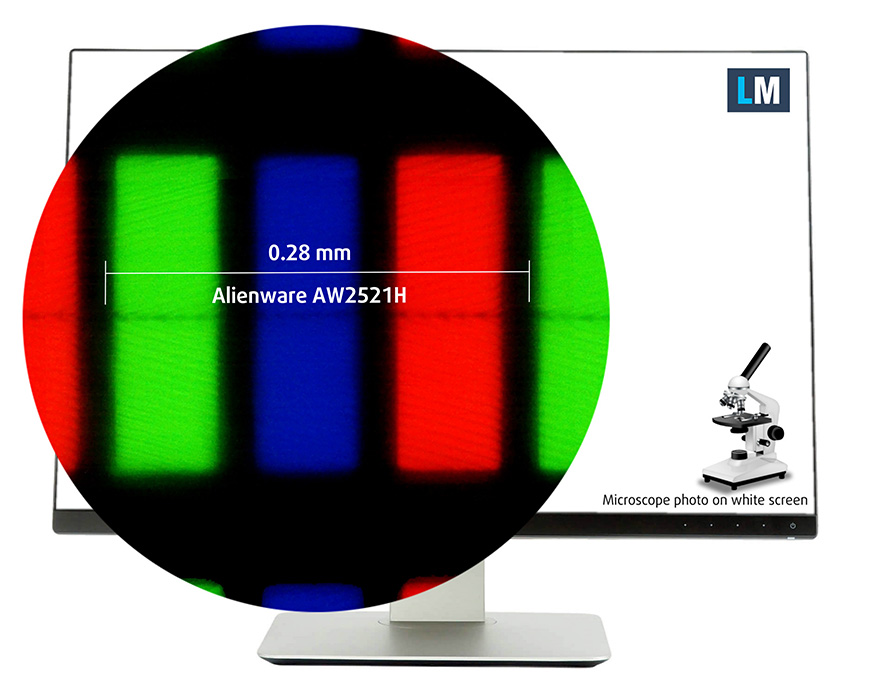 It has comfortable viewing angles. We offer images at 45° to evaluate image quality.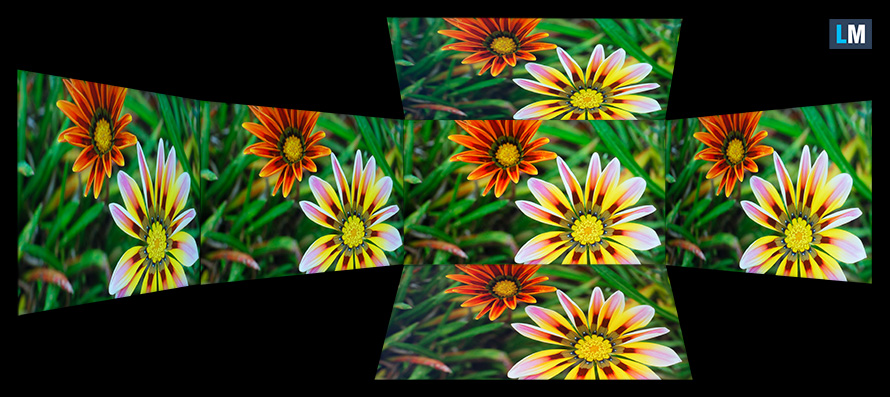 We measured a maximum brightness in the "Standard" mode of 440 nits in the middle of the screen.
In the illustration below you can see how the display performs from a uniformity perspective. It is how matters are for operational brightness levels in "sRGB" display mode (approximately 140 nits) – in this particular case at 69% Brightness.
Values of dE2000 over 4.0 should not occur, and this parameter is one of the first you should check if you intend to use the monitor for color-sensitive work. The contrast ratio is good – 1040:1 ("Standard" mode).
The tests are made with the display connected to the NVIDIA GeForce RTX 2060.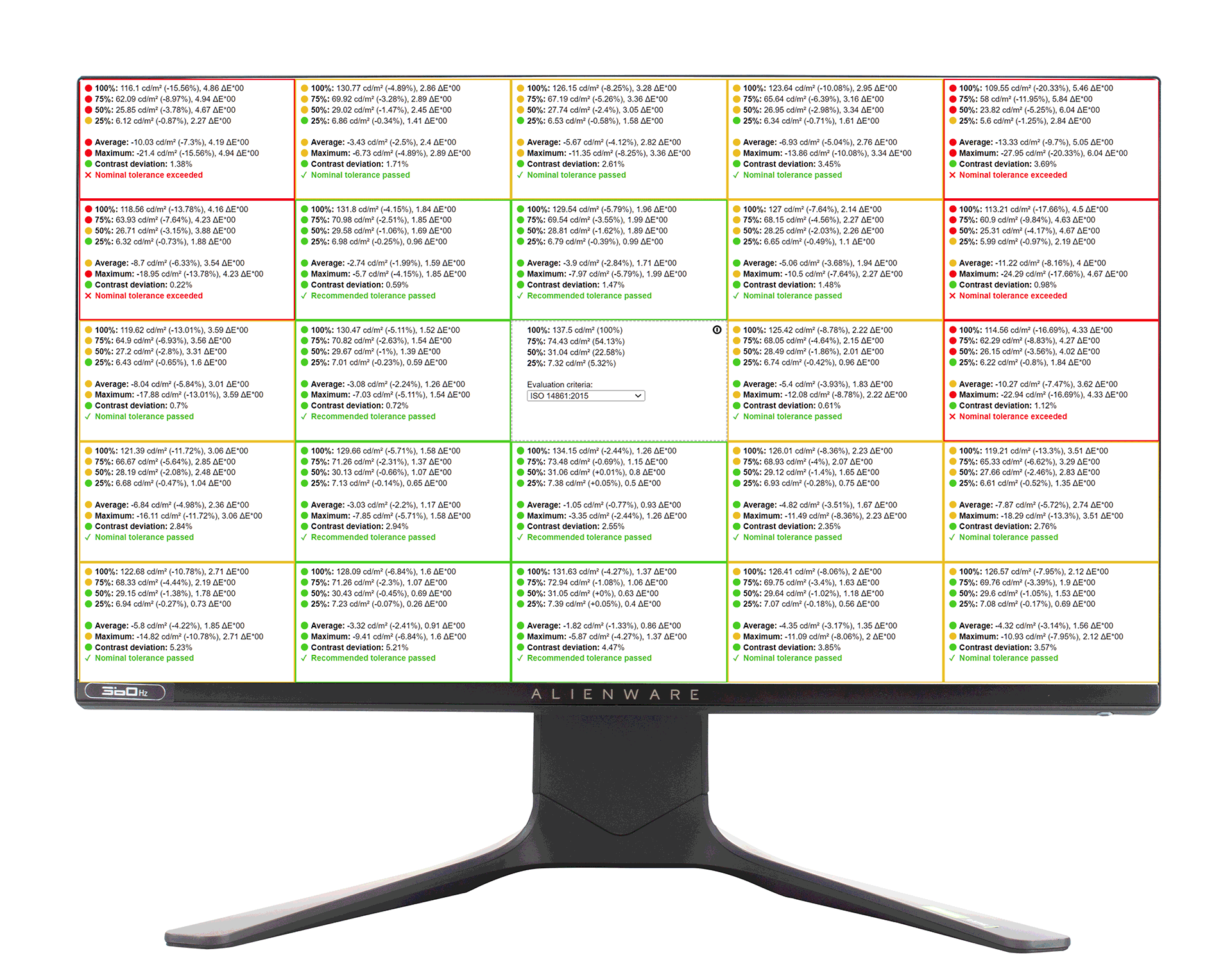 To make sure we are on the same page, we would like to give you a little introduction to the sRGB color gamut and the Adobe RGB. To start, there's the CIE 1976 Uniform Chromaticity Diagram that represents the visible specter of colors by the human eye, giving you a better perception of the color gamut coverage and the color accuracy.
Inside the black triangle, you will see the standard color gamut (sRGB) that is being used by millions of people on HDTV and on the web. As for the Adobe RGB, this is used in professional cameras, monitors, etc for printing. Basically, colors inside the black triangle are used by everyone and this is the essential part of the color quality and color accuracy of a mainstream display.
Still, we've included other color spaces like the famous DCI-P3 standard used by movie studios, as well as the digital UHD Rec.2020 standard. Rec.2020, however, is still a thing of the future and it's difficult for today's displays to cover that well. We've also included the so-called Michael Pointer gamut, or Pointer's gamut, which represents the colors that naturally occur around us every day.
The yellow dotted line shows Alienware AW2521H's color gamut coverage. It covers 96% of the colors in the sRGB/ITU-R BT.709 (web/HDTV standard) in CIE1976.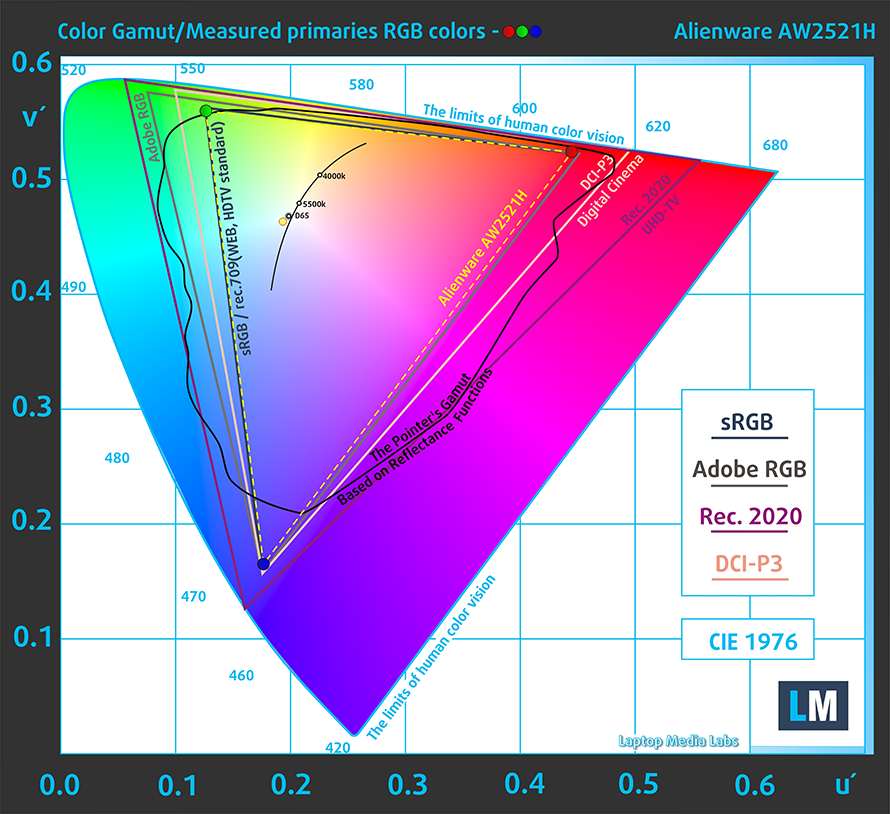 Our "Design and Gaming" profile delivers optimal color temperature (6500K) at 140 cd/m2 luminance and sRGB encoding curve. We've used the "Custom" preset and RGB settings – R100, G94, and B90. The comparison is with the "Standard" preset.
We tested the accuracy of the display with 24 commonly used colors like light and dark human skin, blue sky, green grass, orange, etc. You can check out the results at factory condition and also, with the "Design and Gaming" profile.
Below you can compare the scores of Alienware AW2521H with the default settings (left), and with the "Gaming and Web design" profile (right).
The next figure shows how well the display is able to reproduce really dark parts of an image, which is essential when watching movies or playing games in low ambient light.
The left side of the image represents the display with stock settings, while the right one is with the "Gaming and Web Design" profile activated. On the horizontal axis, you will find the grayscale, and on the vertical axis – the luminance of the display. On the two graphs below you can easily check for yourself how your display handles the darkest nuances but keep in mind that this also depends on the settings of your current display, the calibration, the viewing angle, and the surrounding light conditions. Here, the default settings in the "sRGB" mode are excellent.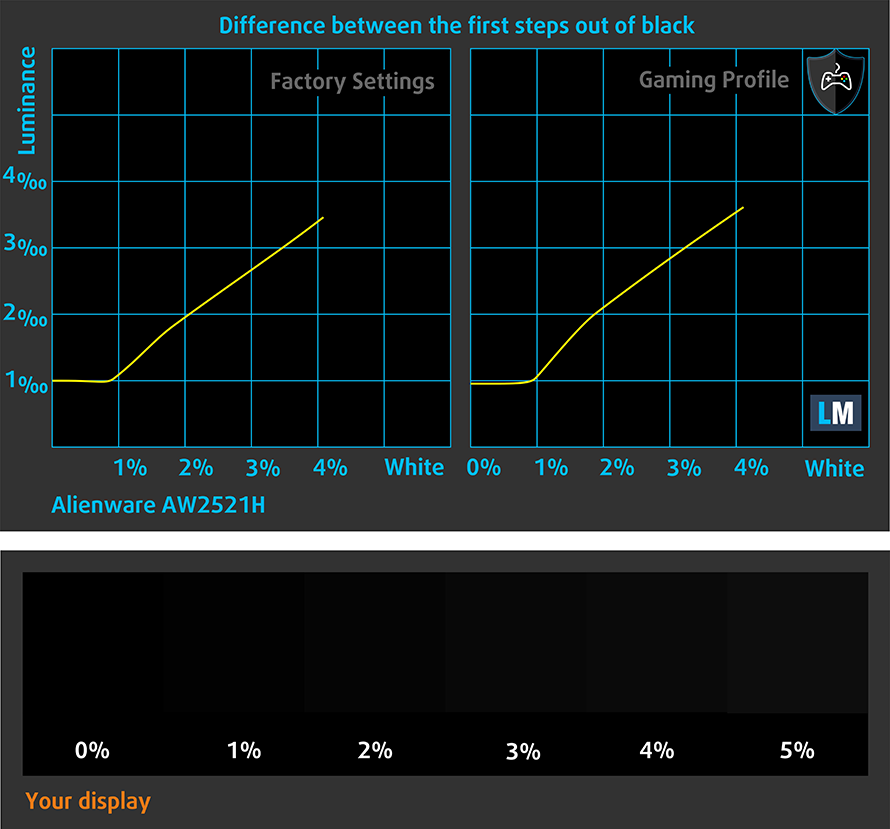 Response time (Gaming capabilities)
The response time of the pixels shouldn't be slower than the refresh cycle of the screen (16.67 ms for 60Hz, 6.94 ms for 144Hz, and so on). Ultimately, this results in ghosting, caused by the pixel's inability to change in that amount of time, thus continuing in the next frame. In order to battle that issue, manufacturers use Overdrive. Essentially, this is a technique for RTC (Response Time Compensation). What does it do? Well, it supplies higher voltage to the crystals (in LCD monitors), which makes them switch their position faster. However, excessive levels of Overdrive can result in Overshooting, which transforms into inverse ghosting, coronas, and artifacts, obviously affecting the image quality in a negative way. This is why many manufacturers provide several levels of Overdrive, so you can choose which suits you best.
We test the reaction time of the pixels with the usual "black-to-white" and "white-to-black" method from 10% to 90% and vice versa.
We recorded Fall Time + Rise Time = 4 ms. Gamers will be able to enjoy a very fast display.
We test the reaction time of the pixels with the usual "Gray-to-Gray" method from 50% White to 80% White and vice versa between 10% and 90% of the amplitude.
PWM (Screen flickering)
Pulse-width modulation (PWM) is an easy way to control monitor brightness. When you lower the brightness, the light intensity of the backlight is not lowered, but instead turned off and on by the electronics with a frequency indistinguishable to the human eye. In these light impulses, the light/no-light time ratio varies, while brightness remains unchanged, which is harmful to your eyes. You can read more about that in our dedicated article on PWM.
Alienware AW2521H's backlight does not use PWM at any brightness level. This makes it comfortable for your eyes in this aspect even during long working periods (data is for the "Standard" mode).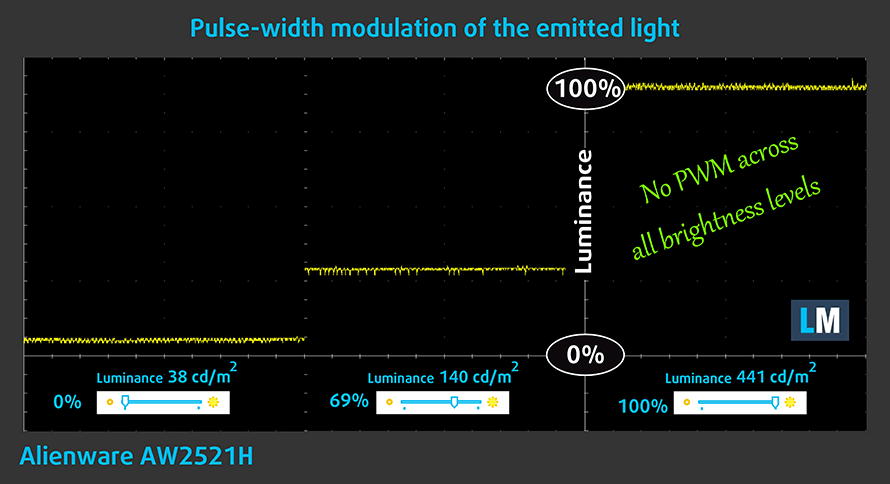 Blue light emissions
Installing our Health-Guard profile not only eliminates PWM but also reduces the harmful Blue Light emissions while keeping the colors of the screen perceptually accurate. If you're not familiar with the Blue light, the TL;DR version is – emissions that negatively affect your eyes, skin, and your whole body. You can find more information about that in our dedicated article on Blue Light.

Gloss level measurement
Glossy-coated displays are sometimes inconvenient in high ambient light conditions. We show the level of reflection on the screen for the respective laptop when the display is turned off and the measurement angle is 60° (in this case, the measurements show a value of 26.4 GU, which is a very good result).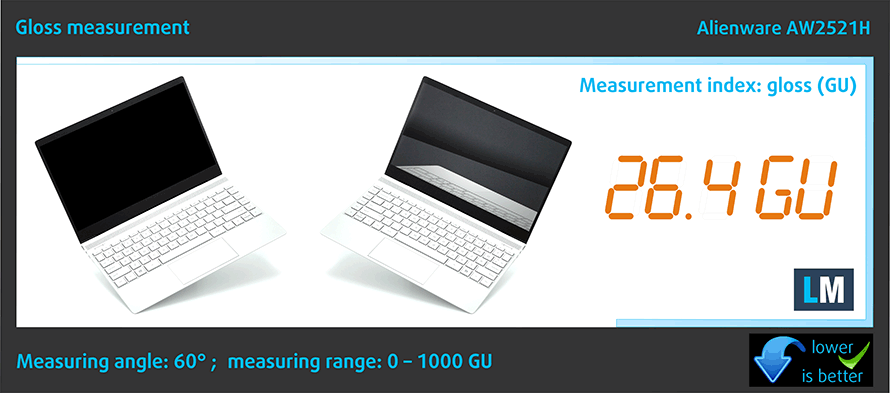 Buy our profiles
Since our profiles are tailored for each individual display model, this article and its respective profile package are meant for the Alienware AW2521H.
In this case, the profiles are ready for work after a factory reset, except for the Gaming and Web design profile, where you need to set the display to the "sRGB mode". Interestingly, depending on the ambient light and the game you're playing it is highly possible that the Office Work profile might be more appealing than the Gaming and Web design one.
*Should you have problems with downloading the purchased file, try using a different browser to open the link you'll receive via e-mail. If the download target is a .php file instead of an archive, change the file extension to .zip or contact us at bg.laptopmedia@gmail.com.
Read more about the profiles HERE.
In addition to receiving efficient and health-friendly profiles, by buying LaptopMedia's products you also support the development of our labs, where we test devices in order to produce the most objective reviews possible.
Verdict
Alienware (or Dell) has done a brilliant job with the AW2521H. It uses one of the fastest panels in terms of both refresh rate, and pixel response time. It also has comfortable viewing angles and doesn't use PWM for brightness adjustment. Furthermore, it has high maximum brightness and covers almost 100% of the sRGB color gamut. This, combined with the high color accuracy means that any professional can make use of the good color reproducing qualities of the panel.
Ultimately, the hardware is responsible for laying a good foundation for a fantastic product. But it can be made even better with the help of the NVIDIA Reflex Latency Analyzer, and the Reflex Low Latency adjustment. Like G-Sync, this aims to reduce the response time. However, unlike G-Sync (which is also supported by this device by the way), the Reflex technology allows for a quicker input response time. At today's (2022) level of technological advancements, this is something that feels truly magical.
Then, take a look at the I/O, which is both quite wide, and offers a USB Hub. However, you won't be getting USB Type-C as a standard, which is quite unfortunate. Well, the 1080p resolution is also not something to write home about. Nowadays, you can find 4K panels, running at 120Hz. However, the AW2521H "only" comes with a 1080p resolution.
At 24.5-inches, this is not that big of a deal. But you will always notice a sharper panel, due to its higher resolution. To be completely honest though, the 360Hz refresh rate is pretty much useless at higher resolutions… at least for now.
It's still good to find such a stand on this device. It is very stable and offers four types of motion – tilt, swivel, pivot, and vertical motion. Ultimately, if you are a hard gamer, that plays fast-paced titles like PUBG, Call of Duty, or "just" Fortnite, this can be a great asset, that won't make you a better player, but will definitely help you extract your full potential.
Pros
Covers the entire sRGB color gamut almost fully
360Hz and fast pixelresponse time
Adjustable height, tilt, swivel, and pivot
Our Gaming and Web design helps it fall into the standard for color accuracy for Web design
Supports G-Sync, HDR, and NVIDIA Reflex
Cons
"Only" 1080p resolution
No USB Type-C
You can check the current price of Alienware AW2521H here: Buy from Amazon.com (#CommissionsEarned)