ADATA Legend 710 1TB review – performs well for its price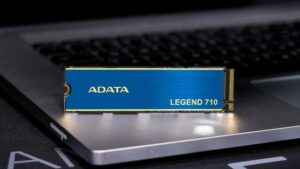 The NVMe market is literally flooded with tons of different brands and models. Actually, that's not a bad thing at all because there is something for everyone – from low-end QLC drives to high-end Gen 4 NVMe's for enthusiasts or for people who always demand the best possible performance. ADATA Legend 710 sits somewhere in the middle – it's not a powerhouse but it brings good value to the table alongside decent performance.
Yes, it is a Gen 3 model, this helps to reduce the end price of the device but still, at least on paper, the performance should be good enough for the regular user. That's why we're going to test the 1TB version of ADATA Legend 710 to see if it's worthy or not. The drive is available in two capacity variants – 512GB and 1TB and both come with a heatsink, which is a good thing – you don't have to purchase aftermarket cooling if you want to lower the drive's temperatures.
You can check the current price of ADATA Legend 710 1TB here: Buy from Amazon.com (#CommissionsEarned)
Contents
Specs Sheet
ADATA Legend 710 1TB
Capacity
512GB / 1TB
Dimensions (L x W x H)
80 x 22 x 3.13mm / 3.15 x 0.87 x 0.13inch (with heat sink)
80 x 22 x 2.15mm / 3.15 x 0.87 x 0.09inch (without heat sink)
Weight
9g / 0.32oz (with heat sink)
6.2g / 0.22oz (without heat sink)
Interface
PCIe Gen 3 x4
NAND Flash
3D NAND
Sequential Read (Max)
Up to 2,400MB/s
Sequential Write (Max)
Up to 1,800MB/s
Op. Temperature
0°C – 70°C
Storage temperature
-40°C – 85°C
Controller
Realtek RTS5766DL
TBW
260TB
Warranty
3-year limited warranty
What's in the box?
Just like many other ADATA NVMEs and SSDs, the Legend 710 1TB is fitted into a fairly compact glossy box. Inside, the NVMe and the heatsink are well-secured in a plastic protective cover.
Design
Just like the abovementioned situation, ADATA Legend 710 looks similar to other drives from the same brand especially when you apply the heatsink. The length is standard – 80mm, so fairly compact compared to the regular SATA SSDs. It's good that the heat sink isn't preinstalled – this means you can use this drive in super-thin devices where every millimeter counts or you can use an aftermarket heat sink. Keep in mind that after you apply the aluminum cooling, it's really hard to remove it. The backside houses a sticker with some info like the model of the device, serial number, etc.
Installation, Benchmarking, and Real-life performance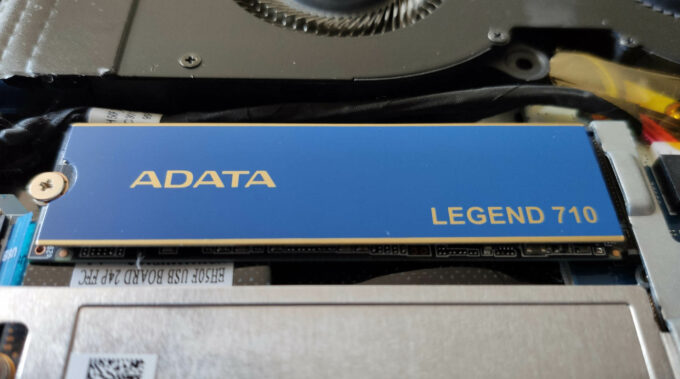 The installation is business as usual. You have to remove the protective sticker of the heatsink which is covering a thin thermal pad. After the heat spreader is applied, you have to install the NVMe to a free M.2 port of your machine and secure it with a small screw. For this review, our test machine is the Acer Predator Triton 300 (PT315-51) which has two M.2 Gen 3 slots so the ADATA Legend 710 1TB is hooked to one of them.
| Benchmark | Read | Write |
| --- | --- | --- |
| Crystal Disk Mark | 2691 MB/s | 2079 MB/s |
| ATTO Disk Benchmark | 2520 MB/s | 1870 MB/s |
| ATTO Disk Benchmark IOPS | 27.36K IO/s | 50.37K IO/s |
| AS SSD Benchmark | 2545 MB/s | 1854 MS/s |
| AS SSD Benchmark Score | 883 | 1279 |
| HD Tune Random Seek 8MB | 2029 MB/s | 665 MB/s |
| HD Tune Sequential Read/Write | 1997934 KB/s | 1424680 KB/s |
As you can see from the table above, this NVMe should break any records but its performance is good enough for normal daily usage and even for gaming – every game should load much faster compared to any HDD or SATA SSD. Here are some screens from the benchmark results:

ISO read and write
Okay, let's start with our 31GB ISO file. The first picture indicates the read speed – the file has been copied from the ADATA Legend 710 1TB to the laptop's system NVMe. The second screenshot is showing the write speed – the same ISO file has been moved from the system main drive to the ADATA Legend 710. The write speed is just fine for such an NVMe. So, moving small to medium-large files to this ADATA drive should not be a problem at all.
One of the main advantages of this product is the temperatures under load. During testing, Crystal Disk Mark was able to heat up the drive to just 57°C – great. In most cases, this drive will not thermal throttle unless you live in a very hot environment with high humidity and the NVMe is a device with no airflow. The second screenshot below is showing the temperatures during our testing.
We filled the whole drive thanks to the HD Tune's built-in benchmark, and the write speeds are "jumpy" but the average score is 483 MB/s which is just fine. That's a rare case actually – you have to paste a huge ~1TB file on the drive. Again, the read speed is normal – more than 1000 MB/s.  As we said in the ISO file test, when you're working with smaller files, the read and write speeds are better.
Verdict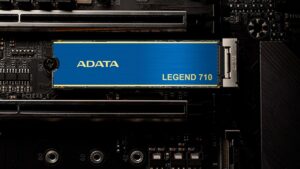 Overall, the ADATA Legend 710 1TB is a solid offering in its price range. The biggest pro of the drive is the temperature under load – probably it'll never throttle if you have at least a tiny amount of airflow even in super-thin laptops. This is great news for people who are looking for something not-so-expensive but at the same time, they don't want to see how their drive is throttling during sustained loads. The controller of this NVMe is the Realtek RTS5766DL (which can be found in other ADATA drives like Swordfish) – it's not a high-end one but it's getting the job done, at least in this case when it's fitted in the ADATA Legend 710.
The drive is showing some normal results for inexpensive Gen 3 products in our test. It can be a great replacement for your old system HDD – the system will be alive and kicking after such an upgrade. Even if you have a decent SATA SSD, if you swap it for this ADATA NVMe, you'll take advantage of the higher read speeds. Things like browsing the Web, watching videos, working with small files, and playing games aren't a problem for this drive and it'll not throttle in these conditions.
Just like any other NVMe drive, this one isn't taking too much space and it doesn't require a SATA cable and connector which looks great aesthetically. The heat sink is a nice bonus, especially in this price range – the NVMe looks better with the heat spreader applied (at least for us) and it's shaving away some heat during load. The ADATA Legend 710 1TB performs well considering its price, it comes with a heat sink in a box and during our testing, the max temperature under load was just 57°C. If you are on a hunt for a budget NVMe but at the same time you want to get something that is a good bang for the money, the ADATA Legend 710 1TB should be on your shortlist – it's cool under load and it's snappy enough for its price.
You can check the current price of ADATA Legend 710 1TB here: Buy from Amazon.com (#CommissionsEarned)
Pros
Well-priced
Comes with a heat sink in the package
Compact
Fast for its price range
Cool under load
Cons
The TBW (Total Bytes Written) is on the low side