What is Tiktech and how we found useful portable monitors for benchmarking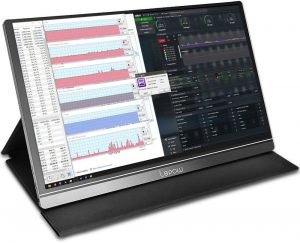 Recently, we've been looking for a small monitor that could eventually ease our daily routine while testing laptops. The idea was to find something significantly smaller than a regular PC monitor so we could test multiple laptops on a single desk.
While we were searching, a company called "Tiktech" contacted us presenting their new product – a 15.6″ portable monitor Lepow. It turned out to be exactly what we were looking for, and at the same time, it was an "Amazon's choice" product at a good price. We decided to give it a try and we could say that we're happy with the outcome. It turned out that it's a new project – Tiktech.
The website of these guys contains a lot of other tech deals, discounts, coupons, and if you are lucky, you can get free gadgets. For example, the abovementioned Lepow monitor is now on sale for $189.99 and 20 buyers will get it for free (100% cashback). If you are a tech geek, you can found a lot of other interesting IT tech on the website that could probably get your attention since there are different discounts in different categories like "Computer & Office", "Smart Home", "Customer electronics", etc.
We're going to do a detailed review of the Lepow portable monitor but let's start with our first impressions. This small panel surprised us in a good way. It comes in a compact box that contains everything that you need to connect it to a laptop, PC, tablet, or gaming console – a USB Type-C to Type-C cable, USB Type-A to Type-C cable, and HDMI to Mini HDMI cable. There is also a magnetic cover that is easy to use it can fix the monitor in two possible standing positions. At the end of the day, when you are done using the monitor, the stand plays the role of a protecting cover.

If your laptop has a USB Type-C cable with power delivery capabilities you are going to need just one cable (USB Type-C to Type-C) for connection and power – neat and minimalistic. The Lepow product is slim, compact, it weighs almost nothing for a display, and the picture quality is decent enough (at least at first sight).
If you decide to buy it, you can use your PayPal account and the US users will get their products with "7 days DOA guarantee" program which means that in most cases, it'll take a week (or maybe less) for delivery and the purchase will be at your front door. All products come with twelve months of repair warranty.
You can check out all Tiktech deals on their website: Tiktech