What is Acer Liquid X2's 13-megapixel (f/1.8) camera actually capable of?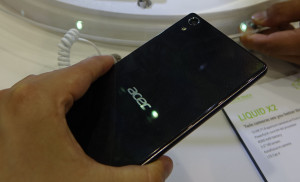 Thanks to our team in Taiwan a few days back we introduced you to the new Acer Liquid X2 smartphone. We've managed to make some camera tests with the device and now we're going to show them to you. Liquid X2 has definitely got what it takes to impress the users other than the large 4000-mAh battery and the 3 SIM card slots.
The model is equipped with two 13-megapixel cameras – one on the front and one on the rear panel. Even more impressive is that they both have f/1.8 lenses, which means you'll be able to take high quality pictures even on dimmed lighting. It won't be easy to find a phone offering the possibility to make better "selfies" than Liquid X2. In comparison the cameras in Samsung Galaxy S6 are using f/1.9 lenses.