USA has the best prices for the new GeForce GTX 1060 and 1070 Pascal-equipped notebooks, GTX 1070 starting at $1699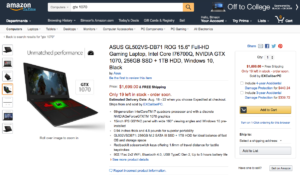 Shortly after we found out that MSI GS43VR with the new GTX 1060 is priced at $2250 / 2000 EUR in Europe, the same notebook (i7-6700HQ, 16GB RAM, 256GB SSD + 1TB HDD) popped up in Amazon, at much lower price – $1799. If that's not enough, what about a 14" variant with 128GB SSD instead of 256GB, for $300 less?
You can also find a 17.3" GS73VR with the same graphics card at $1799 (256GB SSD + 1TB HDD) or at $2099 for (512GB SSD + 1TB HDD).
NVIDIA GeForce GTX 1060 Laptops: http://amzn.to/2aXVPSh
The news get even better. Just take a look at the new ASUS GL502 with GTX 1070. This ultra slim gem can be found at $1699 for configuration with Core i7-6700HQ, GeForce GTX 1070 and 256GB SSD + 1TB HDD.
NVIDIA GeForce GTX 1070 Laptops: http://amzn.to/2aWAEwX