Unreal Engine's latest version 4.15 brings HDR and AFR support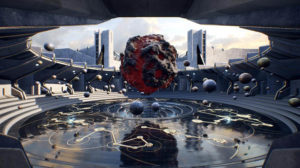 Unreal engine is commonly thought of as the engine that brings some stunning visuals and impressive demos. The developer Epic Games just released the newest version of UE – 4.15. The update brings along support for alternate frame rendering (AFR) on Nvidia SLI configurations and experimental support for HDR output. There are also lots of performance optimizations.
Enthusiast gamers with high-end rigs running more than one NVIDIA graphics cards in SLI configuration will be thrilled to know that games built on Unreal Engine 4.15 will have the ability to take advantage of alternate frame rendering (ARF) which will translate to a big performance boost.
A lot of enthusiast gamers buy HDR-ready monitors apart from their SLI configurations. However, there isn't a lot of HDR content available at the moment. Epic Games has thought about this and now brings experimental HDR support to UE 4.15. The engine will run HDR content on NVIDIA graphics cards under Direct3D 11 API or on devices that support Apple's Metal graphics API.
Gamers with lower class graphics cards will be happy too because the new version of UE comes with a new Texture Streaming system which the developers claim that should "reduce CPU usage, memory usage, and load times while eliminating low resolution artifacts." In other words, if you have something like the GTX 1050 with 4GB of GDDR5 memory you will see a major performance boost.
Meanwhile, you can check some gaming PCs over here: http://amzn.to/2lqPkg3