Unlike its predecessor, the new Dell Latitude E5570 doesn't use PWM at all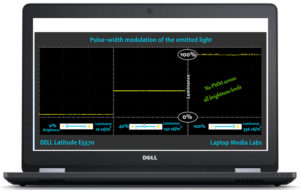 Last year's Latitude E5550 offered not only excellent image quality but also had no PWM from 25% screen brightness and up. However, this year's model uses a different panel, which, in addition to securing excellent image quality, also eliminates PWM across all brightness levels. This means that the display can be used by people with sensitive eyes and one shouldn't worry about where the brightness slider is.
You can find more about the notebook's price and configurations here: http://amzn.to/2atZQtY
As you can see in the graph below, screen flickering isn't recorded at any brightness level. That's excellent news because if you recall, the rest of the tests concerning image quality showed that the Samsung-made display is great for multimedia, web browsing, and office work, especially if you take advantage of our profiles which you can expect very soon.