Two SK Hynix 1.60 Gbps HBM2 stacks to be featured in the upcoming Radeon Vega graphics card
SK Hynix and AMD have been working together since 2015 when they crated the world's first graphics card with HBM (high bandwidth memory) VRAM. Now it seem that the two companies will partner again to bring us the next-gen Vega GPUs with HBM2 VRAM.
As you can see from the image below, the HBM2 stack called H5VR32ESM4H-H1K holds a capacity of 4GB (4-Hi stack) that operate  at 1.2V. The memory stack has a bandwidth of 1.60 Gbps per pin or a total of 204.8GB/s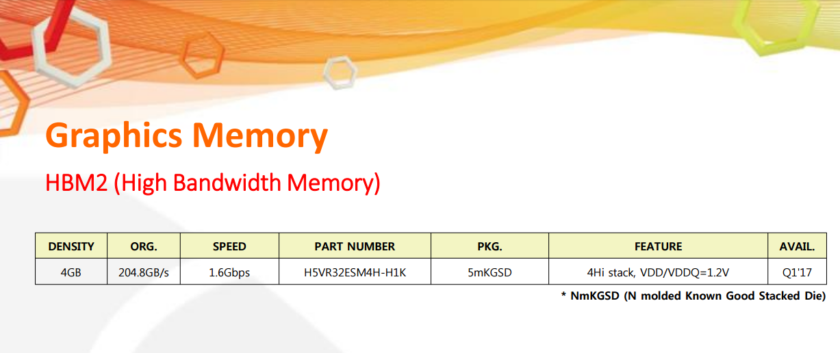 We know that the new Vega graphics card will  consist of two 4-Hi HMB2 stacks that hold 4GB capacity which means a total of 8GB of memory. With two such stacks the Vega 10 could feature a bandwidth of 409.6GB/s, of course only if AMD uses their reference clock speeds. This numbers are lower that the first generation Fury X graphics card which used HBM with a bandwidth of 512GB/s. However we expect excellent performance from the upcoming GPU as we saw good frames per second on DOOM at CES.
Meanwhile, you can check all available AMD graphics cards over here: http://amzn.to/2kQUsa5