Two new HP Omen gaming notebooks hit Amazon – i7-7700HQ and GeForce GTX 1050 Ti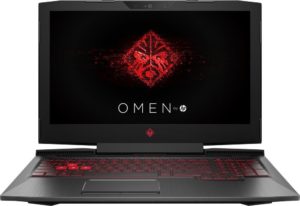 Not too long ago, HP released a new version of the HP Omen 15 that was equipped with NVIDIA's newest GPU series – Max-Q. This was the first notebook with a GeForce GTX 1060 Max-Q that we tested. You can check out the detailed review over here. Now the company releases yet another version of the HP Omen 15 as well as a refreshed HP Omen 17 gaming notebook.
The two models share mostly the same hardware. They are equipped with a latest seventh generation Intel Core i7-7700HQ processor and GeForce GTX 1050 Ti graphics card. We made a comparison between the GTX 1060 Max-Q and the GTX 1050 Ti which you can read here.
The 17.3-inch Omen comes with a price tag of $1560. The configuration includes 12 GB of DDR4 RAM and 1 TB hard disk as well as 128 GB SSD as storage options. The cheaper 15.6-inch model can be yours for $1430. It comes with the same hardware as the bigger version with two little but important differences. The amount of RAM is downgraded to 8GB but the 128 GB SSD is NVMe which is much faster. You also get the standard 1 TB hard drive.
There aren't too many details listed at the moment but we assume that the panel used for the 15-inch model is the same as in the Max-Q edition of the notebook. That would be great as the screen in the 1060 Max-Q Omen 15 is very good unlike the previous versions and that could justify the higher price compared to other GTX 1050 Ti notebooks available on the market.
And, as for the 17.3-inch model, we expect some premium features too, considering that there are more affordable option like the MSI GP72.
You can check out the HP Omen 15 over here: http://amzn.to/2vWU0x3
and the HP Omen 17 over here: http://amzn.to/2tWgJvV