Toshiba revealed dynaPad – the thinnest 12-inch Windows 10 tablet with keyboard and stylus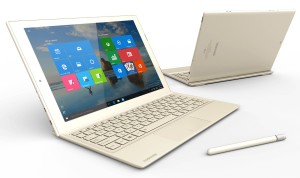 Toshiba officially revealed their new Windows 10 tablet – dynaPad. Aside from its tablet capabilities, it can easily take the role of a laptop. This is possible not only thanks to its 12-inch Full HD (1920 x 1280) screen, but due to the full-sized keyboard that brings a laptop-like experience.
The carbon fiber construction looks very elegant and sturdy, but even more impressive are its size and weight. Without the keyboard, dynaPad is only 6.9 mm thick making it the thinnest 12-inch Windows 10 tablet on the market. As for the weight, it's only 569 grams. Combined with the keyboard these measurements add up to 14.9 mm thickness and 996 g weight. There's also a stylus included and Toshiba claims that using it feels almost identical to writing on a paper with a regular pen. On board of the dynaPad, you will find various pre-installed apps like TruNote, TruCapture, TruRecorder, TruNote Clip and TruNote Share. An Intel Atom SoC clocked at 1.44GHz and 4GB of RAM are running the show and you can expect the device to hit the European market at the beginning of 2016.