Toshiba Portege Z20t's display tests indicate accurate colors, close to optimal color temperature and modest contrast ratio
From a user's standpoint, the Toshiba Portege Z20t has a detailed and bright screen with fairly accurate color reproduction and vivid colors. However, this screen cannot be used for presentational and design purposes due to several reasons.
First of all, the tablet's display isn't capable of reproducing very accurate colors, but after calibration the average DetlaE 2000 is just 1.61. But after profiling you will get limited contrast ratio of 650:1, which is a bit disappointing for an IPS panel. Secondly, the color temperature is warmer than it should be reaching 6190K with the optimal one being 6500K(D65). The display's brightness is 343 cd/m2 making it suitable for really bright environments, but it will be insufficient when used under direct sunlight. However, with a resolution of 1920 x 1080 and diagonal of just 12.5″, the panel's pixel density is 176 ppi (pixels per inch) assuring detailed and crisp image.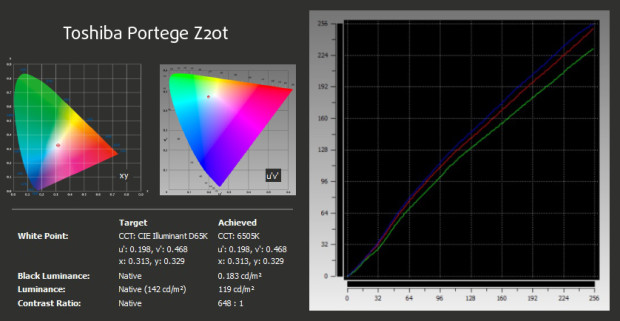 For more information about the PWM, check out this article. Anything other than that, you'll have to wait for our full review of the model.