Toshiba Portege Z20t's battery life is just astonishing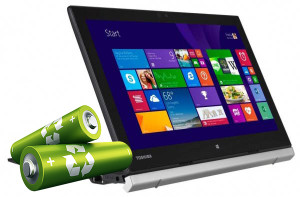 It's been a while since we reviewed a Toshiba hybrid, but now we have a more premium version offering supreme battery life. The device boasts a Core M-5Y31 mobile CPU 4GB of RAM and 12.5-inch Full HD (1920×1080) IPS touch panel.
It sounds good right? Well, we are also presented with the same power solution we've seen with the Toshiba Click Mini. Two batteries are included – one in the tablet and one in the keyboard docking station both of which have the same capacity – 3-cell rated at 36Wh. As expected, our readings indicate super battery life of 666 minutes of web browsing, 650 minutes of video playback and the whopping 600 minutes of gameplay. It seems that the low-voltage CPU really does its job and even more graphically intense tasks don't affect battery life as much.
All tests were performed under the same conditions – power saver on, Wi-Fi turned on, Bluetooth is off and screen brightness is set to 120 cd/m2.
Check the current price of Toshiba Portege Z20t here: http://amzn.to/1UtvahZ