Tonight is NVIDIA's keynote at Computex – what to expect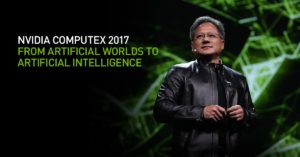 Computex Taipei started for the journalists and it will open its doors to everybody tomorrow May the 30th. However, tonight is NVIDIA's keynote where we anticipate that the company will release something big. The event will take place at 8:30 PM PST and it will be broadcasted online.
Rumors suggest that the "green company" will unveil its next enthusiastic graphics card – Volta. There is very little information about this GPU and it is not certain if it will even be announced but it still something to look far. However, it seems like a rather odd move by NVIDIA to release so many enthusiastic graphics cards in such a short period of time – Titan Xp, GTX 1080 Ti.
No matter what NVIDIA will show one thing is sure – it is going to be interesting. We can just sit and wait for a few more hours before the clock ticks 8:30.
What do you think that NVIDIA might show? Leave us a comment below.
Meanwhile, you can check all available NVIDIA products over here: http://amzn.to/2inSKeA