Three M.2-compatible notebooks make it to our M.2 SSD list – Acer Predator 17, Predator 15 and Acer Swift 7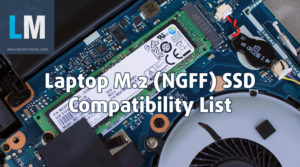 We've just added three new notebooks to our M.2 SSD compatibility list and all of them feature the M.2 SSD slot. Also, all three of them are Acer-branded and brand new. The refreshed Predator lineup and the upcoming ultra-thin Swift 7. But there's a catch.
Let's begin with the unusual configuration of the Swift 7. A fast disassembly revealed that the ultrabook features a small 2230 SSD and not the usual 2280. It comes with a Kingston drive, which is probably an SATA-enabled drive using the AHCI controller, so no NVMe support, unfortunately.
The other two notebooks are the new Predator 15 and 17. However, there's no change in the drive setup – they both offer the 2280 and 22110 SSDs like their predecessors. There's a big drawback in this setup because the 22110 drive is not commonly found on the market and most of the time it's used in Apple's MacBooks.
Check out our M.2 SSD compatibility list here for more notebooks supporting the new standard.