This is the ASUS G501 configuration with 96Wh battery (specs, price and 60Wh model comparison)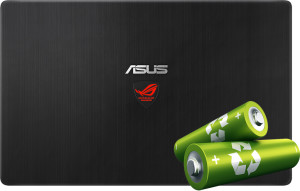 As you may know, we had the opportunity to be the first to make you aware of ASUS G501's specs before the official release of the model, and also, to write a detailed review for you. Our unit features a 60Wh battery, and this is the most popular configuration. Since one of our users made a specific request (thanks, Regurus), we dug a little deeper and found what ASUS offers in case you'd like a bigger battery.
It turns out that the 90Wh model is currently offered only with a 4K display, while the 60Wh is reserved for the Full HD configurations. This sounds reasonable because of the higher energy consumption of the Ultra HD panel (rest assured that once the model comes to our hands, we're going to measure that!).
We found the 90Wh G501 in a Slovenian online store priced at 1779 EUR (4K screen, i7-4720HQ, GTX 960M, 16GB RAM and 512GB M.2).
Take a look at the comparison table below.
ASUS ROG G501 (60Wh)

ASUS ROG G501 (96Wh)

CPU
Intel Core i7-4720HQ (4 cores, 2.60 – 3.60 Ghz, 6MB cache)
Intel Core i7-4720HQ (4 cores, 2.60 – 3.60 Ghz, 6MB cache)
GPU
NVIDIA GeForce GTX 960M (4GB GDDR5)
NVIDIA GeForce GTX 960M (4GB GDDR5)
RAM
8/12GB RAM (up to 12GB DDR3, 1600Mhz)
16GB DDR3, 1600Mhz
Storage
2.5″ SATA HDD;
PCI-e x4 M.2 slot
512GB PCI-e x4 M.2 SSD
Display
15.6-inch (39.62 cm.) – 1920 x 1080 pixels (Full HD), IPS matte (141 PPI)
15.6-inch (39.62 cm.) – 3840 × 2160 pixels (4К UHD), multi-touch IPS (282 PPI)
Connectivity
Wi-Fi 802.11ac, Bluetooth 4.0
Wi-Fi 802.11ac, Bluetooth 4.0
Features

3x USB 3.0
HD web camera
Built-in array microphone
Bang & Olufsen ICEpower speakers
HDMI 1.4
Thunderbolt / mini Display Port
Card Reader (SD, MMC)
Backlit Chiclet Keyboard

3x USB 3.0
HD web camera
Built-in array microphone
Bang & Olufsen ICEpower speakers
HDMI 1.4
Thunderbolt / mini Display Port
Card Reader (SD, MMC)
Backlit Chiclet Keyboard

Battery
60 Wh
96 Wh
Weight (with the battery)
1.99 kg (4.41 lbs)
2.27 kg (5.0 lbs)
Dimensions
383 x 255 x 20.6 – 21.3 mm
383 x 255 x 20.6 – 21.3 mm
Operating system
Microsoft Windows 8.1 (64-bit)
Microsoft Windows 8.1 (64-bit)
Price

(4720HQ / FHD / 12GB / 1TB HDD)

(4720HQ / 4K / 16GB / 512GB SSD)