The refreshed ASUS ZenBook UX303UB inherits the aggressive PWM from its predecessor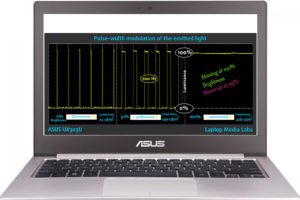 Although the ASUS ZenBook UX303 lineup has always offered excellent image quality, there's one major drawback that's been haunting the panel – the presence of PWM across all levels of brightness, except at 100%, of course. We did a review of the UX303LN last year and found out that the frequency of the emitted light is 1 kHz – slightly higher than the usual aggressive pulsations but still noticeable by users with sensitive eyes.
You can browse for more configurations here: http://amzn.to/2aiOvAK
Well, history repeats itself with the refreshed ZenBook UX303UB ultrabook – record-breaking maximum brightness, excellent contrast ratio, wide sRGB color gamut coverage, and relatively accurate white point and color reproduction out of the box. But this time around, the recorded PWM is flicking at 200 Hz and can be considered as aggressive. It may cause some unwanted effects even on users that aren't as sensitive to screen flickering. And the pulsations are present at all brightness levels, except 100%.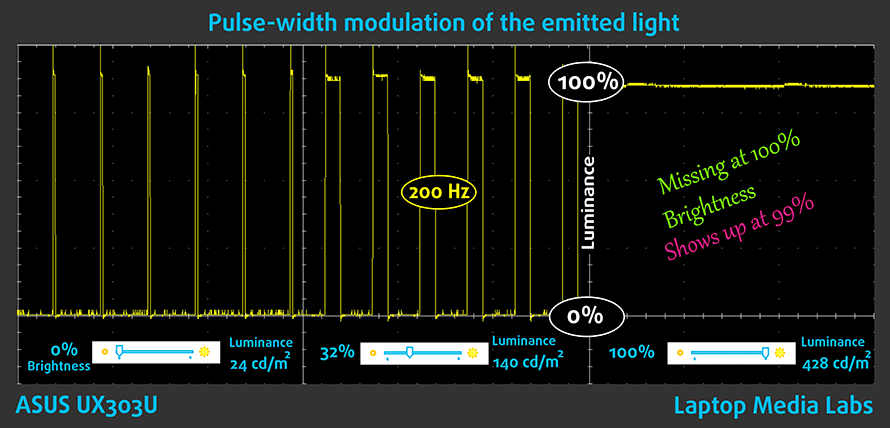 However, we are currently working on our Health-Guard profile, which limits the PWM to some extent and also reduces the blue light emissions for better sleep at night. But more on that later in our upcoming full review.