The new Dell XPS 15 offers not only superb image quality but it's also flicker-free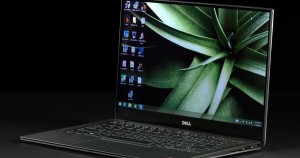 Yesterday we dropped the good news about the image quality of the new XPS 15, which has 100% sRGB and Adobe RGB color gamut coverage, high maximum brightness, high resolution and excellent contrast ratio. But what about safety? It turns out that Sharp's UHD panel is also user-friendly and doesn't use PWM most of the time. If you are not familiar with the so-called pulse-width modulation, check out our dedicated article.
Anyway, our oscilloscope detected screen flickering only at 13% screen brightness and below. That's around 45 cd/m2 and as most of you know, this is extremely low brightness and most probably you won't go under 80 cd/m2 unless you are in a pitch black room. The bottom line is that in the usable range of screen brightness, the screen is harmless to one's eyesight. On the other hand, even under 13%, the emitted light pulsates with really high frequency and thus reducing the negative impact.
Before the release of our full review, check out the pricing and configurations at Amazon.com.