The new ASUS ROG Zephyrus is the world's thinnest laptop with GeForce GTX 1080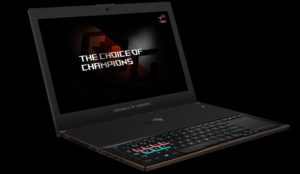 ASUS just unveiled what we can safely say that it is the world's thinnest laptop with GeForce GTX 1080 inside. With a thickness of just 17.9 mm, ROG Zephyrus looks more like an ultrabook rather than a gaming laptop. It even beats the already ultra-thin Razer Blade Pro which is 22.5 mm thick.
ASUS accomplished that by using NVIDIA's new Max-Q design which shrinks down the hefty gaming notebooks. Max-Q is said to shrink gaming laptops up to three times while making them up to three times faster – now that is a serious promise. Zephyrus thinness is also thanks to the new thermal design that opens an exhaust port on the underside. This way your lap should not get blasted by an extreme amount of heat every time you start a resource-heavy application.
There are also other aspects of the design that grab our attention. For instance, the trackpad is on the right side of the keyboard rather than below it like in most notebooks. This will definitely make gaming without an external mouse easier. It can also be used as a numpad if you wish to. And there is some eye candy as well. You can customize the illumination of the keyboard and even single out the WASD or QWER keys to ensure perfect legibility at night.
There aren't any details about the other specs but we can imagine the configuration will include a Core i7 CPU, 16 or 32 GB of RAM and NVMe storage. When more information does come out we are going to make sure you get the news.
Meanwhile, you can check out all ASUS notebooks over here: http://amzn.to/2r46faY