The new ASUS N752 is a multimedia notebook you can stare at for hours without eye fatigue (no PWM)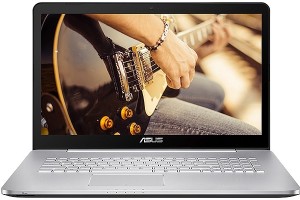 Another day, another PWM report but this time on the new ASUS N752VX – a more than worthy successor to the ASUS' N series multimedia notebooks. Why do we think so? Because the display is practically better than the one on its predecessor in every possible way, including PWM readings. You will still have to wait a few more days for the full review, but we will just tell you that the maximum brightness, sRGB coverage, contrast ratio etc. are more than good.
Anyway, this article aims to give more insight on the screen flickering matter. So our oscilloscope indicates no PWM across all brightness levels. However, we spotted negligible pulsations at extremely high frequency (123 kHz), so staring at the screen for longer periods of time will not result in eye fatigue, which is essential for a multimedia-oriented laptop, don't you think?