The new Acer Predator Triton 300 – is this the golden mean of gaming laptops?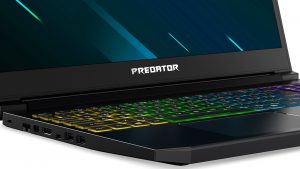 The Acer Predator Triton 500 / 700 / 900 series are great but there aren't many users who can afford to spend the starting price of more than $1600, $2000, and $3700, respectively. Yet we still want the high-end flavor and here comes the Triton 300.
"The Predator Triton 300 completes the Triton line of gaming notebooks, providing a full spectrum of options for gamers seeking thin and lightweight gear," said Jerry Kao, Co-COO, Acer Inc.
Obviously, Acer has tried to create an affordable, powerful, lightweight, premium laptop with a good cooling system. Sounds pretty hard and we can't tell you whether they've succeded since we just got it in our hands, but we'll surely put it to the Test in or laboratory.
The 15.6-inch Triton 300 is equipped with 9th gen Core i7 + the entry-level gaming GeForce GTX 1650, 144 Hz IPS screen and dual 4th Gen AeroBlade 3D metal fans. The notebook weighs just 2.3 kg (5.07 pounds).
To be updated with availability, specs, and pricing…
HDD/SSD
up to 1000GB SSD + up to 1000GB HDD
Body material
Plastic / Polycarbonate, Aluminum
Dimensions
363 x 259 x 22.9 mm (14.29" x 10.20" x 0.90")
1x USB Type-C
3.2 Gen 1 (5 Gbps)
1x USB Type-A
3.2 Gen 1 (5 Gbps), Sleep and Charge
2x USB Type-A
3.2 Gen 1 (5 Gbps)
Ethernet LAN
Killer Ethernet E2500
Wi-Fi
Killer Wi-Fi t6 AX1650 (2x2 MU-MIMO)
Audio jack
3.5mm audio jack
Microphone
Digital dual-array microphones
Security Lock slot
Kensington Lock
2x 4th Gen AeroBlade 3D metal fans