The MSI PX60 6QE's screen uses PWM for screen dimming at low frequency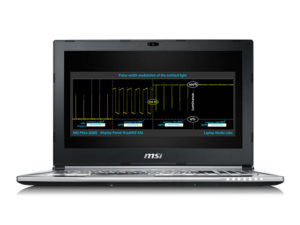 With the Acer Aspire V 15 (V3-575G) and the MSI PX60 6QE sharing the same screen, they both inherit the nasty PWM, which will affect users with sensitive eyes. However, it was interesting to find out that the MSI's notebook uses lower frequency for regulating screen brightness.
You can find some of the notebook's configurations here: http://amzn.to/2h5cQtE
If you recall, the Aspire V3-575G's panel uses PWM from 0 to 99% screen brightness at 1 kHz while our equipment shows that the MSI PX60's frequency is lower and thus more "aggressive" flickering at 200 Hz. This will be quite harmful to most users so we suggest on waiting for our profiles, which will be released along with the full review of the model, so stay tuned.