The monstrous ASUS ROG Chimera (G703) is finally available on the market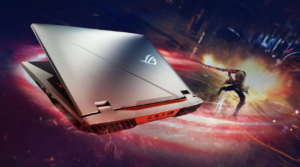 The ASUS ROG Chimera that got announced back in August if finally available on the market. The Chimera is not an ordinary gaming laptop, it is designed to withstand heavy-duty gaming and satisfy the needs of a real professional.
Apart from the powerful hardware it boasts, the notebook has one particular feature that makes it extraordinary and enormously appealing to first-person shooter fans. That is the refresh rate of course. A lot of gaming notebooks already come with a 120Hz display but the ROG Chimera takes another step forward bringing the refresh rate to the whopping 144Hz. This would be extremely useful for FPS and other fast-paced genres. Not to mention that the 17.3-inch screen diagonal will provide you with a large field of view.
Such a wonderful display will not mean much without a capable enough hardware, that is why ASUS has equipped the Chimera with up to an unlocked for overclocking 7th gen Intel Core i7-7820HK and an NVIDIA GeForce GTX 1080 with 8GB of GDDR5X video RAM.
These are just a small portion of all the hidden features the ROG Chimera has to offer. For detailed specs, you can check out our dedicated article or check out our Laptops Specs page listed below.