The Dell Latitude 15 5590 display doesn't use PWM only at maximum brightness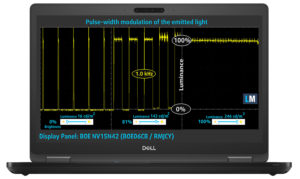 The results regarding Dell's Latitude 15 5590 screen quality just came and we have some disturbing news for you. Unfortunately, the panel uses pulse-width modulation for regulating the brightness of the screen resulting in the so-called screen flickering effect for all brightness levels except for the maximum one.
In addition, the display flickers at low frequencies (1 kHz) which may cause unnecessary eye strain or fatigue. As you may have learned from our other articles, the higher the frequency, the better. Therefore, we strongly recommend setting the brightness to the maximum level because this is the only case when the screen of Dell Latitude 15 5590 doesn't use PWM. You could also install our Health-Guard profile, which not only eliminates PWM but also limits the negative blue light emissions.
You can check prices and configurations: Buy from Amazon.com (#CommissionsEarned)
And if you are looking for other laptops with better PWM rating, we suggest browsing our PWM ranking.
Stay tuned for our in-depth review.