The ASUS ROG GL502VS is the first G-Sync-enabled laptop with PWM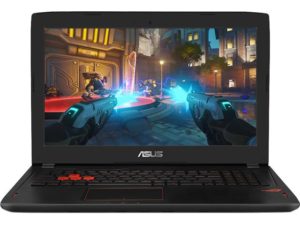 It took us a few minutes to process this because we were quite baffled. When the first notebooks and external displays with NVIDIA's G-sync technology came out, it was advertised that they lack PWM. And for the most part, it was true. Every device we've tested so far that featured some kind of adaptive sync technology came out negative for screen pulsations. Until we ran some tests on the ASUS ROG GL502VS.
You can find some of the available configurations here: http://amzn.to/2gT9L2H
As we already mentioned in our review of the ASUS ROG GL502VS, the display is different from the previous generation with GTX 970M. Now the laptop uses an LG Philips panel with model number LP156WF6-SPB6 – a revised IPS display, which predecessor was used in the ASUS ROG GL552VW and ASUS N552VX. Anyway, the first thing we checked when turning on the GL502VS was to see if ASUS has included the much-needed G-Sync chip since it was missing on the GL502VT (GTX 970M). Well, we were pleased to see they did.

However, when we ran our usual tests in the lab, it turned out that the display uses high-frequency PWM at 21.2 kHz. This is actually the first G-Sync-enabled screen with screen flickering that we've tested so far. You can still steer away from this issue by installing our Health-Guard profile that will eliminate PWM and as a bonus, will reduce the negative blue light emissions.
Are you surprised by this finding? Because we sure are!