The Acer Swift 7 has an ultra-thin and light chassis but battery life doesn't disappoint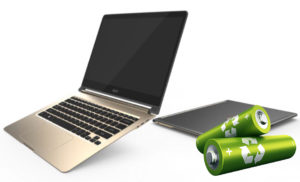 Usually, when design features are the main order of the day in the making of a laptop, some other essential aspects are left out, like battery life or cooling capabilities. We've witnessed something similar with the HP Spectre 13 and with the Lenovo Yoga 900S, which had too shallow keyboard. However, the Acer Swift 7 is designed with a totally different hardware than the Spectre 13, which allows better cooling, more room for a bigger battery pack and thus longer battery life. We need to note that the Spectre 13 comes equipped with a 15W Core i7 and Core i5 CPUs while the Swift 7 relies on the new Kaby Lake 4.5W Core i7 and Core i5 (the former Core m7 and m5) processors with a passive cooling solution.
The Acer Swift 7 isn't out just yet but can be purchased here when it does: http://amzn.to/2e2Z2Qm
Anyway, let's get back to the battery life itself. The Swift 7 offers a fairly decent in size battery unit delivering a total of 41.58Wh capacity. This is just enough to keep things running for more than a few hours straight. On the web browsing test, the notebook scored 494 minutes (8 hours and 14 minutes) while on the video playback 416 minutes (6 hours and 56 minutes). The excellent scores might be due to the newly optimized Kaby Lake processor as well. But keep in mind that these runtimes are just guidelines and normal usage may vary. We always run our tests with Wi-Fi running all the time, Windows battery saving feature turned on and screen brightness set to 120 cd/m2.