The 4K screen on the ASUS ZenBook Pro UX501 takes a toll on the battery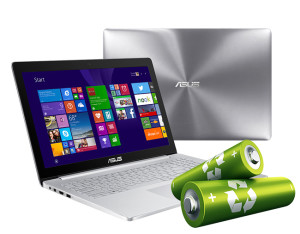 The UX501 from ASUS looks just like a re-branded G501 – same GPU, CPU and chassis, but without the aggressive look and a 4K screen to come along. We would expect a similar battery life, but as we all know the extra pixels drain a lot of the battery. This is exactly the case with this high-end beast – UX501 and our tests are here to prove it.
We ran the usual web browsing, video playback and battery tests and the results were significantly lower than the ones we got from the G501. The ZenBook Pro UX501 sustained only 200 minutes of web browsing, 158 minutes of video playback and 75 minutes of gaming. Compared directly to the G501 (257 minutes of web browsing, 219 minutes of video playback and 82 minutes of gaming) you can see how the UHD screen affects battery performance. Moreover, all tests were performed under the same conditions – Wi-Fi turned on, Bluetooth off, power saver is on, and screen brightness is set to 120 cd/m2.
The full review is on its way for more detailed tests.