Samsung's new gaming monitors with Quantum Dot technology are available for purchase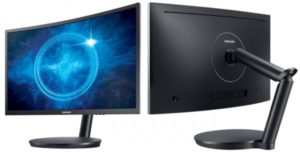 The Quantum Dot technology isn't exactly new and Samsung has been making use of this exciting tech for some time now on its SUHD TV lineup. In fact, the manufacturing of the Quantum Dot displays has diverted some of the attention from the OLED production and for a very good reason. Samsung is strongly relying on this tech to rival LG's OLED TVs.
The 24-inch model is up for sale on Amazon.com: http://amzn.to/2eq2ZPa
And now, Quantum Dot has finally made its way to PC monitors with some impressive specs and not so impressive price tag. The company released two monitors under the Samsung CFG70 branding – a 24-inch and 27-inch version. The panel promises 125% sRGB coverage, 3000:1 contrast ratio and 1ms moving picture response time (MPRT). Moreover, the refresh rate is 144 Hz and combined with AMD's FreeSync technology, gaming on this thing will be buttery-smooth. We can expect NVIDIA's G-Sync to land on this model in the future as well but we don't have any solid confirmation on when's going to happen. Also, the panel is curved in an 1800R curvature with, of course, 178-degree viewing angle. These are definitely some impressive specs, which the standard IPS technology can't offer and it's definitely a step closer to the OLED tech.
However, the price is a bit steep for a 1080p monitor and we don't know when the 1440p and 2160p alterations will come out. The 24-inch model is selling for $400 and the $500 is the asking price for the 27-inch.