Samsung announces next-gen 8TB NF1 NVMe SSDs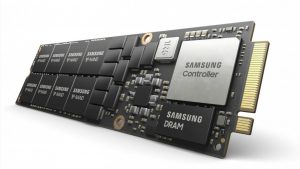 Samsung has just unveiled its latest 8TB NVMe SSDs based on the next-gen NF1 form factor. The new drives are both NVMe 1.3 and PCIe 4.0 ready speaking for the company's look towards the future.
Samsung's secret to reaching the capacity of 8TB resides in the company's NF1 stick featuring 16 V-NAND dies. The new NF1 form factor smashes all current NVMe M.2 drives in terms of capacity as it provides twice the density of an M.2 drive. Moreover, Samsung's new high-performance solid-state drive is able to deliver sequential read speeds of 3,100MB/s and write speeds of 2,000MB/s with up to 500,000 IOPs and 50,000 IOPs read/write performance. To put the cherry on top, the new 8TB NF1 NVMe SSD even sports 12GB of LPDDR4 cache memory.
Nowadays, M.2, also known as NGFF (Next Generation Form Factor), has become a widely used option for additional storage on today's laptop motherboards. So if you are wondering which is the right type of stick to insert in your machine, you could check out our M.2 SSD compatibility list here: http://laptopmedia.com/laptop-m-2-ngff-ssd-compatibility-list/
If interested, you could browse through all currently available Samsung products here: Buy from Amazon.com (#CommissionsEarned)