Samsung announces insanely fast M.2 SSD – 950 Pro with NVMe and V-NAND technology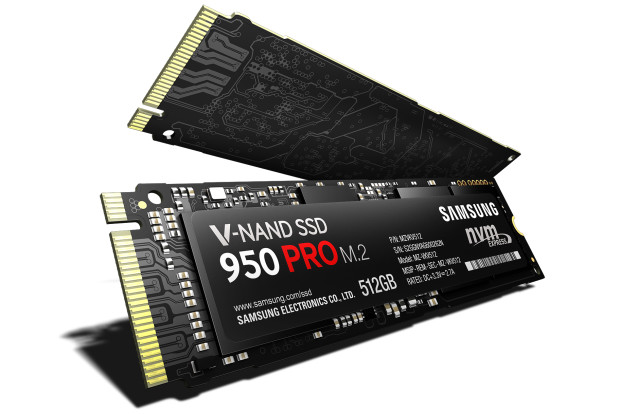 With the announcement of the 950 Pro, Samsung made a huge leap over last year's flagship SSD – the 850 Pro. Now the new chip offers four times the read speed and three times the write speed of its predecessor mainly due to the NVMe (Non-volatile Memory Host Controller Interface) technology, that uses the capacity of the PCIe 3.0 x4 standard more efficiently.
Samsung has moved from the AHCI (Advanced Host Controller Interface) since it was a bottleneck in the industry. It worked good with the conventional platter spinning HDDs, but it was designed back in 2004 by Intel and as you may have guessed, low-latency NAND chips aren't supported all that well. Furthermore, the 950 Pro comes in two flavors – 512GB and 256GB with both having sequential read speeds up to 2500MB/s and sequential writes up to 1500MB/s. The maximum power consumption at this point is 7.0W with burst mode on, but falls down to 5.7W on average and 1.7W at idle.
That's not all, the drives will be shipping in October with a price tag of $199.99 for the 256GB variant and $349.99 for the 512GB model. This includes five-year limited warranty covering 200 TBW (terabytes written) and 400 TBW for the 256GB and 512GB gumsticks respectively.