Razer releases its redesigned Kraken Pro V2 and Kraken 7.1 V2 with a slew of new features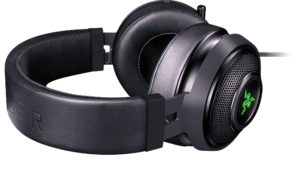 After the announcement of the new DeathAdder Elite yesterday, Razer is going after its headsets as well. The Kraken series receives a fresh new update that includes not only cosmetic changes but some under the hood tweaks as well.
Both headsets now feature new 50 mm drivers, compared to the old 40 mm ones, redesigned unibody aluminum frame, which is a nice addition for a change compared to the old clunky plasticky design, and thus the company promises much-improved durability. Razer claims they've tested the devices to withstand hard falls, rough handling, bending etc. Along with the new design, Razer has put some effort in adjusting the weight distribution, the fit around the head and the design of the cups. They can be configured to be oval or circular but the former are sold separately. All of this will ensure better comfort during long gaming sessions.
The Kraken V2 Pro and the 7.1 V2 come with the usual built-in retractable microphone but the latter features the 7.1 positional audio along with the active noise-cancellation. Razer Synapse software needs to be installed in order to activate those features. Both headphones will go on sale during October and the price of the Kraken Pro V2 is $79 while the Kraken 7.1 V2 will retail at $99.
Unfortunately, though, the Kraken 7.1 V2 still uses a USB cable to connect ensuring lower audio quality and we still remain skeptical about the 7.1 surround feature because the headphones still use two drivers instead of, for example, five speakers per cup. So it makes us wonder how gimmicky is the 7.1 surround feature? If you are not invested in gaming headphones, we suggest looking up some of the affordable solutions from AKG and Audio-Technica, for instance, and you will have a few dollars to spare for a stand-alone desktop microphone. And again, that's a solution for users that don't necessarily need gaming headsets.