Razer announces Abyssus V2 – a few new changes but still a budget gaming mouse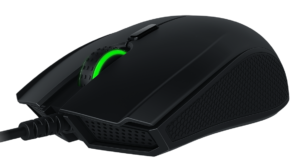 The American company Razer is well known to gamers all around the world. This is because all products are built with high quality parts, which are tested to their maximum before shipping. Sadly, mice made by them aren't typically budget offerings, except for one model – Razer Abyssus. Even though the mouse doesn't stand out with an aggressive look, lacks Chroma lighting with the 16.8 million customizable color options and so on, it's still a decent starter gaming mouse.
What I really like about this mouse, since I'm left-handed, is the Ambidextrous form factor. This means you can use it with both hands – left or right. So if you are a left-handed gaming maniac and your budget isn't big enough, this is currently the best option on the market. Razer announced a new version of the mouse, called Abyssus V2. The design has barely changed compared to its predecessor. We can spot a small difference though – ridges on the left and right buttons. There are also rubber grips on both sides – as we said, it can be used with either hand. Hopefully these features will provide a better over-all feel when holding the mouse.

The biggest change between the first "version" of the mouse and V2 is the DPI button, which can be found right under the scroll wheel. Yes, this means that the optical sensor is better – up to 5,000 DPI, compared to 3,500 DPI, which can be toggled too. With this button you can decrease or increase (no more than 5,000, of course) – depending on the in-game speed you prefer. This said, the Abyssus V2 comes with 4 programmable buttons, 3-color lightning and most importantly – with a price of only 50 dollars, making this peripheral the cheapest model yet in Razer's mouse line up.
You can buy Razer Abyssus V2 from Amazon: http://amzn.to/29E9c9h