Quick look at Acer TravelMate X349 – Acer's ultraportable traveling companion
Since the market of ultraportables is constantly growing because, hey, with all the advancements in the chip manufacturing, now you can get а powerful, yet portable solution for your everyday work. And why shouldn't you? And so, Acer has finally gone into this segment of the market with their own business solution branded with the TravelMate series. To be honest, the first from its series, the TravelMate X349, is all that we've expected and hoped it would be. Here's our first look at the device.
The notebook isn't out on the market yet but you can check regularly here when it's available: http://amzn.to/2aWA9mH
Design
The build and design are what this device is all about. We've got exceptional all-aluminum chassis with anodized finish forming a chassis that weighs just 1.53 kg and it's just 18 mm thick. Pretty impressive for a 14-inch device isn't it?
Despite its portability, the notebook doesn't make a compromise in sturdiness. No build inconsistencies or bending elements were seen around the casing while the hinge offers smooth movement without being too bouncy. The touch-enabled variant will probably sway a bit, though.
Opening the lid reveals a strongly familiar design. Concaved keyboard area with smooth transitioning edges, simplistic and clean palm rest area, single-hinge design with a big vent opening in front of it for dispersing the heat and a big trackpad area. If you look at the photos below, you can't miss the similarity between the X349 and the ASUS ZenBook ultrabooks like the UX360, UX303 or even last year's UX305. However, the keyboard design and feel is much different from what we've seen from ASUS. It introduces the typical for Acer laptops long key travel and curved keys for comfortable typing experience. The touchpad is – as we said – pretty big, clicky with silky-smooth surface.
Hardware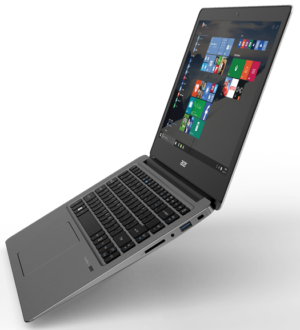 Although the unit is sitting here in our office, it still hasn't been officially released yet. Acer only made a small announcement on its official website and we don't know the full specifications yet. But most of them are already familiar.
The unit is going to sport Skylake-U processor – probably configurations include Core i3-6100U, Core i5-6200U, and Core i7-6500U – with up to 8GB of DDR4 RAM, because when we disassembled the unit, we found only one soldered RAM chip. Probably the same case as with the Acer Aspire S 13. That's a drawback some of you may not accept but for the general user using office applications, multimedia, and browsing, 8GB of DDR4-2133 RAM will do just fine. Also, the Intel HD Graphics 520 iGPU will definitely benefit from the faster DDR4 RAM. Speaking of the iGPU, Acer has made available the option of pairing the TravelMate X349 with Acer's docking station that expands the ports and adds an NVIDIA GeForce GTX 960M to the system. With this in mind, you will also be able to enjoy a few gaming sessions on the go without sacrificing portability. All your games and files can be stored in up to 512GB M.2 SSD stick.
As of screen options, the notebook will offer Full HD IPS panel only but will also add a touch-enabled version in a 14-inch diagonal. All of this is kept "alive" thanks to a 48.9Wh battery that should perform pretty well considering this hardware. We will make sure in our full review, though. Finally, we would like to add to the list a few more notable features like the fingerprint reader that works with Windows Hello along with Acer's BluelightShield feature that limits the blue light emissions during long hours of work through the night. And the super fast 2×2 802.11ac MU-MIMO Wi-Fi module will provide excellent download/upload speeds as long as it's connected to a 2×2-enabled router.
Specs sheet
The specs provided below may not apply to your region and it's too early to tell if these are the final configurations Acer is planning to release next month.
CPU
Intel 6th Generation Core-U i3, i5, i7
RAM
up to 8GB (1x 8192MB) DDR4-2133
GPU
Intel HD Graphics 520
HDD/SSD
up to 512GB M.2 SSD
Display
14-inch Full HD (1920×1080) IPS, matte (touchscreen is optional)
Optical Drive
–
Connectivity
Intel® 802.11ac (2×2) Wi-Fi and Bluetooth 4.2 Combo
Other features

2x USB 3.0
1x USB 3.1 Type-C with Thunderbolt
HDMI
SD card reader
3.5 mm audio combo jack
keyboard LED backlight
Can be paired with Acer's USB-C dock

Battery
48.9Wh
Thickness
18 mm (0.71″)
Weight
1.53 kg (3.37 lbs)