Qualcomm announces Snapdragon 820 with Adreno 530 GPU and tons of new features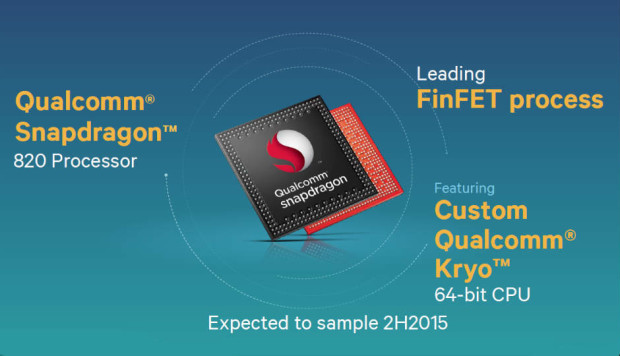 Qualcomm has recently unveiled some of the specifications and features that will come along with the new flagship SoC – Snapdragon 820. While they seem promising, we are still left with a little bit of sorrow from the Snapdragon 810 SoC that has overheating issues and clearly struggles with the energy management as we saw from several devices now.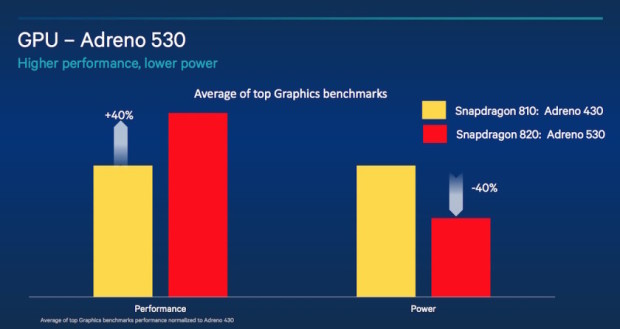 However, the new Snapdragon 820 will offer custom ARMv8 CPU cores design, but details about them are scarce. Moreover, the GPU here is Adreno 530, part of a new lineup and will boast 40% performance increase compared to last the Adreno 430. In addition, the new GPU will offer 40% less power consumption, but this might come mainly from the 14nm or 16nm FinFET process that's going to be used for the making of the SoC. This way the Snapdragon 820 will match Samsung's Exynos 7420 found in the Galaxy S6 and S6 Edge.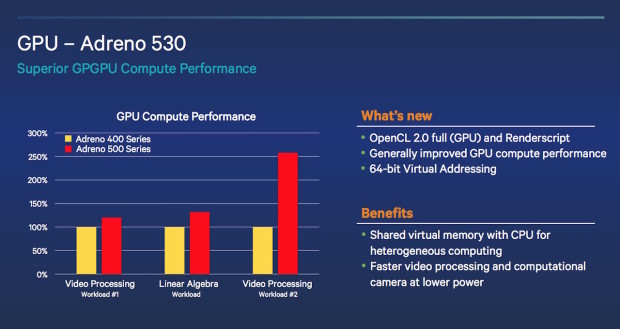 Other than that, the Adreno 530 will support the usual APIs like OpenGL ES 3.1, OpenGL ES 3.2 that will be part of the Vulkan APi and of course OpenGL 2.0 and Renderscript for better heterogeneous processing. Last, but not least, the most impressive feature will be the ability to play 4K videos on an external screen with 60 fps frame rate. That's pretty impressive, isn't it? This is possible thanks to the adopted HDMI 2.0 standard. Also, wireless display technology is also supported, but with reduced frame rate of 30 fps.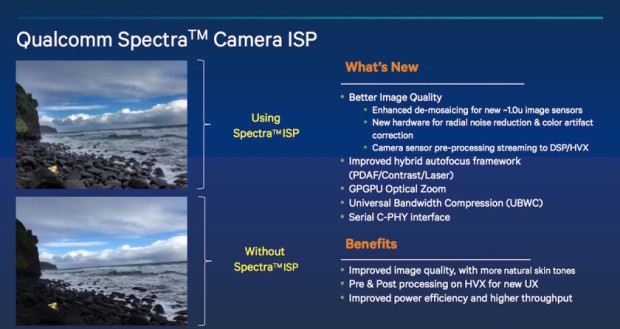 Now let's talk about the new imaging processor – Spectra. The new ISP is capable of running three camera modules running all at once. The supported resolution of the camera is 25 MP with 30 fps video capture at full resolution. With this great improvement, the ISP comes with several neat software features that will allow the sensors to capture better images with reduced noise, color reproduction etc. The ISP can also aid in optical zooming instead of relying on just digital zooming. But how's that achieved? Of course, the optical zoom isn't the real deal, but it will simulate it with the use of data snatched from all the camera sensors. This would be an interesting feature to try out when the first smartphones with multiple camera setups hit the market, which would be sometime around Q1 2016. More information will follow about the new custom Kryo CPU cores.