PWM results for Dell Inspiron 5558 – screen flickering is missing only at max setting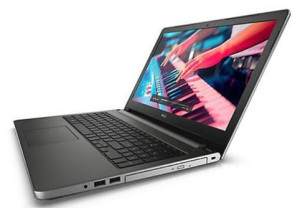 As some of you may know PWM (Pulse Width Modulation) is a technique used by screen vendors to regulate brightness. It is quite cheap and effective, but the downside of this method is the so-called "screen flickering". If screen flickering is present, your eyes start to adapt to the flickering light, which leads to headaches, impaired vision and other health related problems.
Dell Inspiron 5558 (15 5000) has a 15.6" Full HD IPS panel that offers colors which are not quite as good as in other IPS panels, but still decent for casual use. The backlight that illuminates the panel, unfortunately, emits PWM (pulse-width modulation) across all brightness levels but the highest, which means that even if you lower it to just 99%, it will start flickering. The good news is that the flickering is at a very high frequency – 21kHz, which is considered less harmful for the eyes. The maximum brightness we were able to measure in our lab is 207 cd/m2, which we don't consider to be very good, but it is enough for work in a very bright room, but it is not too high, so you will not have to lower it under typical working conditions. If you work in a well-lit room and set the brightness at 100%, you should not experience the negative effects of screen flickering. You can see the results in the image below.

Stay tuned for the full review of Dell Inspiron 5558, along with all screen tests.