Purchase the Lenovo Yoga Book – get a $100 gift card from Amazon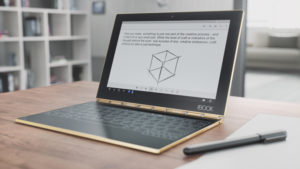 You have probably already heard about the Lenovo  Yoga Book. The convertible tablet is revolutionizing the 2-in-1 devices. The Yoga Book is a 10.1-inch tablet running on the Intel Atom x5-Z8550 processor and 4GB of RAM. It also delivers 64GB of SSD storage and the unique virtual Halo keyboard that distinguish it from the competitors. You can check our in-depth review over here. There is also a bigger and cheaper version – the Yoga A12.
You may ask why are we bringing the attention on the Yoga Book again. Well, the headline pretty much says it all. For some reason, Amazon is currently selling the device bundled with a $100 gift card. This goes for both Android and Windows 10 models. The Android version costs $499.99 and the Windows 10 – $549.99. So if you are interested in buying a 2-in-1 device maybe you should hurry as the deal reportedly ends on February 22.
You can place your order here: http://amzn.to/2kWM4bJ