Specs: NVIDIA GeForce RTX 3050 Ti vs RTX 3050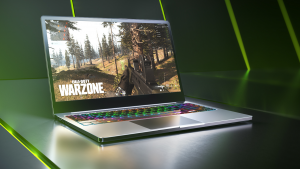 We have heard rumors about the RTX 3050, along with some guesses about the performance that the GPU might bring to the table. Now the time of rumors is gone, as NVIDIA officially revealed the new GPU series. While as of now, only the laptop version is available, we hope that we won't have to wait long for the desktop variant as well. The RTX 3050 (Laptop) and the 3050 Ti (Laptop) come in several TDP variants.
NVIDIA picked the exact time as Intel's Tiger Lake H-series, which brings exciting new devices, featuring both of these new technologies. Furthermore, the new GPUs are the first 50-series chips to support both ray-tracing and Tensor-based operations.
The new graphics cards use the GA107 GPU, which has a total of 2560 CUDA cores, the exact same number as the RTX 3050 Ti (Laptop). Other specs include 80 Tensor cores and 20 RT cores, which are there for tensor operations and ray-tracing, respectively.
A cut-down version of the 3050 Ti (Laptop), is marketed as the RTX 3050 (Laptop). It has 20% fewer CUDA cores (2048), Tensor cores (64), and RT cores (16). Both the Ti and the normal 3050 (Laptop) come with 4GB of GDDR6 memory and use the same 128-bit interface. The GA107 GPU has a very wide power limit range, which starts at 35W and could go as high as 80W. The official boost clock of both GPUs stands at 1695MHz for the 3050 Ti and 1740MHz for the RTX 3050. However, as is the case with many GPUs, the card can reach significantly higher speeds, once manufacturers get their hands on them and do some tweaking on their own.
| | GeForce RTX 3050 Ti | GeForce RTX 3050 |
| --- | --- | --- |
| Codename | GN20-P1 | GN20-P0 |
| GPU | GA107 | GA107 |
| CUDA Cores | 2560 | 2048 |
| GPU Clock | 1035 – 1695 MHz | 1057 – 1740 MHz |
| Memory Bus | 128-bit | 128-bit |
| Memory | 4GB GDDR6 | 4GB GDDR6 |
| TGP | 35W – 80W | 35W – 80W |
The new RTX GPUs support PCI Express Gen4 and HDMI 2.1. The new laptops with the RTX 3050 and RTX 3050 Ti should cost south of US$999, which was around the actual MSRP of laptops with the RTX 3060 (Laptop).
You can learn more about both GPUs here: RTX 3050 (Laptop) / RTX 3050 Ti (Laptop)

Laptops with the RTX 3050 (Laptop):
Laptops with the RTX 3050 Ti (Laptop):