NVIDIA reveals the new Tesla V100 – professional GPU using the HBM2 technology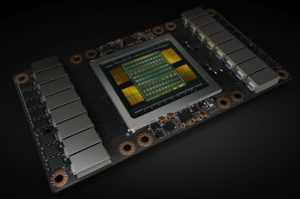 The fans of the "green" company certainly have some reasons to be excited. NVIDIA unveiled its new professional grade graphics card which is the first based on the company's new Volta architecture. Another extremely notable feature of this new jewel is the fact that it makes use of the extremely fast HBM2 technology. In this train of thought, the Tesla V100 features 16GB of VRAM on a 4096-bit memory bus. This translates into a truly remarkable memory bandwidth of 900 GB/s.
If you are interested in other NVIDIA products, you could browse through all their currently available graphics cards here: http://amzn.to/2q8VFNM
Moving on to the rest of the specs sheet. This GPU has an extremely high processing power of 15 TFLOPs. Additionally, the new 12 nm architecture brings the whopping 5120 CUDA cores. Furthermore, the V100 is a big boy as it comes at a large 815mm square. Yes, there are many surprising aspects to this card. That's why we have included a short specs sheet below.
Tesla V100 short specs sheet
MODEL: GV100 (Volta)
Manufacturing process: 12nm
CUDA cores: 5120
Transistors: 21.1 billion
TFLOPs: 15
SMs: 80
GPU boost frequency: 1455 MHz
VRAM: HBM2
Memory interface: 4096-bit
Memory bandwidth: 900 GB/s
TDP: 300W