NVIDIA announces its new IoT system – the Jetson TX2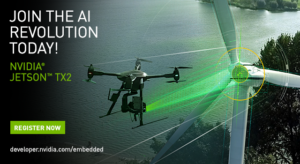 Today the company famous for its graphics cards unveiled a rather different device. The Jetson TX2 platform that delivers AI (artificial intelligence) computing and and excellent IoT (Internet of Things) solution was announced.
The small device is about the size of a credit card (50mm x 87mm) but offers some great computing power. NVIDIA claims that it brings  twice the performance and more than twice the power efficiency (it draws 7.5W of energy) than its predecessor. This will result in faster and smarter devices and AI systems.
The Jetson TX2 specs include a dual-core 64-bit NVIDIA Denver 2 CPU, a 256-core NVIDIA Pascal architecture-based GPU, 8GB of LPDDR4 memory and 32GB of eMMC storage. It also supports 12 CSI lanes with up to 6 cameras and it can process up to 4K 60fps video. All necessary wireless connections are available – Bluetooth, Wi-Fi ac and Gigabit Ethernet too.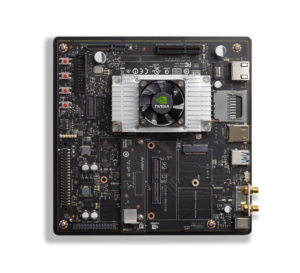 The Jetson TX2 supports the Jetpack 3.0 SDK for AI computing with the following:
TensorRT 1.0  neural network inference engine for production deployment of deep learning applications
cuDNN 5.1, a GPU-accelerated library of primitives for deep neural networks
VisionWorks™ 1.6, a software development package for computer vision and image processing
The latest graphics drivers and APIs, including OpenGL 4.5, OpenGL ES 3.2, EGL 1.4 and Vulkan 1.0
CUDA 8, which turns the GPU into a general-purpose massively parallel processor, giving developers access to tremendous performance and power-efficiency
The Jetson TX2 Developer Kit is now available for pre-order for $599 with shipping starting from March 14th.
Meanwhile, you can check all available NVIDIA products here: http://amzn.to/2kTctWu