New York City is hosting Acer's Global Press Conference – see you there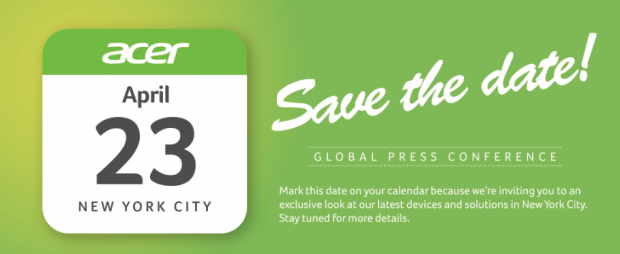 In just days from now (23-24th April 2015) the World Trade Centre in New York is going to host Acer's Acer Annual Global Press Conference. In the week of Apple Watch launching, reporters and analysts from all around the world are gathering to see what is Acer's engineering and software teams vision about technological development. Laptopmedia is attending as well (thanks to Acer invitation) so you can expect our coverage of the most intriguing tech ideas the company is presenting this year. Here is a bit more from their welcome press release note giving us an idea of what to expect in the next couple of days.
[…] Thank you for joining Acer Annual Global Press Conference, next@Acer, in New York […] We are excited to showcase 1 to 100-inch devices across our product lines, and demonstrate how they fit in five themes ranging from work to play – and everything in-between.
We are committed to our transition into a hardware + software + services company, and integrating these elements to provide people-centric services as we embrace the new era of computing and communication. Fruits of our efforts in this aspect will be demonstrated at the event, along with a sneak peak of new realms that we are about to discover.[…]
It is quite clear that almost every serious hardware maker is trying to provide customers with an exciting and reliable experience of connected eco system of devices and services and Acer is not an exception. But the trick has always been down to one thing – keeping the customer stuck to company products in various categories but at the same time a system open enough to give him the freedom of staying connected and open to the world without any restrains. It is just a matter of days to see and taste what Acer is cooking in that highly competitive game.
See you in New York!