New external HDDs by ADATA – HD710 Pro and new HD650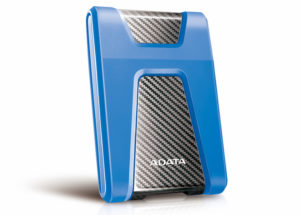 Hey there, folks! We are happy to share with you some good news about the renowned Taiwanese manufacturer of NAND flash products, accessories, and DRAM modules – ADATA. The company just updated its portfolio of external hard drives with two new models – the HD710 Pro and HD650. The former is an extremely durable HDD which is offered with higher capacities, whereas the HD650 is another addition to the company's best-selling series.
If you happen to show interest, you could check all currently available ADATA external hard drives here: http://amzn.to/2tnvOFW
Now let us go through a couple of details about each model. Firstly, the HD710 Pro is IP68 certified which means that it is water and dust resistant and military-grade shockproof. According to the manufacturer, it even exceeds some of the IEC IP68 standards by being entirely dust-tight and able to hold on for up to 60 minutes in 2 meters of water. The drive boasts a convenient cover of its USB port and a groove along its edges that keeps the USB cable secure. What's more, this bad boy comes in several color options and the capacities you could choose from are 1TB/2TB/3TB/4TB.
As for the HD650, it uses a construction of three layers which also protects your data, and is also equipped with the same G-Shock sensor found in the HD710 Pro. It features fewer color options but the highest capacity is again 4TB.