MSI is one of the first to integrate the new Intel Sylake CPUs and the overclockable Core i7-6820HK in their laptops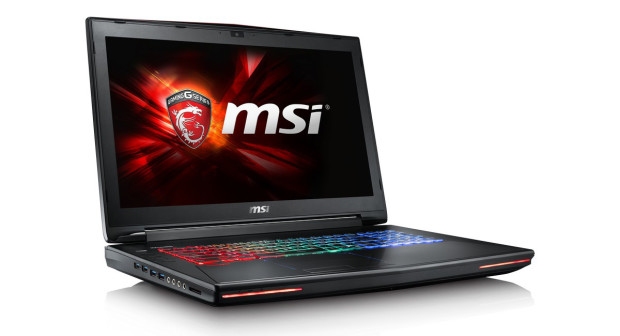 MSI has just unveiled refreshed models built around the new 6th Generation Skylake CPUs from Intel. We start off with the MSI GT72 Dominator, which we already met, but this one is with the GeForce GTX 980M. Nonetheless, the CPU remains the same – Core i7-6820HK – unlocked for overclocking CPU, first of its kind from Intel. This is also the first notebook to integrate the new silicon, at least according to MSI. The motherboard also takes advantage of the Super RAID 4 technology that stands for a RAID-like performance but paring one SSD and one HDD. You can also upgrade it up to 64GB DDR4 2133 RAM.
The OEM also outed four new machines part of the Stealth and Apache lineup. They are all built around the Core i7-6700HQ (which we already reviewed and tested), but interestingly enough, the GS60 Stealth laptop cna go up to 4K UHD IPS display in contrast to the GT72 Dominator gaming beast. We would have been happier for a 4K screen on the latter. The other notebooks keep the Full HD resolution. Furthermore, the GPU is still GeForce GTX 970M and the only model boasting USB 3.1 port is the GS70 Stealth. This is actually a big deal since the USB 3.1 (Type-C) port supports up to two 4K external displays and data transfer up to 1 GB/s. With that being said, we can assume that MSI is spreading the latest features across its products, but doesn't go "all in" on just one configuration.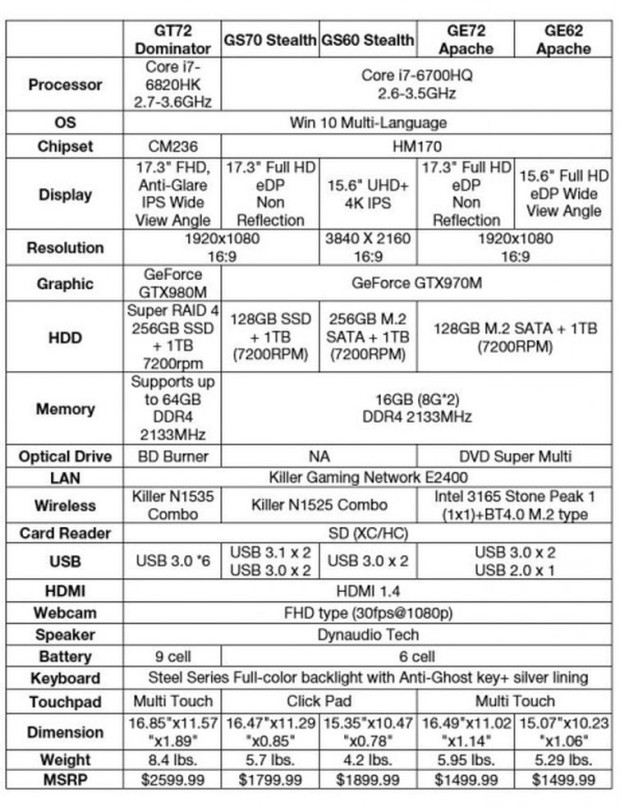 As for the Prestige notebooks, there's nothing much to it except for the Core i7-6700HQ CPU and the lower-end GPUs such as GeForce GTX 950M and GTX 960M. You can take advantage of the DDR4 2133MHz RAM support, but USB Type-C is nowhere to be found, unfortunately.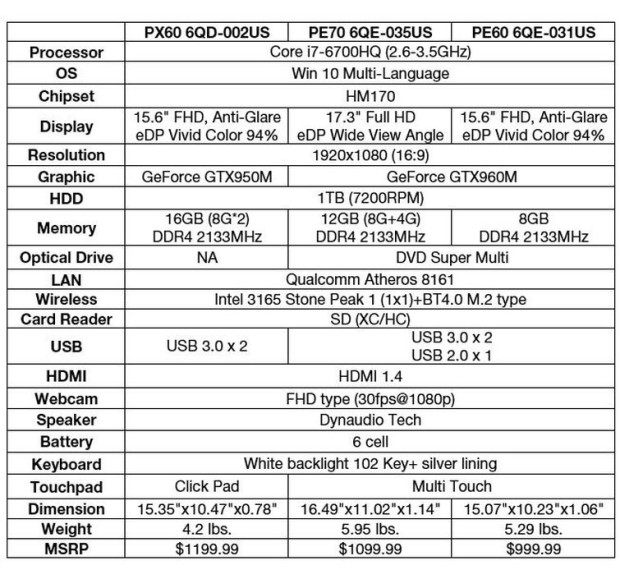 You can take a look at the pricings and availability of the notebooks here: