Motospeed S69 – colorful backlit gaming keyboard and mouse for only $22.99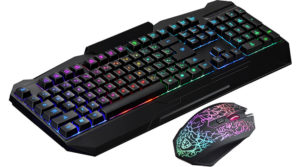 Hey, hey, hey! Another day, another great bargain. As you know, we are always looking for such and today we have selected a very affordable product suitable for gamers. So if you are one or you know someone who deserves a gift for being a good boy/girl throughout the school year, read on!
What we have in mind is the Motospeed S69 – a pretty decent combo (mouse plus keyboard) which are pretty fancy in terms of their design. Both of them are wired and connect via USB. Apart from the fascinating design, the keyboard boasts a multicolor backlight and 104 keys. You cannot program the backlight but you can turn it off via a small switch, in case you are not comfortable with it. Additionally, there is an armrest which is  As for the mouse, it is just as attractive as the keyboard and features 6 keys as well as a resolution of 1600 dpi. This is all in accordance with its purpose – gaming. In this way, you will have an advantage over your fellow gaming buddies with all the shortcuts you could use.
If you happen to show interest in this offer, it is good to be quick as it is valid only for a certain amount of time. To purchase or check availability, you can use THIS LINK.