Moto G3 (3rd Gen) passed our screen tests with flying colors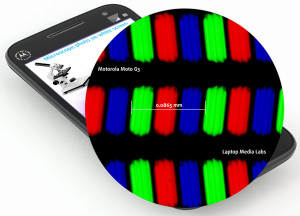 We are done with the full tests of the display as well as our full review of the model and it turns out that Moto G3 is one of the most anticipated devices this year for a reason. What's the fuzz about a regular mid-range device you might ask. Well, for starters we've got almost spotless display quality here.
The new Moto G didn't get the a screen overhaul, but sometimes the important things can't be seen just from the specs sheet. Moto G3's panel keeps the 720 x 1280 (HD) resolution and 5-inch diagonal, but gets a slight bump in the sRGB color gamut coverage (from 91% to 95% from last year). The color accuracy is actually nearly 4 times worse, but from a user's standpoint, this won't matter at all. Moreover, the maximum brightness of the display has been greatly improved for better visibility outdoors – from 349 cd/m2 (Moto G2) to 485 cd/m2 and this should be enough even for reading under direct sunlight.
You can read the full "Display" section here:
http://laptopmedia.com/smartphone-review/motorola-moto-g-3rd-gen-2015-review-the-new-flagship-in-the-mid-range/#display